Oshkosh (NYSE:OSK) announced earnings and exceeded the Company's most recent earnings estimate range for the first quarter of $0.35 - $0.40. Oshkosh also reaffirmed its estimate range for fiscal 2008 EPS of $4.15 - $4.35.
Robert Bohn Chairman and CEO went on to say "...we are maintaining our positive outlook for the Company as we expect both top and bottom line growth to lead to an EPS range of $4.15 to $4.35 in fiscal 2008. This is an increase of between 16 and 22 percent over the prior year."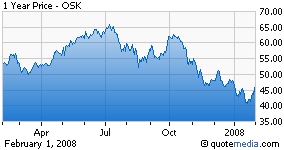 So the man is bullish on the prospects for the coming year. He notes that fire departments are showing good interest in Pierce PUC pump technology, but expects weaker municipal spending. Mobile medical trailer and broadcast vehicle are also weak. Bohn concluded:
Oshkosh is meeting weak market conditions head on by investing in global initiatives to improve distribution in key international growth markets and reducing costs across all businesses. This permits us to maintain our positive outlook for fiscal 2008.
The problem with this statement is that the investor cannot easily follow or monitor performance on an international basis. All financial information in the press release is provided on the basis of operating lines. They admit that they are turning European refuse operations around and expect to reach profitability in 2009.
When you claim to be expanding internationally you need to provide geographically segmented data. The occasional qualitative comment about US sales being off begs the international question.