Right now the investment world is quite scary. With the European debt crisis starting to look like an outright disaster, the S&P 500 (NYSEARCA:SPY) is down 10% from its April high. With a stronger U.S. dollar, commodities and commodity-linked equities have taken a beating. It's tough to wade into the waters, not knowing if the equity market is going to continue to drop. If you are looking at gaining exposure in the commodity sector, Freeport-McMoRan (NYSE:FCX) might be a good bet. Instead of purchasing the stock at current levels ($31.50), what if you could get a 30% annualized return or get long at below $28.00? I have an options trade that can achieve this for you.
FCX is the second largest copper producer in the world. The company mines for copper, gold and molybdenum. FCX has mines in Indonesia, North/South America and in the Democratic Republic of Congo. Their competitors include Southern Copper (NYSE:SCCO) and Teck Resources (TCK).
Copper names such as FCX, SCCO and TCK have come under significant pressure since late January 2012, having dropped between 24-35% from their highs. The catalyst for the sell off has been a concern that the European crisis will spread to become a worldwide contagion. Also, China, the largest consumer of copper, has scared copper investors as they have let their economy continue to slow. Just yesterday, in an article, China said they would not be doing a stimulus program near the size of their 2008 stimulus program. This has sent the copper names lower again, as investors were hoping for a stimulus program to push copper demand higher.
With all the worries, it appears the negative news might be priced in. FCX looks very attractive for many reasons:
FCX currently trades at just 8x 2012 expected EPS of $4.02/share.
They ave steadily increased regular dividend payments and yields 3.9%. Much better than a 10 year note yielding 1.6%.
They continue to diversify production, adding more gold production (albeit, still a small share).
Solid balance sheet - they have a net cash position (more cash than debt). Allowing it to withstand a global recession, if one does come along.
Options Strategy: Sell the August 30 put for $2.10 in FCX.
Outcome A) FCX is above $30.00 on August expiration, and you collect the entire $2.10 premium. A 6.66% return and annualized return of 30.8%.
Outcome B) FCX shares drop below $30.00 on expiration, and you are "put" the stock. You are obligated to buy at $30 minus the premium you received. $27.90 (30 - 2.10) would be your average price on the stock. That is 11.4% below today's stock price.
This is a great strategy if you want to buy FCX but are worried that it might be a little early. If you are wrong and the stock rises you make money, and it falls you are able to buy 11% lower than today's stock price.
SCCO and TCK will move in tandem with FCX. If you prefer either one of those names to FCX, you can do the same type options strategy and profit or buy those names at cheaper prices too.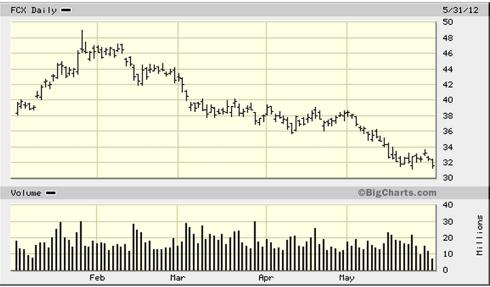 Disclosure: I have no positions in any stocks mentioned, and no plans to initiate any positions within the next 72 hours.