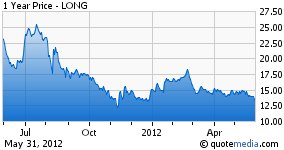 Expedia's (NASDAQ:EXPE) majority owned Chinese entity eLong.com (NASDAQ:LONG) looks significantly undervalued to me. I actually think this $13.51 stock should be trading in the $30-$40 range at a minimum based on the 10 reasons I discuss below. I've been in and out of eLong since 2005 and have followed all of their news and business developments over the years. Back in 2007 eLong brought in a new management team led by CEO Guangfu Cui who has done a great job with the company. They sharpened their focus on hotel room bookings which is the profit sweet spot for most online travel companies. Last year Tencent (OTCPK:TCEHY), the largest Internet company in China, invested in eLong becoming the second largest shareholder in the company and a big active partner. I think Wall Street is completely missing the importance of this relationship that I discuss below. eLong is 67% owned by Expedia and 16% owned by Tencent leaving just 17% for everyone else to eventually fight over. eLong now has the largest inventory of hotels that Chinese consumers can book rooms at both within China and internationally. Their inventory is vastly greater than anything their top competitor Ctrip (NASDAQ:CTRP) offers. They also offer the most popular hotel room group buying service in China.
China will soon have more than 600 million web users, more than Europe and America combined, and all the pieces are in place for eLong to capitalize on this massive opportunity and to gain market share.
Here is a list of 10 reasons why I think eLong is a screaming buy:
1) Surging Traffic
As you can see in the chart below - traffic to eLong.com is absolutely soaring. I've been watching this chart for about 7 years and I've never seen anything like this. Usually, industry leader Ctrip has a big lead on eLong like you can see below in December of last year, however this has obviously changed. Why is this important? It's important because Ctrip has an enterprise value of nearly $2 billion versus just $160 million for eLong. That's right, eLong gets more traffic lately based on ChinaRank data but Ctrip has an enterprise value more than 12X's that of eLong. I suspect this discrepancy won't last long.
This chart represents the 'user reach' of each website in China and is provided by ChinaRank. ChinaRank is one of the most reliable traffic measurement services in China and is Nielson's traffic measurement partner in the country. The link to this Chinese website works about 4-5 days a week. If it doesn't pull up then just try again later and please give the page plenty of time to load.
2) Elong's Tencent Partnership is Starting to Pay Off
Back in May of 2011 eLong announced that Tencent was investing $84 million into eLong for a 16% stake in the company. Based on this news the stock soared to over $26 a share. Since then the companies have been working hard to promote eLong to Tencent's MASSIVE user base of more than 600 million QQ related users. Tencent recently launched go.qq.com that forwards hotel booking business to eLong from their QQ.com platform. Additionally, on their last quarter conference call eLong management said they now have more than 10 million followers on the Tencent social network, which is a hybrid Twitter/Facebook (NASDAQ:FB)/IM type platform. (On Sina Weibo they have 1.25 mil followers) This new found exposure for eLong is working wonders for the company and contributing to the rapid rise in traffic that is represented in the chart above. Ctrip is a big company but Tencent is the 900 lb gorilla in China. The relationship eLong has with Tencent gives eLong a significant competitive advantage over Ctrip that the market does not appreciate as it should.
From Wikipedia:
"Tencent QQ, generally referred to as QQ, is the most popular free instant messenger computer program in mainland China. As of September 30th, 2011, there were 711.7 million active user accounts for QQ IM, possibly making it the world's second largest online community." (Facebook is #1)
3) Surging Hotel Booking Growth
Hotel room night booking growth has been accelerating greatly over the past year for eLong. In the 3rd quarter of 2011 hotel room night booking growth increased 42% y/y. In the 4th quarter of 2011 hotel room night booking growth was 50% y/y. In Q1 2012 hotel room night booking growth accelerated dramatically to 67% y/y. Starting to see a pattern here? eLong's diligent business execution, industry leading technology and service, and Tencent relationship is making business explode at eLong. Simple as that ...
4) Launch of New Massive Call Center
To support this influx of new business eLong recently announced plans to launch a new 1,000 seat call center in Hefei, China. At the end of 2011 eLong had 2,180 employees so adding a new 1000 person call center in another city is a big deal. They wouldn't be expanding like this if business wasn't booming.
5) Expedia Thinks eLong is Worth at Least $23 a Share
Back in November eLong acquired RenRen's (NYSE:RENN) stake in eLong at a purchase price of $23/share. The total purchase price of the shares was $72 million. At $13.51 a share investors can buy eLong at a 40%+ discount to where Expedia was buying shares 6-months ago. Also note that hotel bookings is likely up over 30% since Expedia made this investment to today's price is more attractive than ever.
6) Massive Cash Hoard and No Debt
eLong's balance sheet is pristine. They currently have a market cap of $463 million with no debt and $303 million in cash in the bank. This equates to $8.84 in cash per share on a stock that is just $13.51. This gives new investors the comfort of limited downside and unlimited upside. This cash hoard gives management plenty of flexibility to launch large marketing campaigns, to do stock buybacks, or to acquire other companies.
7) By Far the Largest Selection of Hotels in China
eLong offers Chinese consumers and business people the largest selection of hotel booking options both in China and internationally. Within China eLong allows users to book rooms at over 30,000 hotels. If a Chinese person needs to travel outside the country eLong allows users to book rooms at over 150,000 hotels internationally via their relationship with Expedia. In comparison, Ctrip only offer room booking at 30,000-35,000 hotels within the country and internationally combined.
8) Reliable Accounting - No Fraud Here
Most Chinese equities have sold off partially because of accounting concerns and fraud at many companies in China. I don't think this is a concern at all at eLong. The majority of the eLong board of directors are Expedia executives, the CFO is an American who got his undergraduate degree at Southern Methodist University and masters degree from Harvard, and many other execs at eLong including the CEO were educated in the United States and have worked for major American conglomerates in China like Fedex and Proctor and Gamble. I have zero worries about eLong's financials because their accounting is basically Expedia accounting.
9) Orders are Moving Online
More than two-thirds of orders at eLong were done online in Q1 2012 compared to less than 50% in the year ago quarter. By the end of the year I expect that more than 75% of all orders will be done online. As orders move online from the labor intensive call center both margins and profitability grow exponentially. If you think about it -- people search a travel site, book a hotel or flight, and then get an e-ticket reservation via email. When done online the costs are extremely low making for a magnificent business model. With scale comes big profits ... just ask Priceline (NASDAQ:PCLN) or Expedia.
10) Ctrip Shot Themselves in the Foot, Twice
Over the past several years Ctrip has invested heavily into several hotel chains in China. This might seem like a good move because they can always forward business to the hotel chains they have equity in, however, this plan has backfired as competing hotel chains and consumers view this self-dealing process as being shady. Why would anyone in China trust Ctrip to be 100% neutral when providing hotel booking options when they search their site? People in China have become skeptical of Ctrip because they actually own big equity holdings in some of the hotel chains they recommend. This has caused Ctrip to get negative press in the country. Additionally, this type of self-dealing angers the rest of the hotel chains in China because they think Ctrip will naturally favor the companies they own stock in. Ctrip is no longer seen as a neutral player in the industry and this is all-good for eLong.
For your convenience here are links to eLong's Chinese and English websites.
Disclosure: I am long LONG.