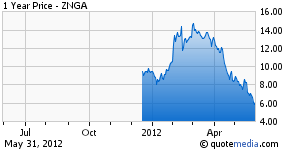 It has been a very tough environment for the social media space since the broken IPO of Facebook (NASDAQ:FB). which is now down some 30% since its debut. One social media stock, Zynga (NASDAQ:ZNGA), looks like it has entered oversold territory after falling more than 50% since its own IPO and is worth a hard look by patient investors.
Catalysts for ZNGA:
The latest lockup period ended Tuesday. Given the stock's 15% plunge this week, I would reckon that most insiders that wanted to sell have done so. The stock should now stabilize.
Robert W Baird just upgraded the stock to "Outperform" based on valuation.
Zynga could be major beneficiary if Congress allows real money gaming.
In a sign of possible things to come, Zynga recently signed into a partnership with American Express (NYSE:AXP).
4 reasons ZNGA is worth a flyer at $6 a share:
Thanks to an IPO that managed to be issued at twice today's price, the company has a $1B in net cash on hand or almost 25% of market capitalization.
The company has over 200 million monthly active users and is just in the early stages of monetizing them.
The stock has a forward PE of just over 16, which is significantly less than the forward PE of Glu Mobile (NASDAQ:GLUU), which I also own.
The company is expected to have more than 20% revenue growth in both FY2012 and FY2013 and the median analysts' price target of $12.50 on Zynga.