Markets, as well as the investors, have a tendency to underestimate a structural change in an economy, especially in a particular industry. Investors can monetize from such inability during the early phases of an industry transformation. Though we have short memories, however, the memories of smart investors benefiting from the social media boom are still fresh in our minds. The retail investors were at a disadvantage to profit from the social media boom as most of the industry players, at the initial stage, were private companies.
On the other hand, the boom in shale gas is presenting an equal opportunity, both for the retail as well as the institutional investors.
Catalysts for the Shale Gas Boom:
Few years back the conventional wisdom was that the U.S. is running short of natural gas supplies. Today, the horizontal drilling and hydraulic fracturing technologies have changed the dynamics of the U.S. energy sector. In 2008, more than 70% of gas rigs in U.S. comprised of conventional rigs, whereas shale rigs comprised of less than 20%. This composition has changed dramatically over the last three years. As of 1Q12 more than 60% of the rigs are shale rigs and conventional rigs are now less than 25% of the overall rig count.
The catalyst behind the shale gas boom has been hydraulic fracturing. During this process, water is injected into the shale well under enormous pressure, which breaks the shale formation to free the trapped gas.
Shale wells are better as they:
Have higher EURs (estimated ultimate recoveries).
Have higher initial rates of production.
Are located closer to existing production facilities. This makes transportation easier and cheaper.
Are environmental friendly. The IEA chief economist, Fatih Birol, has endorsed the power plants shift from coal to gas as one of the reasons for the drop in energy related carbon emissions in the U.S.
Less reliance on imports:
More shale gas also means the U.S. will rely less on Canadian gas. Historically, the U.S. has been importing Canadian gas at cumulative annual growth rate of 6%. However, after the shale gas boom, since 2007 these imports have fallen by 5% per annum.
The Investment Thesis:
In this investment note, we will analyze the causes of shale gas boom, its revolutionary impact on the U.S. energy landscape and most importantly strategies to capitalize this boom via investing in publicly listed U.S. stocks.
The gas prices have fallen around 50% from their 52-week highs.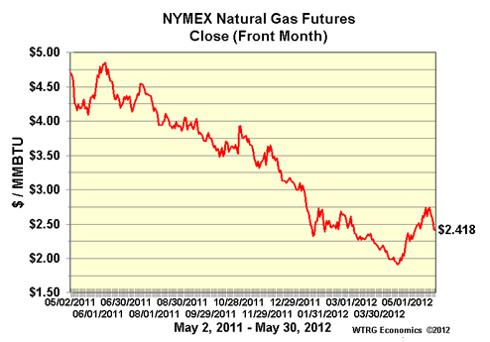 Click to enlarge
Based on output equivalent basis, the ratio between oil to gas should be around 6x. However, have a look at the chart below: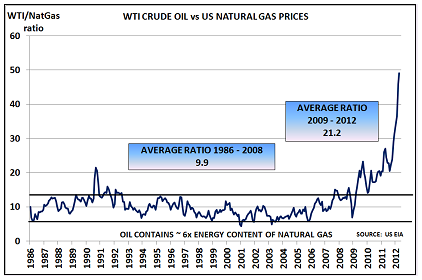 Source: here
This ratio has now crossed the 50 mark and the divergence between oil (oil derivatives) and gas prices presents an opportunity for power plant operators, chemical producers, transporters and heavy truck manufacturers to shift to gas as a fuel source.
We have identified and analyzed the following themes to be the primary beneficiaries of the shale gas boom:
Coal to gas substitution in the power sector:
According to the data provided by the U.S. Department of Energy, during the last 52 weeks, coal generation fell by 19% whereas gas generation saw a surge of 38%.
The coal to gas substitution trend has become clearer this year. During March 2012, use of natural gas by U.S. power plants increased by 40%. During March, the share of coal as a fuel for power plants fell by 20%.
As far as the CO2 emissions are concerned, a gas-fired power plant produces 50% less emissions than that of coal.
The consensus view is that gas prices below $3/MMBtu will entice power plant operators to displace coal in favor of gas. For instance, Barclays analysts believe that gas prices above $2.5/MMBtu will reduce natural gas demand in the U.S. power sector, as many coal plants start to make money above the gas price of $2.5/MMBtu. However, the relationship between gas prices and coal substitution is complex and is a function of gas prices, weather, coal inventories and the decision of coal plant operator.
UBS has done an interesting analysis where they have compared fuel cost per MWh for using coal vs. gas. Below, we have summarized these costs:
| | | | | |
| --- | --- | --- | --- | --- |
| Type of Coal | Coal Price per Ton | Fuel Cost per MWh | Natural gas Parity Price | Current Natural Gas Price |
| PRB 8800 Coal | $8 | $21.7 | $3 | $2.2 |
| PRB 8800 Coal | $6.6 | $21.9 | $3.03 | $2.2 |
| Appalachian Coal (Southeast US) | $56 | $32.5 | $4.33 | $2.2 |
| Appalachian Coal (NorthEast US) | $56 | $32.5 | $4.01 | $2.2 |
The above table shows that it makes economic sense for power plant operators consuming PRB coal to switch to natural gas as long as natural gas prices stay below $3. For the power plants using Appalachian coal, the substitution to natural gas makes business sense even with natural gas prices as high as $4.30.
This coal displacement presents a very lucrative opportunity for investors by short selling the coal companies that provide coal to power generators. Investors can create a basket of coal stocks to short. These names will have the most impact from the coal-to-natural gas substitution: Arch Coal (ACI), Alpha Natural Resources (ANR), Peabody Energy (BTU) and Consol Energy (NYSE:CNX).
The coal ETF (NYSEARCA:KOL) can also be used to benefit from lower coal demand in future.
Railroads:
Coal accounts for 45% of carload traffic in the U.S. 70% of coal shipments to power plants are done through railroads. As the coal demand drops, the carload for railroads will come off as well. CSX. (NYSE:CSX) and Union Pacific Corporation (NYSE:UNP) are two railroad stocks that investors can short sell.
Transporters/Truckers Switching to Gas:
Since 2010, diesel prices are up by 50%, whereas gas prices have halved. This presents a very compelling opportunity for the transport companies to switch vehicles to gas ones. According to the Wall Street Journal, "though the vehicles cost about $30,000 more than conventional diesel models, each will save $27,000-a-year or more in fuel, says Eric Woods, head of fleet logistics for Waste Management."
Using these numbers, we have built a feasibility model for transporters to switch to gas vehicles. Such a project will have an IRR of 86% and a NPV of $65.7k per vehicle.
| | | | | | | |
| --- | --- | --- | --- | --- | --- | --- |
| | Year 0 | Year 1 | Year 2 | Year 3 | Year 4 | Year 5 |
| Cash Outflows | (30,000) | | | | | |
| Cash Inflows(Savings) | | 27,000 | 27,000 | 27,000 | 27,000 | 27,000 |
| Net Cash Flows | (30,000) | 27,000 | 27,000 | 27,000 | 27,000 | 27,000 |
| Discount rate | 10% | | | | | |
| NPV | $65,774 | | | | | |
| IRR | 86% | | | | | |
The opportunity is big enough for transporters to jump in and save $27k per vehicle on an annual basis. The displacement of diesel trucks in favor of gas ones is already in process. Many executives from the transportation industry are now favoring vehicles that run on gas. A Piper Jaffray analyst opines, "Diesel will one day be considered obsolete when it comes to fueling truck fleets."
At a pump, diesel costs double to that of CNG (compressed natural gas), on a diesel-gallon-equivalent basis.
The following are the stocks that will benefit from low gas prices as a result of the shale gas boom:
Energy Infrastructure Stocks:
Goldman Sachs believes that the shale gas boom will drive a multi-year investment cycle for energy infrastructure stocks. They have estimated the size of this cycle to be $57-65bn. With the boom in shale gas, there is going to be growing demand for natural gas processing capacity. Chicago Bridge & Iron Company N.V. (NYSE:CBI) and KBR, Inc. (NYSE:KBR) are two energy infrastructure stocks for which we see a chance of multiple expansion due to the shale gas boom.
Oil Field Service Providers:
Both Schlumberger Ltd. (NYSE:SLB) and Halliburton Co. (NYSE:HAL) are the world leaders in hydraulic fracturing, the process to produce shale gas. As the shale gas boom picks up further these oil service companies with specialty in hydraulic fracturing will be able to capture long term servicing contracts.
Chemical Manufacturers:
Energy accounts for more than 50% of the costs for chemical companies. European chemical companies will be at a competitive disadvantage as the energy costs for U.S. companies fall due to low natural gas prices. This is evident from LyondellBasell's latest annual results. Its U.S. polymer segment saw an increase of 450bps in the EBITDA margins, whereas the polymer division in Europe saw a contraction of 570bps. As the capacity of Dow Chemicals (NYSE:DOW) increases, along with decline in energy costs, it can take over market share from its European counterparts too. This cost advantage makes DOW a portfolio stock for next many years.
Disclosure: I have no positions in any stocks mentioned, and no plans to initiate any positions within the next 72 hours.