Yesterday there was a major move lower by the Euro on negative news arriving out of both Spain and Greece. The situation at hand continues to support the contagion hypothesis, or domino effect, that has plagued the minds of anyone with a vested interest in the markets. As long as the issue remains, and continues to gain traction on other Euro zone participants, it will surely dominate headlines.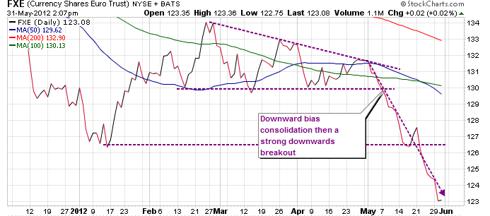 A chart seen by most who interact with the financial markets is the year to date, daily Euro. Its multi-month descending triangle earlier in the year highlighted the uncertainty and negative bias surrounding the region. Ultimately, yields rose, Greek sentiment further deteriorated, and contagion seemingly spread. The move lower has been vicious, and pushed the EUR/USD exchange to multi-year lows.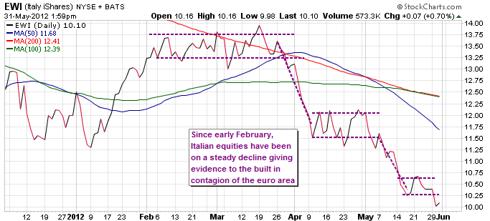 A big mover yesterday was the iShares Italy Index (NYSEARCA:EWI). It took a nose dive of similar proportions to the Spanish Index. The Italian 10 yr auction resulted in spreads just north of 6%. These are disturbing levels, and when accompanied by the surrounding fear of the region, the bias was to sell.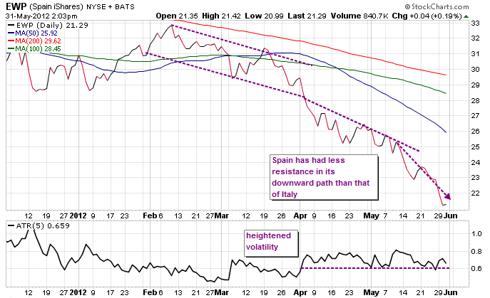 The Spain iShares Index (NYSEARCA:EWP) has also been a consistent decliner, and has been trading at elevated volatility levels over the past 2 months. Unlike EWI, which has had periods of consolidation within its downtrend, EWP has been on a very strong downward spiral. They have had domestic issues and seem to be the next in line to fall.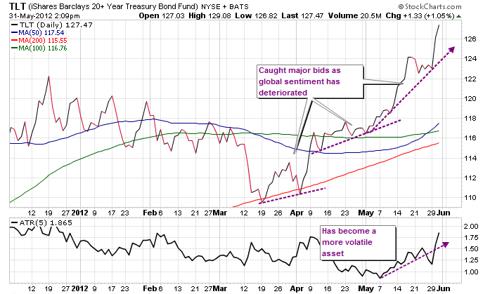 The capital flight from Euro and European equities has resulted in large capital movement in US Treasuries. None have moved greater than 20+ dated treasuries seen in TLT and the PIMCO 20+ Year Zero Coupon Treasury Index (NYSEARCA:ZROZ). Both are more volatile due to their longer dated maturities, and have reached astronomically high levels over the past few months. Along with the inward capital flow, they have also began to trade with increased volatility. This in itself has somewhat diminished its role as a safe haven, and left many with exposure to sharp downward moves when the environment does stabilize.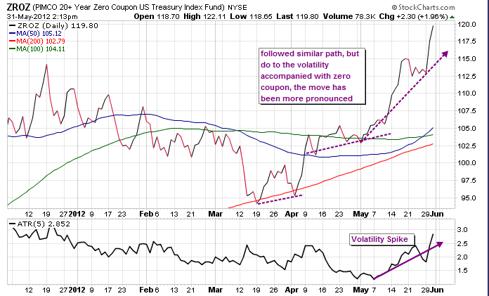 The zero coupon long dated treasury is listed above merely to highlight the exponential move higher, alongside heightened volatility. In the long term these assets will normalize, which could result in a quick downward move in price movement.

Lastly, above is a correlation study of the assets listed in this article. The Euro has been strongly correlated with the moves of its European equity counterparts. In the same, there is a steady negative correlation between the two treasury assets and the European equities.
Disclosure: I am short SPY.