Editor's note: Some positions presented in this article have been disputed. See Seeking Alpha Policy for Disputing an Article.
On Thursday January 24, Document Security Systems (AMEX:DMC) announced that they had elected Robert Fagenson to Chairman of the Board of Directors and Lead Independent Director. This announcement comes shortly after the January 1st filing that Robert Fagenson's company, Fagenson and Co, Inc., had entered into an agreement to lend DMC up to $3 million, with DMC agreeing to pledge their P3 Plastic Printing Professionals subsidiary as collateral.
Robert Fagenson's primary experience comes from managing NYSE specialist and securities firms, but he has also served on the board of directors of several public companies, with DMC being the most recent. Before investors get too excited about the prospects of Fagenson helping to run the show, it would be wise to examine some of the other public companies where Fagenson served as a director in the past.
Let's start with one of the companies mentioned in the January 24th press release:
Cash Technologies (AMEX:TQ)
DMC investors should hope things don't proceed as they have at Cash Technologies, since TQ is currently a penny stock trading at 15 cents a share with a total market capitalization of $3.71 million. Fagenson has been a director of Cash Technologies since the company's IPO in June 1986. Fagenson also made a transaction with TQ that looks similar to his recent DMC agreement. In April 4, 2001, TQ obtained a short-term loan of $75,000 from Robert Fagenson, however this "short-term" loan was extinguished in January of 2004, along with accrued interest of $20,265, by issuing 117,188 warrants with an exercise price of $.01 to Mr. Fagenson.
Below is a 10 year chart of TQ's stock price: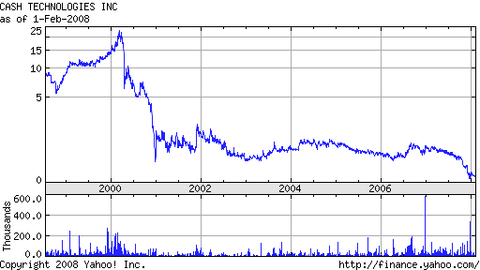 Not a good precedent!
The TQ loan transaction, as well as Fagenson's dates of directorship, are described in TQ's most recently filed proxy statement.
Intrenet Inc. (OTC:IRNE)
Fagenson had been a director of Intrenet since 1999. On 1/2/01, Intrenet announced that they would cease operations.
Intrenet's last proxy statement filed 5/1/00 is here.
Press release of Intrenet ceasing operations is here.
Healthy Planet Products, Inc.
Fagenson had first been elected to the board of directors of Healthy Planet Products in November 1986, and served until January 1990, until he resigned for health reasons. Fagenson was re-elected as a director in March 1991.
Fagenson resigned from the board of directors of Healthy Planet Products on 4/1/98 to become a vice chairman of the NYSE.
Ultimately, on 2/24/03 Healthy Planet Products went into assignment to its creditors. Shareholders received nothing.
Rentway Inc.
Fagenson had been a director since August 1993. Rentway was ultimately acquired by Rent-A-Center in August 2006, but not before three executives plead guilty to federal fraud charges including, conspiracy to falsify books and records, and securities fraud.
Even though the company was acquired, the performance of Rentway shares should not be too encouraging to investors, as Rentway traded at $4.92 on 8/12/93, and was acquired for $10.65 on 11/15/06, which equates to a meager 6% compound annual return and a price 68% below the stock's peak of $33.63
Strings Inc.
Fagenson was a director of Strings, Ltd., a specialty retail chain which, in June 1992, filed for Chapter 11 bankruptcy.
Hudson Hotels
Fagenson had also been a director of Hudson Hotels (formerly Microtel Franchise and Development Corp) since July 1989. Fagenson declined re-election at the end of 1999. Hudson Hotels stock ended 1999 at a price of $2.06 per share, down 93% from an all time high of $32.44 on 1/2/96.
Hudson Hotels ultimately filed for Chapter 11 bankruptcy on 1/24/03.
United Diagnostics Inc (formerly Nu-Tech Biomedical, currently SPO Medical):
Fagenson had been a director since December 1994, when the company went public, until 2002. United Diagnostics was delisted from the NASDAQ in 1998 and currently trades for $0.66 (under the ticker symbol SPOM), with a total market cap of $13.85 million.
Conclusion
So what could have prompted Fagenson's sudden desire to lend DMC up to $3 million and "work side-by-side with senior management to evaluate a variety of corporate transactions, including synergistic acquisitions of cash-flow positive companies and spinning off the Company's intellectual property and related litigations from the Company's operating segments."
According to the company's most recent 10Q, DMC issued 25,000 fully vested warrants exercisable at $12.59 per share, to an unrelated third party, and issued 136,750 warrants exercisable at $12.63 per share to another unrelated third party consultant in August and September of 2007. The value of the warrants, when they were issued, was recorded as a prepaid expense on the company's balance sheet at $525,000, under current assets. The consultants were enlisted to raise interest in the company's stock amongst investors (promote DMC stock). It was this $525,000 that accounted for the large increase in "prepaid expenses and other current assets" from 12/31/06 to 9/30/07, as this line in the balance sheet grew from $224,782 to $857,469. If you subtract this $525,000 from the prepaid expenses line in DMC's Q3 07 balance sheet, the company's total current assets would have been $2,675,559. This is $173,165 less than the company's total current liabilities leaving DMC essentially insolvent. This situation is not helped by the fact that the company only had $1,376,944 in cash as of 9/30/07, and was burning $284,655 in cash a month from operations. This left DMC a little less than 5 months worth of cash at the end of September, which explains the company's desperate moves of late.
According to the press release, Fagenson is now seeking to perform "acquisitions of cash-flow positive companies" for Document Security Systems, because DMC's core business has been unable to generate any cash of its own. Because of DMC's insolvency, acquisitions would have to be done with stock. The only chance Fagenson has of keeping this game going is to get the stock price up and then use the shares as currency to buy a company that actually produces cash.
Fagenson purchased his shares in DMC for only $100,000, obtaining 1 million shares in 2002 for 10 cents a share.
Finally, in the January 24, 2008 press release, Fagenson stated:
The separation or segmentation of our intellectual property defense and its related costs away from our day-to-day operations should make the Company easier to understand.
The notion that an unprofitable company with barely more than $6 million in revenue over the past year, trading at a value of over 10 times sales is somehow misunderstood by investors is laughable.
If anything, shareholders should fear DMC becoming better understood and valued. For example, Digimarc (Nasdaq:DMRC) currently provides several unique technologies used to secure a large percentage of drivers licenses in the United States, as well as digital media. State and national governments, companies in the film and music industry, as well as several national banks are customers of Digimarc. DMRC currently trades at 1.55 times trailing one year sales (Market Cap of $165.36 million / TTM Sales of $106.76 million). If DMC were to trade at a similar multiple to this well established company in the same industry, and with customers DMC aspires to serve, DMC would be valued at $0.70 a share (DMC TTM sales of $6.15 million x 1.55 / 13.68 million shares outstanding )or about 85% lower than it's closing price of $4.73 on 1/25/08. Even this analysis is being generous to DMC since Digimarc is not in nearly as precarious a financial situation as DMC, with Digimarc having over $22 million in cash on their balance sheet, and positive cash flows from operations.
Disclosure: Author has a short position in DMC