A protected covered call or collar search performed using PowerOptions tools, seeking to find the highest returning position for profitable companies with a maximum potential loss of 8%, produced social networking company Facebook (NASDAQ:FB) as the second highest as shown below:

Click to enlarge
Just ahead of Facebook was digital video record company TiVo (NASDAQ:TIVO) discussed here. Following close behind Facebook were online professional networking company LinkedIn (NYSE:LNKD) discussed in this article, organic light emitting diode company Universal Display Corporation (NASDAQ:PANL), and athletic apparel company lululemon (NASDAQ:LULU) discussed here. The highest returning protected covered call is typically covered in these articles, but since we recently discussed TiVo and since Facebook's options were made available yesterday, the second-highest position is discussed.
A protected covered call may be entered by selling a call option against a purchased or existing stock with some of the proceeds from selling the call option used to purchase a protective put option. The Facebook protected covered call has a potential return of 3.2% (69% annualized) and a maximum potential loss of 7%, so even if the price of Facebook's stock drops to zero, the maximum potential loss is 7% (at expiration).
The highest returning positions as shown above were found by selecting to search and sort by the highest returning positions. The 8% maximum loss parameter was selected, as a loss of 8% or less can typically be recovered fairly quickly using income generating investment methods.
Facebook's stock has taken quite a hit since its recent IPO. Facebook's high price so far is $45, and with today's price in the $29 range, a buyer at $45 is feeling a loss of 35%. Ouch! Curious to know who bought shares at $45.
With its IPO, Facebook raised around $16 billion and as a result the company is flush with cash. With Facebook's trove of cash, rumors related to Facebook acquiring other companies are starting to pop up. One rumor has Facebook purchasing the Opera browser to aid with its mobile initiatives. In Facebook's registration statement filed on April 23, 2012, the company mentioned several times risks associated with growth related to mobile products and it appears Facebook is attempting to strengthen its mobile presence. Facial recognition company Face.com is also rumored as a potential Facebook acquisition target. Facebook is also rumored to be developing a smartphone with HTC. It has also been rumored that HTC or Research In Motion (RIMM) could be potential acquisition targets of Facebook.
Sometimes acquisitions don't go as smoothly as planned, so it will be interesting to see Facebook's strategic moves in the near future.
Online social game company Zynga (NASDAQ:ZNGA) currently represents about 15% of Facebook's revenue. Facebook takes 30% of the face value of purchases executed through its website including those of Zynga. Facebook has an agreement with Zynga for the marketing of Zynga's products through May of 2015.
Facebook is a global company, yet a very large port of the globe, China, is off-limits to Facebook, as the Chinese government generally restricts access to Facebook.
In Facebook's registration statement, Facebook cited an IDC report dated August of 2011, indicating advertising spending in 2010 was $588 with television, print and radio accounting for 62% or $363 billion. The company also noted that online advertising, excluding mobile, is expected to increase from $68 billion to $120 billion over the time period from 2010 to 2015. From this, it appears Facebook is planning on taking an ever increasing share of the overall advertising market.
Facebook has a unique culture with its "Hacker Way," where building something quickly or testing the bounds of what can be done are lauded. The company values slogans such as "done is better than perfect" and "code wins arguments." The company also has hackathons where employees build prototypes for new ideas, out of which additions to the company's offering have been spawned including: Timeline, chat, video, mobile development framework and the HipHop compiler.
Competitors to Facebook include Google (NASDAQ:GOOG), Microsoft (NASDAQ:MSFT) and Twitter (private).
A current investor in Facebook might be having buyer's remorse at this point, especially those who purchased the stock at $45 and an investor in the company could also be concerned about further drops in the price of Facebook's stock. An investor in this state of mind might consider entering the protected covered call listed in the table above. The protected covered call positions an investment for potential return, yet also provides insurance against a large drop in price. The protected covered call can be entered for a current long position in Facebook's stock by selling a 2012 Jun 29 call option at $1.55 and purchasing a 2012 Jun 26 put option at $0.65. A profit/loss graph for one contract of the protected covered position is shown below: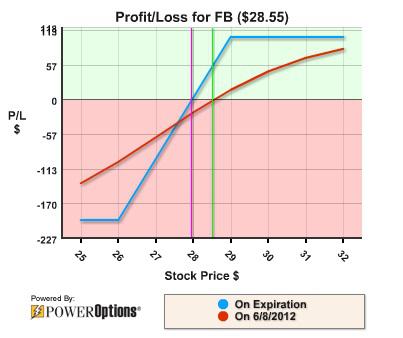 For a stock price below the $26 strike price of the put option, the price of the protected covered call remains unchanged (at expiration). If the price of the stock increases to around $35, the position can most likely be rolled in order to realize additional potential return.
Disclosure: I have no positions in any stocks mentioned, and no plans to initiate any positions within the next 72 hours.