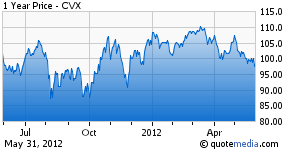 Seldom does an opportunity present itself in a way that offers low downside and high upside. Chevron (NYSE:CVX) is that rare occasion. In this article, I will run you through my DCF model on Chevron and then triangulate the result against a review of the fundamentals compared to Hess (NYSE:HES) and Exxon Mobil (NYSE:XOM).
First, let's begin with an assumption about the top-line. Chevron finished FY2011 with $235.7B in revenue, which represented a 23.8% gain off of the preceding year: acceleration. I model 5.2% per annum growth over the next half decade or so - well below recent performance.
Moving onto the cost-side of the equation, there are several items to consider: Operating expenses, capital expenditures and taxes. I model cost of goods sold eating 66% of revenue versus 2.3% for SG&A, 0.6% for R&D and 11% for capex. These figures are, again, kept on the bearish side in the sense that they are elevated relative to 2010-2011 levels. Contrary to popular media and political depictions, U.S. oil and gas companies are the highest taxed entities in the world. I estimate taxes at 42% of adjusted EBIT (ie. excluding non-cash depreciation charges to keep this a pure operating model.) It is hardly reasonable to say an entity that is giving up nearly half of its income as not paying its "fair share" when nearly half of the population pays no income tax. If the dividend tax is ultimately hiked, Chevron shareholders will be soaked even more and appreciation will be limited from achieving its full potential. At least then they won't be criticized for not paying their fair share in taxes ... although I wouldn't hold my breath.
We then need to subtract out net increases in working capital. I estimate this figure hovering around -0.5% of revenue over the explicitly projected time period.
Taking a perpetual growth rate of 2.5% and discounting backwards by a WACC of 10%, I find an intrinsic value of $201.06 for 104.2% upside. The market seems to be factoring in a WACC of 18%, which is much, much too high for a firm led by excellent management, supported by a shareholder-friendly capital allocation policy, and possessing less than half the volatility of the broader market.
All of this falls within the context of management showcasing strong confidence over free cash flow:
"Chevron's Board of Directors approved a $0.90 per share common stock quarterly dividend. This is an 11.1% increase in the quarterly rate. This is our 25th consecutive year of higher dividend payments. Also, 2012 is an important milestone for us, as it represents a remarkable 100 years of uninterrupted dividend payments to our shareholders."
From a multiples perspective, Chevron is also incredibly cheap. It trades at a respective 7.2x and 7.3x past and forward earnings versus 9.8x and 9.2x for Exxon and 11.5x and 5.8x for Hess.
Consensus estimates forecast Exxon's EPS hovering around $8.69 over the next three years. Assuming a multiple of 13x and a conservative 2013 EPS of $8.78, the stock will hit $114.14 for 40.1% upside. I believe that the market will begin to lift multiples higher when the economy nears full employment.
Consensus estimates forecast Hess' EPS growing by 9.4% to $6.43 in 2012, growing by 18.7% in 2013, and then falling by 15.1% in 2014. Assuming a multiple of 9x and a conservative 2013 EPS of $7.58, the stock will hit $68.22 for 53% upside. While the dividend yield of 0.8% and beta of 1.3 makes it a much riskier investment than Chevron, the fundamentals still remain strong. Accordingly, the Street rates the stock around a "buy" (source: Nasdaq).
Disclosure: I have no positions in any stocks mentioned, and no plans to initiate any positions within the next 72 hours.
Additional disclosure: We seek IR business from all of the firms in our coverage, but research covered in this note is independent and for prospective clients. The distributor of this research report, Gould Partners, manages Takeover Analyst and is not a licensed investment adviser or broker dealer. Investors are cautioned to perform their own due diligence.