Vina Concha y Toro (NYSE:VCO) is a Chilean wine company. It trades on the NYSE though the volume is thin (7000 shares a day on average change hands). I've kept VCO on my watch list for a while, and have seen the shares dip significantly in the last few weeks/months, from above $40 to where it sits now at $34.50 enough so that now seems to be a great time to buy.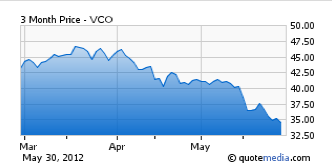 VCO is 2 dollars off of its 52-week low and I don't see it falling much further. Here are some reasons to be bullish on VCO:
1) P/E 13. Yield: 2%. (Pre-tax, Chilean government likes to scoop 25 or 35%, have seen both numbers, though really this is still a very solid yield).
2) The annual report for 2011 (pdf) shows that the company is quite healthy and that, while EBITDA is down due to a strong Chilean peso, all other metrics for the company indicate all-time record performance. This is in a very negative macroeconomic environment.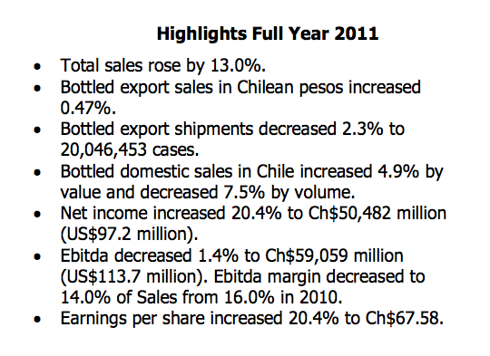 3) I suggest you read Mr. Robert Kientz's Seeking Alpha article on Chile. As opposed to the mess over in Europe, Chile appears to be a country on the rise. South America is a very exciting place to invest right now.
Here is what Mr. Kientz has to say about VCO:
Vina Concha y Toro is the most respected wine brand in Chile. Chileans wines were voted the 3rd most respected brand in the world. Indeed, the National Society of Agriculture highlighted that more Chilean grapes are sold than those from any other place on earth. The market for Chilean grapes and wine is strong. Though, foreign brands are competing vigorously in these markets leading to declining market shares for Chilean manufacturers VCO and CCU. However, the reason I picked this stock is that the best brand in an emerging market typically does well, even in the face of foreign competition. VCO has an established brand, but will be challenged to alter the product mix to include cheaper vintages and perhaps even brews to expand their market appeal, as CCU and AMBEV have done already.

One reason for this stock's price fade has been the strong Chilean Peso, which has slowed exports to the US which is VCO strongest foreign market. To combat this, Vina Concha has purchased a Californian wine maker Fetzer, which produces the Fetzer, Bonterra, Five Rivers, Jekel, Sanctuary and Little Black Dress brands of wines. This adds about 15% additional revenues to the bottom line and capitalizes on the weaker US dollar, effectively acting as an internal company hedge to the strengthening Chilean Peso while taking advantage of a strong US market. Shares will rise with this acquisition. Vina Concha already has a strong balance sheet and delivers a 5% dividend at current prices. As Chileans expand their income and demand strengthens for premium beverages, I expect that VCO will increase domestic sales enough to offset any sales declines abroad.
This article was penned in 2011, and since then the stock has done nothing but decline, which for us potential investors, is a great thing.
4) VCO is the exclusive wine sponsor of Manchester United. For those of you non-soccer (football if you must!) fans, Manchester United is one of the most widely followed, popular soccer teams in the entire world. It is difficult to quantify just how popular Man U is, but Man U is one of if not the top five, at the very least top 10, most recognizable club teams in all of club soccer. The manager's name is Sir Alex Ferguson, that pretty much says it all.
Potential detractors:
1) You don't like Chile. Or the strong currency.
2) VCO does about 50% of its business in Europe. Given the calamity that is Europe right now, perhaps this explains the recent pullback on the stock?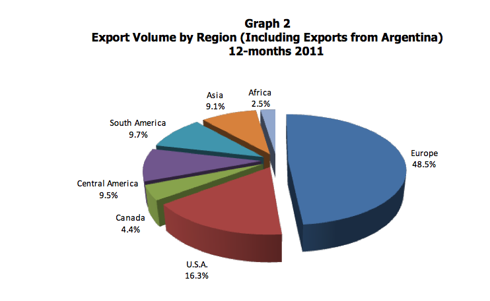 3) I can't think of anything else. Chilean wine is a sought after commodity, and right now it is trading on the cheap.
If you have read any of my other articles, you will see that I like to look for companies that are under followed. VCO is a perfect example of such a company. Only 17 people are signed up for E-mail alerts for VCO. The fewer the eyeballs examining the company, the more likely it is that there is a market inefficiency for investors to take advantage of. With a nice yield and a stable business, I'm very bullish on VCO.
Disclosure: I have no positions in any stocks mentioned, but may initiate a long position in VCO over the next 72 hours.