At the height of the 2008 global financial crisis, the Chinese government announced a 4 trillion yuan ($635B) spending plan to boost the economy. As a result, huge construction projects mushroomed up everywhere: highways, bridges, high-speed rails etc. The stimulus spending also created problems such as heavy local government debts. Seeing those problems, some predicted a hard landing of the Chinese economy.
But one thing people don't understand about China is that China is still ruled by the communists. In the west, collapse of a government means people get to elect a new president and a new government. But to the Chinese authority, collapse of government means the end of the world. So Wei Wen (maintaining stability) is the top priority.
The only way to keep resentful people happy is to make sure people are employed. This requires continued fast growth of the economy. Sustained physical growth is impossible. But like any government, the Chinese authorities will print money to cover local government debts and to create an illusion of sustained growth.
Feeling the economy is slowing down, they are doing it again! Over the weekend, a news story reported that all of a sudden, many local Chinese officials hurried to Beijing like pilgrims to line up for a visit at NDRC, the National Development and Reform Committee.
Irony to its name, the National Development and Reform Committee is widely criticized for doing everything it could to control the economy, including price controls, and to resist reform toward free market principles. Why was there a sudden a rush to visit NDRC? Because NDRC has big money to spend and it can decide what local projects proposed by local governments get the money! As people speculated, the central government, worried about a slow down in the economy, decided to start a new round of economy stimulus, although it is still unclear how big the new stimulus will be.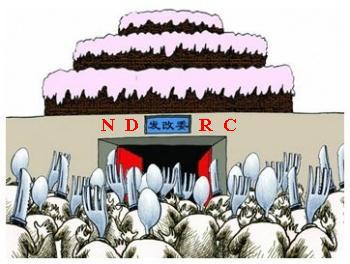 The report described an amazing scene! Local photocopy shops, taxi drivers and hotels saw their businesses boom. Trash collectors complained they had to work overtime to clean up the paper trash. Local officials from around the country carried heavy document packs and waited patiently to be called in to pitch their projects. The NDRC ramped up project approvals. On May 21, it approved more than 100 big projects, almost exceeding the total volume of approvals in the first 20 days of May. No wonder local governors urged their assistants to rush to submit project proposals first and ask questions later, and to keep cell phones on all the time.
Comparing with European austerity, China is a very different world. People have to understand that China is still a totalitarian central government ruled by a communist party and runs a state capitalism economy, not a true free market economy. Fiscal discipline is the last thing in the minds of authorities.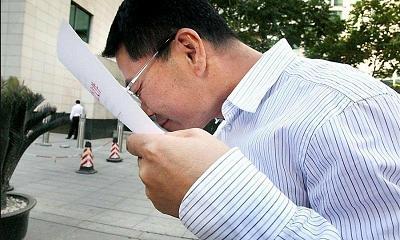 (Outside NDRC, a Chinese mayor kissed a document he received. It was an approval for a 10M tons/year steel project in his city.)
Chinese Premier Wen vowed to maintain economic growth. In light of the new Chinese stimulus spending, investors can bet on continued depreciation of the world's major fiat currencies, and bet bullish on precious metals and commodities.
Austerity has failed in Europe. China's spending binge has started. Once Greece exits from the eurozone and gets back its own money printer, what will it do next? As Jim Sinclair puts it: QE to infinity! It is unavoidable because money printing always seems to be the easier way to get out of a debt crisis.
Investors should consider investment opportunities related to China's new spending binge, and related to commodities.
Precious metals and related mining companies worth buying (I do have skepticism on physical metal holdings of some ETFs):
Watch these names on clean and renewable energy (but wait a bit longer for the solar sector to rebound):
The biggest investment opportunity is in something China needs desperately: the black gold coal. China needs coal and U.S. has the largest coal reserve in the world. Look at China's coal production and demand growth in the past decade (in 10,000 metric tons):

Look at this satellite photo of a giant depleted coal mine in China! China now burns seventeen (17) such big holes of coal a year: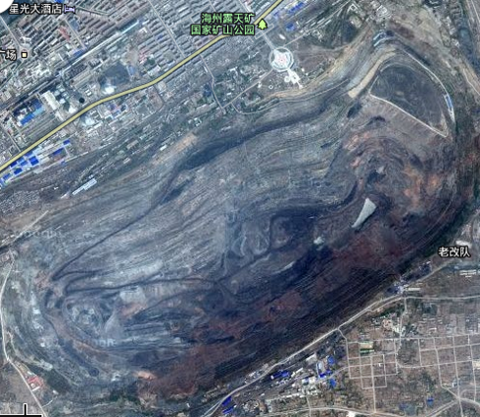 Will China stop growing? Infinite physical growth is impossible. China has to stop growing at some point, or it eventually collapses. But it won't happen before its own natural resources, and that of the world, are nearly depleted. China's per capita natural resource consumption is still below the world average. China won't stop buying commodities until the U.S. dollars it holds become worthless.
China's coal imports in first four months of 2012 were up 69.6% over last year to reach 86.55M tons. According to Chinese Custom, physical tonnages of all imports were up 17.5%. Are such growth paces slow downs? To the party bosses, an 8% growth is not enough to Wei Wen. Thus the new spending binge!
I recommend these great values in U.S. coal at fire-sale prices:
James River Coal Company (JRCC)
Patriot Coal (PCX)
Arch Coal Inc. (ACI)
Cloud Peak Energy (NYSE:CLD)
Alpha Natural Resources (ANR)
Consol Energy (NYSE:CNX)
Black Hills Corp. (NYSE:BKH)
Walter Energy (NYSE:WLT)
Westmoreland Coal (NASDAQ:WLB)
Peabody Energy (BTU)
Nacco Industries (NYSE:NC)
Alliance Resource Partners LP (NASDAQ:ARLP)
Market Vectors Coal ETF (NYSEARCA:KOL)
Stay tuned as China's new economic stimulus unfolds.