On Wednesday, May 30, LME Spot Copper closed at $7645 a tonne. This figures out to $3.40/lb. This is the year-to-date low, and is 26% below the 2011 high. Whether "Dr. Copper" truly has a PhD in economics and can predict the future of the economy is open to debate. Whether it is a leading indicator or a reflection of the market, one thing is certain, this does not bode well for copper miners.
The London Metal Exchange
Just three weeks ago I stood in the guest gallery overlooking the trading ring at the London Metal Exchange (LME) at 56 Leadenhall Street, in London. Established in 1877 and located in the heart of the City of London, the London Metal Exchange is the world's premier non-ferrous metals market. The LME spot price of copper that day, May 10, 2012, was set during the first session's second ring (official) at 12:30 PM to 12:35 PM, at about $8,600.
"The Exchange provides a transparent forum for all trading activity and as a result helps to 'discover' what the price of material will be months and years ahead. This helps the physical industry to plan forward in a world subject to often severe and rapid price movements. Such is the liquidity at the Exchange that the prices 'discovered' at the LME are recognized and relied upon by industry throughout the world."
About 30 members of the exchange sat in a circle, behind each trader are two secretaries who would relay information to their phone operators, a few feet behind them. In one of the world's last open outcry trading pits, in five hectic minutes copper was traded, using a variety of utterances and an array of rapidly flashed hand signals.
LME Video
The London Metal Exchange makes available this excellent two minute video, which gives an overview of the exchange and views of live trading from that same guest gallery.
Copper Prices
Copper Prices have declined sharply in the past month and year, as the below charts from the LME show.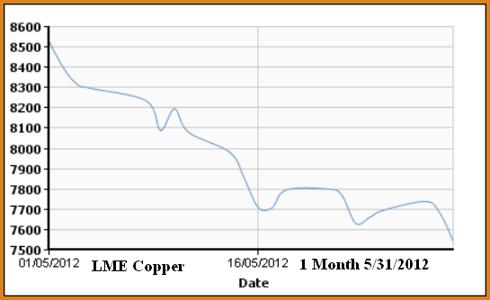 Click to enlarge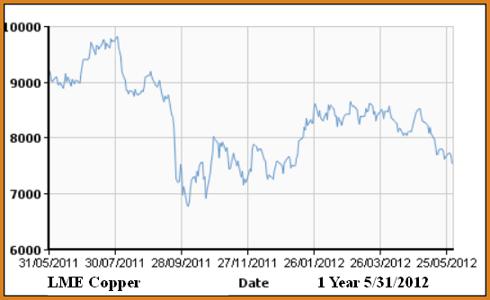 Click to enlarge
Projects Put On Hold
Rio Tinto (NYSE:RIO) has delayed several projects worldwide, and is evaluating its planned CAPEX closely.
Japan's Mitsubishi is stymied in its plan to buy a 24.5% of Anglo-American's (OTCPK:AAUKY) share in the Codelco mine in Chile for $5.39 billion. Legal issues and the resignation of executives are factors.
China - Jiangxi Copper Co Ltd, China's top copper producer, said its copper mining projects in Peru and Afghanistan would be delayed.
Mercator Minerals Ltd. (TSX:ML) is putting its El Pilar copper project in Sonora, Mexico, on ice as "a reasonable financing package is not currently available," the company said in its first quarter earnings statement.
Xstrata Plc (LON:XTA), the fourth largest copper producer in the world, said it is analyzing political risks in Argentina, where the company has two major copper projects, an investment of $5.5 billion.
Vale (NYSE:VALE) is also questioning continuing investment in Argentina.
Zambia is Africa's largest copper mining country. It is planning to negotiate increased stakes in copper mining projects from the current 10% to as much as 35%. This will halt or slow development.
"Miners: Feeling Pain of Low Metal Prices Enough to Close Capacity?" asks the headline in Today's edition of MetalMiner. Analysts and commentators have been saying for the last year that falling commodity prices will cause mines and smelters to close across a whole range of base metals, and all over the world. Certainly, the effect of the soft copper prices is having a strong effect on the industry and the prices of the miners.
Copper Company Stock
This chart shows the major copper companies which are U.S. based or traded as ADRs on the NYSE. With the exception of Southern Copper (NYSE:SCCO), they are trading near their 52 week lows and the one-year performance is down from -27% to -40%.

Click to enlarge
Investment Strategy
The theory states that one should buy low and sell high. Well, the above stock prices are certainly low. I suggest thorough due diligence before taking any actions. While there appears to be the opportunity for great profit, there is always the risk that the stocks above will continue down or not rise for a long time.
I own BBL and added to my position yesterday at a slightly higher price than the above. I think it is the best bet of the above because it is the world's largest miner. It has diversity of mining products and is diverse geographically. It has a stated policy of increasing dividends yearly and with a current yield of over 4% and a sound balance sheet, I see opportunity. I also own RIO and FCX, which I intend to hold, but not add to at this time.
Richard Bloch, another Seeking Alpha author, just published an excellent article on FCX entitled Freeport McMoRan: Labor Dispute And Lower Copper Prices Pressuring Stock, at this link.
Richard says, "I'm going to hold on to Freeport for the time being. Overall, it's a quality company with a current yield of 3.9%. I may add some Southern Copper to diversify, but neither company is destined to move very much unless copper prices come back."
The question is, when will copper prices come back?
Related Articles by Bob Johnson:
Buy BHP Billiton For Dividend Income Today And Profit Tomorrow, at this link.
The Price of Copper, A Matter Of Supply And Demand, linked here.