With the market posting its biggest monthly loss since September, we all could use a safe haven. As it turns out, AT&T (NYSE:T) has beaten the market in all of the pullbacks since July 2011, and has also gained in the rallies:
Click to enlarge images.

Click to enlarge
AT&T has also outperformed the market year to date, and during these longer time periods: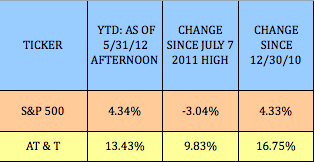 So this must mean that the company has achieved some superb earnings to deserve this kind of support, right?
Wrong. AT&T had a bad 2011 fourth quarter, when it lost $1.13/share and its 2011 earnings fell over 79% vs. 2010. AT&T's trailing 12-month P/E of over 50 makes it look like a basket case, but the market has forgiven past blunders because of the company's projected 2012 and 2013 earnings growth -- which actually make AT&T look undervalued on a PEG (price/earnings growth) basis.
The mean estimate for 2012 is $2.20 (it's listed even higher, at $2.39, on some financial websites), which gives AT&T a very low 2012 PEG of .22. Its 2013 PEG of 0.92 is still below the 1.0 threshold:

Click to enlarge
Additional past EPS and sales data and price/book, however, don't show AT&T in a favorable light vs. its industry:

Financials: The telecom industry doesn't have strong management efficiency ratios as a whole. AT&T does have lower debt and better interest coverage and operating margin figures, however:

Click to enlarge
Dividends: Although the telecom sector may have lousy financial ratios, it is known for having high-dividend paying stocks, and AT&T holds its own in this area. With its 5%-plus dividend yield, AT&T is listed in the telecom section of our High-Dividend Stocks By Sector Tables.
AT&T is a member of the Dividend Aristocrats, having increased its dividends for at least the past 25 consecutive years. 2012 is the 29th straight year AT&T has increased its dividends:

There are many high-options-yields trades in our Covered Calls Table, which we employ to improve upon a dividend stock's yield.
However, in AT&T's case, it may not be worth it. The company's low volatility means mainly low options premiums, even when they're "at the money," like this January 2013 $35.00 call option. The danger here is that your shares of AT&T might easily be assigned/sold away before you collect all of the three quarterly dividends, since AT&T's price is only is only $0.70 below the $35.00 call strike price:

Click to enlarge
Here's the conundrum: AT&T has done well in rallies and pullbacks, but it's also very near its 52-week high, which is not the time when a typical value investor would buy it.
If you're wary of "buying too high," a better alternative way to profit might be selling cash secured puts below AT&T's current price. You won't participate in potential price gains or dividends, but you will get paid the put premium now vs. waiting for the quarterly payouts and possible price appreciation.
This January 2013 $34.00 put option trade below offers a higher short-term payout than AT&T's three quarterly dividends over the next nine months. Your maximum profit is the $2.36 put premium, vs. the $1.32 in dividends you'd receive if you owned the stock. You'll have a $31.64 breakeven, which is closer to AT&T's 200-day average of $29.47.
You can see more details for this and over 30 high-yield cash secured puts trades in our Cash Secured Puts Table.

Click to enlarge

Disclosure: I am long T.
Disclaimer: This article is written for informational purposes only and isn't intended as investment advice.