IAC/Interactive (IACI) shares are lower Monday morning after Stifel Nicolaus analyst Scott Devitt cut his rating on the company to Hold from Buy. His disturbing thesis on the stock is that IACI is starting to look like Cendant, "a company run by a high-profile CEO [Henry Silverman] that was an aggregated mish-mash of unrelated and average businesses." In the case of Cendant, he says, "it ended in a break-up with very little return for shareholders." In the case of IACI, "the outcome remains unknown as the CEO tries to protect a legacy."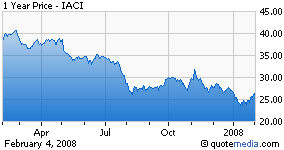 In case you haven't been paying attention, IACI late last year proposed breaking IACI up into five separate public companies. More recently, the company has been engaged in a steel-cage death match with investor John Malone's Liberty Media (LINTA). Malone has a 33% stake in IACI, with a 63% voting interest. But a long-standing agreement gives IACI CEO Barry Diller the right to vote Liberty's shares. Now Malone is trying to wrest back control of his stake - and boot Diller out as CEO.
Devitt says the stock is a buy if Malone wins, but a Sell if Diller wins. "This decade-long project in poor capital allocation needs to end," he writes. "Our hope is that LINTA emerges victorious."
Devitt proposes a breakup scenario:
Liberty, which already owns the home-shopping channel QVC, buys rival HSN.
The core IAC Internet properties - Ask.com, Match.com, CitySearch - are sold to eBay (NASDAQ:EBAY), Google (NASDAQ:GOOG) or Microsoft (NASDAQ:MSFT).
Ticketmaster is sold to eBay.
Interval, which is focused on time share properties, is sold to Expedia (NASDAQ:EXPE).
LendingTree is sold "to the highest bidder."
IACI Monday is down 60 cents, or 2.3%, at $25.66.