T. Boone Pickens is among the most well-known billionaire businessmen in the U.S. Pickens has a vast amount of business experience in the energy sector. Before founding Mesa Petroleum in 1956, he worked for Phillips Petroleum for several years. Pickens was the king of takeovers and acquisitions during the 1980s. After taking over the Hugoton production company, he led the acquisitions of Pioneer Petroleum and of Tenneco's mid-continent assets. In 2008, the billionaire hedge fund manager introduced the "Pickens Plan," hoping to reduce America's dependency on the OPEC cartel. A radical suggestion in the plan was to introduce a wind-power corridor from Texas to Canada. So far, the plan has not received much attention from the administration.
He has spent about millions of dollars in order to achieve his "Pickens Plan" --- an energy plan which counts on wind and natural gas in order to lower United States' addiction to oil. While this plan sounds too ambitious, he already made significant investments in alternative energy. In fact, his portfolio is almost purely energy-based. BP Capital has a concentrated portfolio of 20 stocks. In the last quarter T. Boone Pickens made significant transactions. Here, is a brief analysis of 3 big sells by BP Capital:
| | | | | |
| --- | --- | --- | --- | --- |
| Company Name | Shares Held | Change in Shares | % of Portfolio | YTD Return |
| McMoran Exploration (NYSE:MMR) | 0 | Sold Out | 0% | -31% |
| Exxon Mobil (NYSE:XOM) | 0 | Sold Out | 0% | -2% |
| Chesapeake Energy (NYSE:CHK) | 499,055 | -71,000 | 6.63% | -26% |
Data obtained from Finviz/Morningstar and is current as of May 30.
McMoran Exploration (MMR)

Prior to last quarter, McMoran Exploration was among the top holdings of BP Capital. However, the hedge fund sold out all of its McMoran stocks in the last quarter. That was a good move, as the stock lost near one third of its market cap in the last quarter.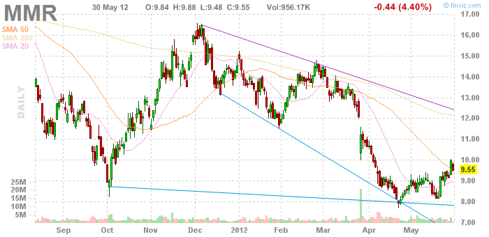 (Source: Finviz)
The last year has not been a good one for the stock. At one point in December, McMoran made it to as high as $16. The current price is almost 50% below the stock's 52-week high. However, I do not think that the stock will keep sliding. Looking at the graph above, one can see $8 as a strong support level. The stock also resisted the May sell-off, and in fact it gained near 16% in last month. The balance sheet looks strong. Each share comes with cash and equivalents of $2.67 per share. I think McMoran is primed for a rebound. Therefore I rate it as a buy.
Exxon Mobil (XOM)

Exxon is another stock; T. Boone Pickens is bearish about. Similar to McMoran, he sold out his Exxon stocks in the last quarter. Despite having been lost its market-cap throne, Exxon is still the strongest company in the oil industry. It is considered as one of the safest investments in its field, with a market cap of near $400 billion. The stock found strong support from the $70 levels, and jumped as soon as the share price fell a little below $70 last year. However, after forming a multiple-top pattern, it retreated back.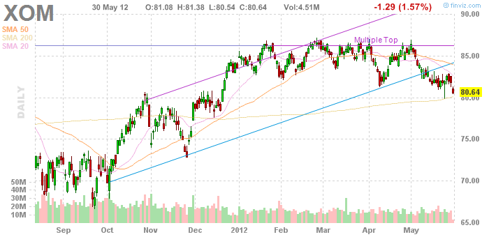 (Source: Finviz)
Currently, Exxon trades at a single digit trailing P/E ratio of 9.89. The estimated annual EPS growth for the next five years is 8.6%, and with a Beta value of 0.50, Exxon is the least volatile stock among its peers. Its O-Metrix score of 5.75 (out of 10) is slightly above the average.
Analysts' mean target price of $94.3 implies about 16% upside potential in the near term. With a yield of 2.78% and a strong balance sheet, Exxon should make for a good investment. I believe the stock might hit triple-digits in this year or next, should oil prices keep rising. However, I expect a pullback from Exxon in the near term, as the oil prices keep going down. Therefore, a price in the range of $75 - $80 might offer a better entry level.
Chesapeake Energy (CHK)

Chesapeake was among the top stocks in T. Boone Pickens' portfolio. It still ranked as the 6th largest equity in BP Capital's investment fund, but the total number of shares is reduced by 71,000 in the last quarter. The stock has been a loser for a while. The falling natural gas prices caused a sharp cut in Chesapeake's market cap. The stock lost 26% in this year alone.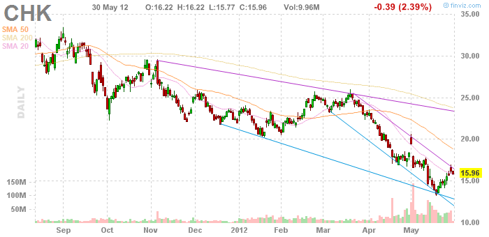 (Source: Finviz)
Chesapeake Energy is probably among the cheapest independent oil & gas companies in the market. The valuations are extremely depressed. At the current market prices, the company's equity and net debt are valued for less than $10 per each barrel of oil equivalent. According to Bloomberg, at this low valuation, the company could be a take-over target. The announcement of 7.6% stake by activist investor, Carl Icahn, also supports the take-over rumors.
Chesapeake Energy also owns a substantial portion of Chesapeake Midstream Partners (CHKM). Chesapeake Midstream Partners is established as a Master Limited Partnership [MLP]. As an MLP, the company is subject to favorable tax treatment. While I think Chesapeake is primed for a rebound, I would suggest CHKM for yield-oriented investors. The stock offers a yield of 6.38%. And its price/book ratio of 1.56 is well-below the MLP average. CHKM is not limited to its parent company. The partnership also holds transport agreements with the French oil giant, Total (NYSE:TOT). A substantial portion of its revenues come from Total. Total also recently acquired a $2.32 billion holding in Ohio's Ultica Shale from Chesapeake Company. Apparently, the French giant has a strong interest in both Chesapeake Energy and Chesapeake Midstream Partners.
Disclosure: I have no positions in any stocks mentioned, and no plans to initiate any positions within the next 72 hours.