Verizon Communications, Inc. (NYSE:VZ) is an example dividend investment opportunity. I clarify this by adding the disclaimer, "for today and tomorrow". Verizon shows balance sheet weakness, dividend growth problems, and an increasing higher than normal dividend payout ratio. The telecom sector is going through major changes in the wireless versus wire line business. Services are becoming free to companies with debt free balance sheets. In my view, the balance sheet is where it all starts. A great investment will have a great balance sheet. Vodafone is, however, the best play in the telecom dividend space.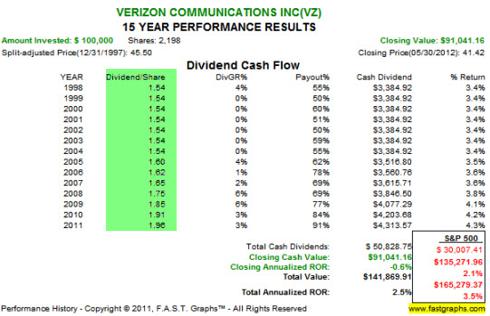 Click to enlarge
Verizon Troubling Issues
If the reader looks at the 15 year dividend growth, the annual growth has been anemic. Please note in 1998 the payout ratio was 55%. In 2011 the payout ratio has jumped to a disturbing 91%. These are negative trends.
Overview:
Verizon is a leading US provider of integrated telecommunications solutions for retail, business, and government and public sector organizations. Verizon delivers innovative information, communication and entertainment services - analog and digital local and long distance voice services, high bandwidth mobile services (including next generation 4G wireless networks), high definition video, high speed Internet access, and the full suite of business communications solutions over its advanced fiber optic networks (FiOS). In 2012, Verizon topped its industry in Fortune Magazine's rankings of the World's Most Admired Companies. Verizon employs close to 192,000 employees.
Quarterly Update:
For its fiscal first quarter ended March 31, 2012, Verizon reported operating revenues of $28.2 billion, up 4.6% from Q1 2011.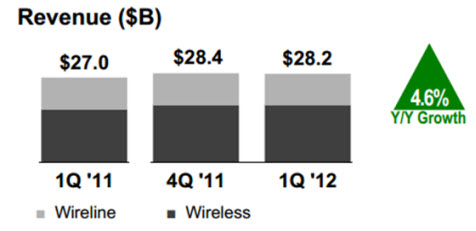 Operating expenses grew 2.3%, less than revenue growth, and operating income gained 16.7% in the quarter relative to 2011, to $5.2 billion, with an operating margin of 18.4%. After taxes and other expenses, net income was $3.9 billion, up 19.7% from $3.3 billion a year ago. A significant part of this net income, $2.2 billion, was attributable to non-controlling interests and roughly 43% or $1.7 billion went to Verizon shareholders from which diluted earnings per share was $0.59, up 15.7% from 2011. In the quarter, Verizon paid dividends of $0.50, in line with the past quarter and up 2.6% from $0.4875 a year ago. Verizon paid out 85% of its earnings as dividends, which is considerably high considering Verizon has to continuously invest in infrastructure and marketing programs.
Click to enlarge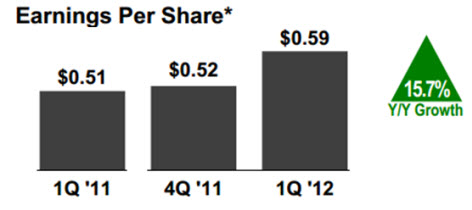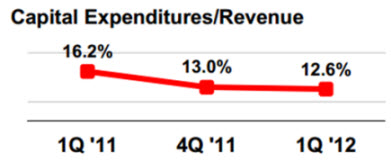 Verizon also reported results for its two main segments, wireless and wireline.
Verizon Wireless saw a 5.2% increase in retail connections to 93 million from 88.4 million a year ago. Its churn rate, which reflects the net of new customers less departing customers, was down to 1.24% from 1.33% in Q1 2011 - the lower the churn, the better. Its average revenue per customer (ARPU) jumped 16% for data services (reflects the increased use of data on mobile devices such as for Internet access and applications such as Facebook) and was up a modest 3.4% for retail service.
On mobile instrument sales, Verizon saw strong demand for broadband wireless enabled smartphones, at 72.4% of new phones sold, up from 60% a year ago. Overall, smartphone users now make up 46.8% of its phone base, up from 32.2% a year ago.

Click to enlarge
As a result of these operational gains, Verizon Wireless saw revenue jump 8.2% to $18.3 billion from $16.9 billion a year ago. In dollar terms, service revenue contributed $1.1 billion to the overall increase while equipment sales contributed a smaller $149 million to the increase. Due to the revenue increase and with operating expenses under control, Wireless operating income was up 19.9% to $5.2 billion and its operating margin increased 2.8% to a healthy 28.6% of revenue.
Verizon also continued to expand its 4G network which is now available to two thirds of the US population. Uptake on 4G has also been growing strongly.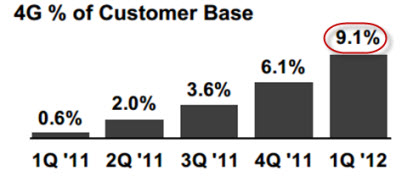 Click to enlarge
By comparison, Verizon's Wireline business saw revenues drop despite strong gains in its fiber FiOS subscribers. Customers chose FiOS primarily for high-speed Internet and opted for the bundled offering which includes high definition video (to replace cable tv) and digital voice. At quarter end, Verizon had 11.7 million FiOS subscribers, up 30.6% from 8.9 million a year ago. Its traditional voice connections, though, dipped 6.9% to 23.7 million as customers increasingly opt for mobile and voice over IP services in lieu of landline phones. ARPU, overall, did increase due to the FiOS effect and was up 8.1% to $97.88 from $90.55 a year ago.

Click to enlarge
On the revenue and earnings front, Wireline revenues declined 2% overall to $9.9 billion and operating income was slim, $157 million with a 1.6% margin. Compare this to $5.2 billion from the Wireless division and it is clear where Verizon's profits come from.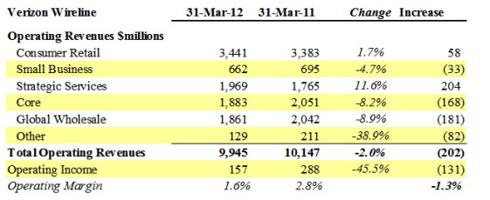 Click to enlarge
In the quarter, Verizon generated $6 billion in cash from operating activities, up 18.3% from the year-ago quarter. Verizon used $3.7 billion to invest in its business infrastructure and paid down debt in the quarter. Overall, the company used $7.5 billion in cash, an almost mirror like swing from the $7.3 billion in cash it generated in Q1 2011. Verizon ended the quarter with $5.9 billion in cash, down from $14 billion a year ago.

Click to enlarge
Verizon's primary assets include cash, accounts receivable, plant, property and equipment and the value of its wireless licenses. Total assets were $223 billion at quarter end, down 3.3% primarily due to the decrease in cash and accounts receivable. Long term debt was down 3.6% to $48.5 billion and Verizon shareholders held $36.7 billion in equity.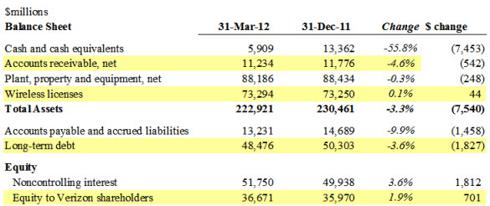 Click to enlarge
Verizon should see continued strength in its wireless and FiOS wireline offerings as individuals, homes and businesses see increasing value in high bandwidth mobile and landline services. Verizon also anticipates higher revenue from its Enterprise Solutions group from demand for applications such as cloud computing that require higher bandwidth.
Competition:
AT&T (NYSE:T) is Verizon's biggest U.S. domestic rival. The same high payout ratio, 81%, remains worrisome. Secondly the dividend growth, 2% last year, is anemic and does not meet the cost of inflation.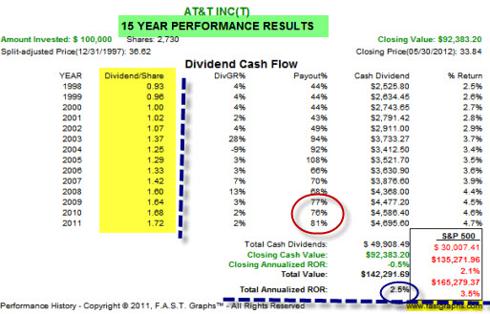 Click to enlarge
Vodafone (NASDAQ:VOD) is an internationally balanced with a higher dividend yield and a lower payout ratio. I recommend investors consider Vodafone as an investment versus the slower growing AT&T and Verizon.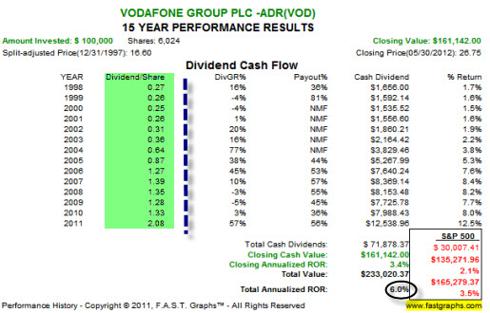 Click to enlarge
Dividends:
In the quarter, Verizon paid $0.50 in dividends per share ($2 annually) - an 85% payout relative to earnings per share of $0.59, for a dividend yield of 4.8% with shares close to $42 as of end May 2012. Shares are currently near the high end of their 52-week range, with a price to earnings ratio of 45 and a market capitalization of $118.6 billion, more than three times book value.
Action
If investors demand telecom exposure, I recommend Vodafone. Their dividend payout ratio from earnings and their 7.4% yield is superior to AT&T or Verizon.
Disclosure: I am long VOD.