We recently posted Part 7 of our "Building A DIY Dividend Portfolio" series, which highlighted our top-ranked dividend stocks in the Industrials sector (see summary table below).

As we highlighted in Part 7, we believe that patiently waiting for a low-risk entry point for a given stock will drastically improve your long-term investment results. Just because a stock has a high Parsimony composite rating, it doesn't necessarily mean that you should run out and purchase it that day. We scan the charts of our top-rated stocks daily looking for strong levels of support and resistance, which ultimately helps us determine a target "Buy Zone" for each stock.
Tactical Strategy for the DIY Dividend Portfolio
As a follow up to Part 7 (Part 7b, if you will), below are our target "Buy Zones" for each of these top-rated Industrial stocks. For the most part, Industrial stocks have pulled-back in response to the recent correction in the broader market (remember that the Industrial sector has the second highest correlation to the S&P 500 of any sector). As you will see below, there are several Industrial stocks that are currently offering investors some very attractive entry points right now.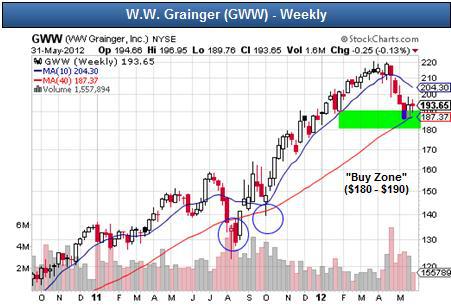 W.W. Grainger (NYSE:GWW) is getting very close to our "Buy Zone". The stock is down over 12% from its peak and it is closing in on its 40-week moving average. This level has provided support in the past and we believe that it will be a great low-risk entry point for this highly-rated dividend aristocrat.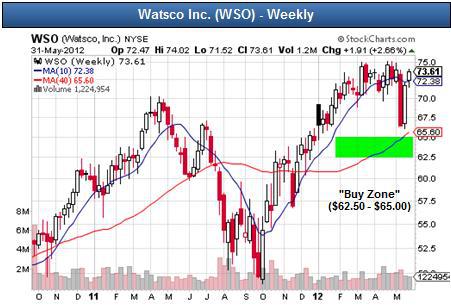 Watsco (NYSE:WSO) has bounced back nicely the past two week after declining about 10% in early May. However, based on prior corrections, we are targeting a pullback of 12%-15%, which would give you a yield to cost of around 4.0% on the stock.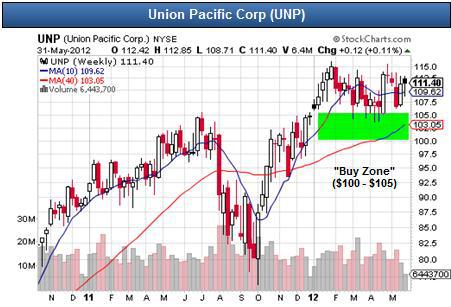 Union Pacific (NYSE:UNP) has held its ground during the recent weakness in the broader market. As discussed in part 7, we really like the fact that UNP has high ratings for both Dividend History (94) and Dividend Potential (97). This stock would be a great addition to your DIY Dividend Portfolio and we believe that the $100-$105 range is an excellent entry point.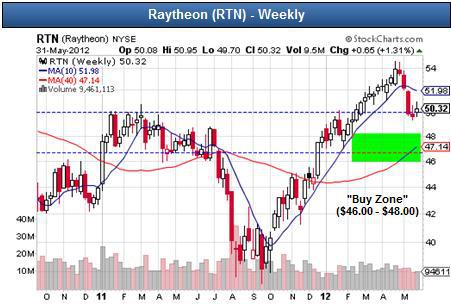 Despite a very attractive current dividend yield above 4.0%, we think that Raytheon (NYSE:RTN) could see some further weakness over the next few months. That said, we are targeting a "Buy Zone" of $46.00-$48.00 for the stock. We believe that the stock will get decent support around this level as it coincides with its current 40-week moving average as well as the lower end of RTN's consolidation range from early 2011.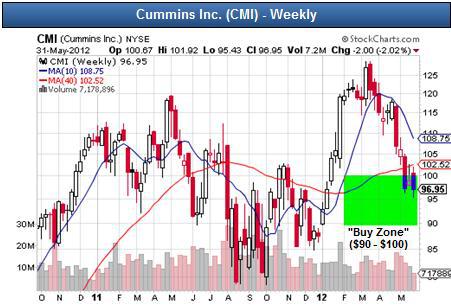 Cummins (NYSE:CMI) is probably one of our favorite stocks in the sector. Although it is also one of the most volatile, with a beta close to 2.0. The stock has a 90+ rating in 3 of our 5 sub-rating categories (Financial Stability, Dividend History, and Dividend Potential). This stock offers investors a great combination of dividend yield, dividend growth and capital appreciation potential. That said, given CMI's historical volatility, its extremely important for investors to wait for a low risk entry point (like the one we are seeing right now!). The stock is down over 25% from its recent peak and we think that it is now safe for investors to start accumulating shares. We actually opened a small position ourselves yesterday.
Summary
Investors should consider all of these top-rated Industrial stocks for their DIY Dividend Portfolio, but please be patient with your entry points.
That said, WW Grainger and Cummins are currently in (or very close to) their respective "Buy Zones" and investors should feel free to pull the trigger on these stocks immediately.
Good luck out there ... be patient!
Please make sure to "follow" us as we will be continuing our DIY Dividend Portfolio series over the coming week. We will also update readers if there are any new stocks entering their "Buy Zones".