Swiss government bond yields dropped to a record -0.23% on 31 May 2012. There is no reason why 2 Year Swiss government bonds should have such low yields (chart 1), other than the fear that the euro will break up or that the peg between the euro and the Swiss franc is about to be abandoned.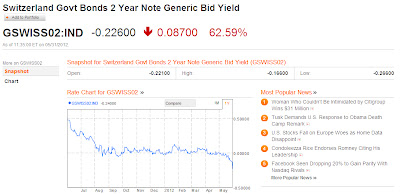 Click to enlarge
The reason why I say that the Swiss bonds are overpriced, is because of the fact that the Swiss franc is pegged to the euro at 1.2 EUR/CHF (Chart 2). To keep this peg, the Swiss National Bank is buying euros in exchange for Swiss francs. In Q1 alone the bank spent 1.7 billion francs on open market operations, at the exchange rate of 1.2 EUR/CHF. If the euro keeps going lower and lower against other currencies, the Swiss franc will do the exact same thing. Bonds denominated in Swiss franc will pay you back in Swiss franc (which is pegged to the euro).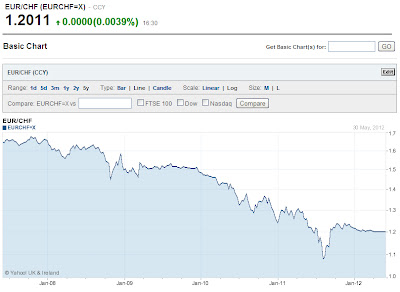 Click to enlarge
Chart 2: EUR/CHF exchange rate
However, if Switzerland were to de-peg the Swiss franc from the euro, there will be tremendous upside in the Swiss franc. One indicator of the healthy economy of Switzerland is its real GDP, which rose 0.7 % from the previous quarter, as opposed to declining GDP in the periphery of the eurozone. Swiss francs will have a safe haven status in Europe during a coming recession.
The current peg between the Swiss franc and the euro cannot keep going on forever and evidence is starting to arise that the Swiss National Bank can't keep this peg going on for much longer. According to Societe Generale, it is predicted that after June 2012, the peg could be abandoned. Guess what, we have just started the month of June.
If the euro keeps dropping, the pressure on the Swiss National Bank will be ever more pronounced. Once the de-pegging happens, Swiss denominated assets and equities will start to rise due to a rising Swiss franc. And more so because Swiss bond yields are at record lows today, while the average dividend yield of the Swiss equity index is much higher at 2.5%. A good way to benefit from this is to buy the iShares MSCI Switzerland Index ETF (NYSEARCA:EWL).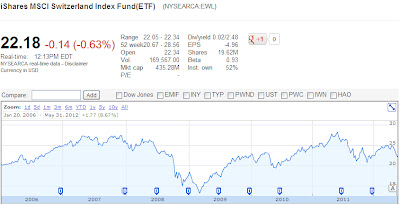 Click to enlarge
Chart 3: iShares MSCI Switzerland Index Fund
Disclosure: I have no positions in any stocks mentioned, and no plans to initiate any positions within the next 72 hours.