The Dividend Champions spreadsheet and PDF have been updated through 5/31/12 and are available here. Note that all references to Champions mean companies that have paid higher dividends for at least 25 straight years; Contenders have streaks of 10-24 years; Challengers have streaks of 5-9 years. "CCC" refers to the universe of Champions, Contenders, and Challengers.
Universe in Flux
No sooner had I reported last month on the addition of two new Champions - Chevron (NYSE:CVX) and UGI Corp. (NYSE:UGI) - than I ran across the news that Nationwide's acquisition of Harleysville Group had been completed, dropping the Champions listing back down to 104 companies. Nevertheless, the roster has expanded from a low of 97 companies and should continue to grow, as more Contenders graduate on reaching 25 years of higher dividends. The overall CCC universe seems to be leveling off at about 460 companies, which is likely to be true over the next several months, since we appear to be in the "slow" period of the year for dividend increases. Last June, I posted an article about the "seasonality" of dividend increases, which can be found here. In fact, July was the slowest month (by Ex-Dividend Date) at only 3.1% of the increases among 449 CCC companies, as was the third quarter of the calendar year, at just 17.4%. No month after May exceeded 10% of the increases, although June logged 11.1% when measured by Pay Date. Having said that, I still expect that a couple dozen MLPs (Master Limited Partnerships) will continue to announce quarterly increases, typically in early August and November. Another encouraging sign is that more companies appear willing to announce a second increase during the year, compared with the environment we experienced during the "Great Recession."
Quick Summary
The Summary tab includes a table comparing the composite numbers from the latest update to those from the previous month and the end of the previous year. Below that is a summary of the latest month's activity, in terms of companies added, deleted, or promoted. That is reflected below:
Quick Summary:

5/31/12

Champs

Contdrs

Challgrs

Total

No. of Companies

104

166

189

459

Ave. No. of Years

38.9

14.6

7.2

17.1

Average Price

51.79

45.88

42.06

45.65

Average Yield

2.99

3.19

3.54

3.29

Ave. MR Increase

7.27

9.18

10.01

9.10

4/30/12

Champs

Contdrs

Challgrs

Total

No. of Companies

105

165

191

461

Ave. No. of Years

38.7

14.6

7.2

17.0

Average Price

53.88

48.00

45.33

48.23

Average Yield

2.86

3.02

3.31

3.10

Ave. MR Increase

7.21

9.25

10.30

9.23

12/30/11

Champs

Contdrs

Challgrs

Total

No. of Companies

102

146

200

448

Ave. No. of Years

38.7

15.1

7.2

17.0

Average Price

49.98

46.20

42.62

45.46

Average Yield

2.94

3.10

3.36

3.18

Ave. MR Increase

7.24

8.47

10.99

9.39

MR = Most Recent; NC = Not Calculated

Additions:

American Water Works (NYSE:AWK) to Challengers

Quaker Chemical Corp. (NYSE:KWR) to Challengers

Deletions:

Arch Coal Inc. (ACI) from Challengers

Delphi Financial Group (NYSE:DFG) from Contenders

Empresa Nacional de Electricidad SA (NYSE:EOC) from Challengers

Harleysville Group (NASDAQ:HGIC) from Champions

Promotions:

Airgas Inc. (ARG) from Challengers to Contenders

Tiffany & Company (NYSE:TIF) from Challengers to Contenders
(Table from author; may include underlying data from FinViz.com)
Let's Go to the Chart
As a bonus, I'm inserting one of Chuck Carnevale's F.A.S.T. Graphs below, highlighting one of the companies listed above. When the stock's price line has moved into the green area, it indicates that the stock is undervalued in relation to its earnings.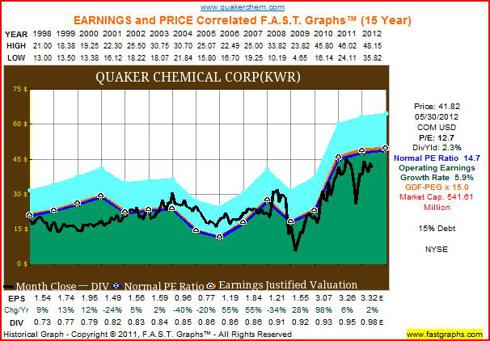 Disclosure: I am long ACI.