Whether or not the old "sell in may and go away" adage for stocks has any real merit is debatable. However, May certainly was not pleasant for investors this year and it wasn't just stocks that felt the pain.
Even if you had a well -rounded portfolio of various asset classes, you were probably in the red across the board in May. For simplicity sake, let's analyze the May returns of the following sample ETF portfolio (equally-weighted).
The unfortunate reality is that most investors are not even close to being this diversified, but it really didn't matter in May. The ongoing European fiscal crisis wreaked havoc across the board and correlations increased among most asset classes in May.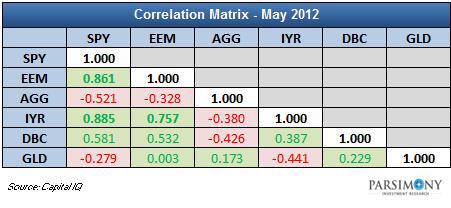 Below is an analysis of the daily returns in May for each of these ETFs. As you can see, with the exception of AGG, it was pretty much a sea of red.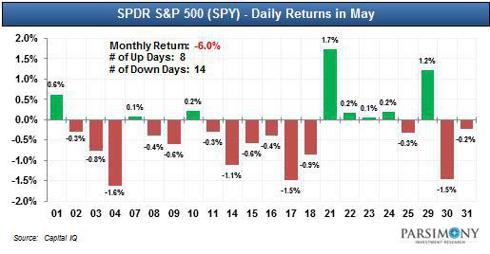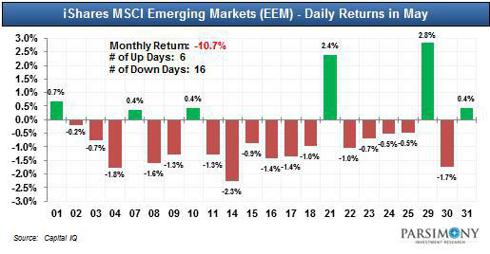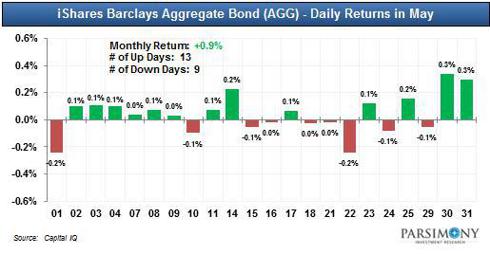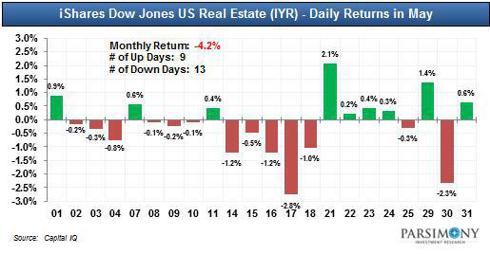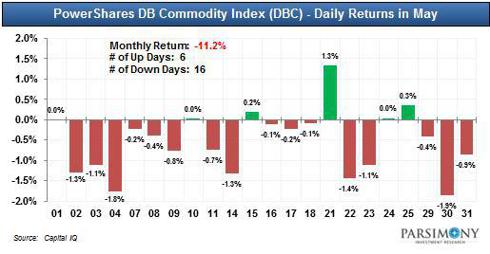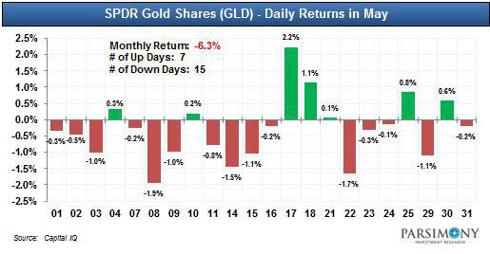 Conclusion
As depicted in the graphs above, this equally-weighted sample portfolio would have declined 6.3% in May. So much for diversification! This analysis highlights the dark reality of "buy and hold" investing. Even if you think you are diversified, you are still exposed to "systematic risk" (i.e., market risk that can't be diversified away"). The only ways to decrease systematic risk in your portfolio is to partially hedge it or to remove it all together. In other words, investors should not forget about the most important (and arguably the most underutilized) asset class: cash.
If your current investment plan does not include exit strategies and/or hedging strategies (even if it is as simple as "selling in May"), you should consider revising your plan as soon as possible. Otherwise, you are blindly putting your hard-earned capital in the hands of the market...and we all know that the market can be very unkind.
Disclosure: I am long GLD.