Due to economic problems, coupled with massive over-leveraging, drybulk shipping has for quite some time been collapsing on itself. Of late, the BDI (drybulk shipping rates index) continues to show weakness. It is unclear to most whether the world is in the midst of a recovery or at the front door of another leg in the downturn. Either way, drybulk has more and more companies digging their own graves. This presents an opportunity for companies that are truly managed well. After extensive research, I am labeling two companies as my picks to lead the sector's growth for many years to come.
In second place is Navios Maritime Holdings (NYSE:NM). Every company has bumps in the road. Profits can't always climb, but with effective risk management strategic moves should be effective enough to actually earn a positive return on equity - yet not bankrupt the common shareholders.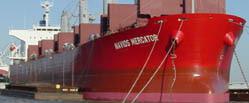 Navios has done this as good as any. Since 2007, Navios has not diluted shares at all. In fact, shares outstanding have actually dropped 4%. The company is profitable, even though it has had its fair share of one-time losses put on the books. Its book value is grossly overstated, just as the rest of the drybulk companies, but it appears the overstatement is less so. This is being correctly priced in by the market because the price/book ratio of Navios is higher than most of the drybulk sector.
This means that down the road it is much less likely there will be giant impairment charges or one-time losses at Navios than at other drybulkers. Looking at the Navios website, one can find the status of the fleet. A cursory glance will show that roughly one-third is coming off of charters in 2012 (bad), but two-third is locked in past 2012 (good). This compares favorably with most of the industry.
Navios also has excellent control of its debt. The current ratio is 1.47. There is $371 million in current assets, $171 million of which is cash. Current liabilities total $252 million, $101 million of which is current year interest payments on long-term debt. So there is plenty of cash on hand to pay interest payments of all kinds. Since the company makes a profit, it can afford to start stockpiling a bit of money to make some effective investments.
But because the company pays a massive dividend, there has not been very much money accumulating in the retained earnings treasure chest. The dividend was cut slightly several years back and currently stands at 7.06% per year. The company is effectively saying that it has not seen any good deals in the industry to spend the money on, so why not reward investors with their fair share?
All of this amounts to a company that has shown consistently, even in very rough seas, that it will not put investor money in danger, it will reward investors for their patience, and that management clearly wants the company to make money and grow, albeit modestly. The company does not appear to be under-priced to me at this point due to a slight lack of funds to buy distressed assets. Strangely, a dividend cut would probably be a positive for the stock price in the long term. This is because management would immediately have the ability to buy ships at a positive net present value without using any expensive capital. But overall, I call Navios Maritime a strong buy versus the rest of the sector.

In first place is Diana Shipping (NYSE:DSX). Diana Shipping is the current king of drybulk in terms of managing its bills with an astounding current ratio of 9.0. This is practically unheard of in the industry. This means the cash on hand to pay near due liabilities is covered nine times over.
Since 2007, Diana Shipping has diluted shares, but only by about 11%. Dilution is undesirable, but this is an acceptable tapping of the equity markets for extra cash if great deals are available.
Diana Shipping's management is demonstrating exactly how a drybulk shipping company should be managed. Not only does it have cash on hand and masterful control over its debt, it has already cut its dividend to begin stockpiling cash to make strategic investments at fire-sale prices. This is completely contrary to the behavior from the "management" of most of the drybulk industry, which feels borrowing more and more is the way to solve a company's financial problems. Many companies also continue to pay a dividend until it is too late.
Common stockholders of Diana Shipping should hope the industry experiences more trouble, as funny as that sounds. This is because Diana has positioned itself to take advantage of a mismanaged industry. A year out from now, when other companies are losing money and have no way to generate capital, Diana will be able to buy those company's assets in bankruptcy liquidations.
Because the company is so much better positioned than the rest of the industry, I don't see how any analyst can rank the company anything other than a strong buy, no matter what their forecast for the economy is. This company is going to eventually have nearly new ships practically given to it.
Takeaway points:
Net income and operating profit has been positive every year since 2007, and has only slipped 30%, a marvelous feat in this industry.
Cash has been rising dramatically over the years, currently at over $400 million. An important detail to notice is that Diana Shipping's cash is all unrestricted. Diana is not on a lender leash as many companies are.
Only negative for the company is that a significant amount of the fleet's charters are just now finally starting to expire, while the BDI remains very weak.
Price book of 0.55 is priced efficiently and shows that Diana has had cleaner accounting than most.
Disclosure: I have no positions in any stocks mentioned, and no plans to initiate any positions within the next 72 hours.