By Ramu Iyer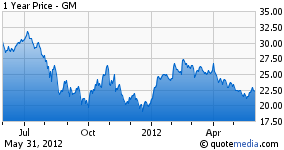 General Motors (NYSE:GM) received a major shot in the arm when Berkshire Hathaway (NYSE:BRK.A) disclosed that it had a stake of 10 million shares in the car maker. This is the result of former hedge fund managers Todd Combs and Ted Weschler building portfolios under Chairman Warren Buffett. In preparation for his eventual departure, Buffett has hired these managers to oversee smaller investment positions and each of them runs $2.75 billion. Larger bets will continue to be controlled by Buffett. Some experts believe that because of the financial crisis of the past few years, there is pent up demand for new cars and GM is currently available at reasonable prices that are well below their IPO price. GM stock prices rose by over 2% as a result of this announcement. GM is currently benefiting from the recovery in the North American auto markets and their performance in China has pushed them back into global pole position. Because Buffett and Berkshire Hathaway are regarded as the ultimate value investors, GM can regard this investment as the ultimate accolade.
Let us try and figure out what Berkshire Hathaway sees in GM in the long term. Thanks to the government subsidies and the bailout, GM is now in a position to produce new cars that can challenge the Japanese and Korean car manufacturers. There is no reason why consumers should not buy them. Also, unlike its rival Ford (NYSE:F), GM has little exposure in Europe with all its troubles and even less to the south European countries that have the major problems. A few of the new models that are likely to drive revenues and profits are the Volt, the Chevy Cruze Wagon, Buick Regal with eAssist, the 2014 Impala, and the 2013 Sonic RS. GM desperately needs to prove to consumers and investors alike that it is capable of producing quality cars at affordable prices in a profitable manner.
The Volt is a plug-in car that compares favorably both in price and performance of other cars of its kind such as the Nissan LEAF. The high prices of gas should speed up the acceptance of these cars by the market. Chevy is concentrating on the compact car and the medium-sized car market is the introduction of models of the expected to be well received. The Sonic RS is a sports version of the already well established Sonic with good handling and a high degree of fuel efficiency. It is also cheaper than its competitors such as the VW GTI, the BMW 1, and the Audi 3. The Chevy Cruze Wagon, another compact, will be introduced in Europe and the US in 2014 should find a ready market among buyers looking to replace less efficient SUVs. The full-size Impala to be introduced in 2014 is expected to take on the Camry from Toyota (NYSE:TM) and the Accord from Honda (NYSE:HMC).
Let us quickly recap the company's results for the first quarter of the current year. Profits for the quarter dropped by almost 70% on a year on year basis to $1 billion though the problems in Europe were partly offset by a strong performance in the US. In North America, GM earned $1.69 billion compared to $1.3 billion in the same quarter of the previous year. Global vehicle sales increased almost 3% to 2.28 million vehicles making GM once again the largest car manufacturer in the world. GM lost $256 million in Europe as against a profit of $5 million in the previous year while global profits fell from $586 million to $528 million. Clearly the worst is over but much work remains to be done.
Apart from Ford, let us take a quick look at some of GM's other competitors. Toyota has been recovering from a series of setbacks such as the disasters in Japan and Thailand and has introduced a new series of fuel-efficient vehicles. It is expected to be more profitable than GM in the coming quarters. The current multiple at which the company's stock quotes appears to me to be on the expensive side. Another competitor GM should fear is Honda with the strength of its brand and its reputation for engineering excellence. Honda was also affected by the happenings in Thailand and Japan and is still recovering. Currently, GM is more profitable than Honda and on this basis; Honda appears to be considerably overvalued. Tata Motors (NYSE:TTM) is much smaller than any of these giants but has achieved an excellent turnaround by concentrating on its key markets of India and China. Its European subsidiary Jaguar Land Rover is profitable and appears to be moving from strength to strength.
GM has executed a remarkable turnaround in winning back its crown as the world's largest car manufacturer from Volkswagen (OTCPK:VLKAY) and is taking a number of other steps to consolidate its position. It is proceeding to boost its pension plan which is underfunded by as much as $13 billion by shifting almost 19,000 workers to 401(k)-type pension plans. It has won revised terms from its unions as a result of which hourly labor cost is down to $5 billion from $16 billion in 2005. However, Europe continues to be a major problem area because of the prevailing economic conditions and recovery seems a long time away. Moreover, despite record profits, the government has not yet been repaid for the bailout and it is estimated that around $25 billion is still due.
Despite all this, I would still continue to watch and wait further developments before risking any money on GM stock. After all, average investors like you or I do not have the pockets or the long-term outlook and patience of Warren Buffett and Berkshire Hathaway. Once there are more favorable developments, there is still plenty of time to buy GM stock and profit from positive future developments. Despite the lack of a dividend yield, I would recommend that you hold on to any existing position that you may have because I can see very little downside.
Disclosure: I have no positions in any stocks mentioned, and no plans to initiate any positions within the next 72 hours.