On May 1, 2012, WTI Nymex Oil was selling for $106.43 per barrel. Today, June 1, it is selling for $83 per barrel. In just one short month it has plunged through all of the support points in between. After this there is support at about $80 per barrel and at about $75 per barrel. It is unclear if the oil fall will even stop at one of those points. The EU has voted to begin the embargo of Iran's oil in July 2012. This could buoy oil prices. However, oil prices may fall a long way before we get to July, and I can't see the Iran oil embargo getting much press with the current huge economic issues facing the EU.
Currently, all of the PIIGS heads are on the chopping block. Greece may leave the euro shortly after its June 17, 2012, election. This would cause a run on the Greek banks, as many Greeks will rush to put their money into euro or Swiss franc accounts at non-Greek banks. Such runs could even start before the election on June 17. Greece leaving the euro would cause all Greek-associated assets to immediately lose value in euro terms. The sovereign debt, the real estate, the corporate debt, etc. would all fall dramatically. Greeks would lose huge amounts of money, but investors in Europe, especially banks, would lose huge amounts too.
Swiss, German, and French banks have made a lot of the real estate loans in the EU. They tend to have lower interest rates on their loans because the banks are higher rated and more stable. Even Greeks use them. Many of them have branches in Greece. This may mean that almost all Greek banks will go under, or at least be severely troubled. If they all go, what is the sovereign debt worth? It has already taken a 50%-70% haircut, depending on which way you look at it. Will the Greeks even be willing to pay it? With extremely weak banks and questionable sovereign debt, what will all of the corporate debts and real estate debts be worth? The values of those assets will drop dramatically. Spanish and Italian banks own big chunks of this debt. When this all comes down the pike, the capitalization of many countries' banks will take a big hit.
Spanish banking is already in trouble. Spain just nationalized Bankia. Then it announced that it would bail Bankia out to the tune of 19 billion euros. This bailout is like most of the others: It does not begin to deal with the entirety of Bankia's debt problems. The Spanish real estate market is causing most of these problems. It would appear that most Spanish banks just kept a lot of the troubled real estate on their books for many years hoping for a near-term economic revival to spare them many of the losses. That economic revival has not happened. Spain is again in a recession. The government estimates that the new austerity measures for this year will cost Spain -2.6% in GDP growth, and that is without figuring in any other factors. The Spanish government has estimated that the Spanish banks are sitting on 180 billion euros in bad assets. Given the estimates we have seen from most of the PIIGS in the past, it is almost a certainty that the figure is more likely double that. Bankia alone is thought to have 32 billion euros in bad assets. With its rapidly climbing bond yields, Spain is so far planning to raise money for the Bankia bailout through the credit markets (selling sovereign debt).
The above is only the tip of the iceberg. Spain's central government has to refinance 117.5 billion euros in debt by the end of the year. It must also fund 52 billion euros for its budget deficit during that same time. On top of that, Spain's 17 autonomous communities need to refinance 36 billion euros in debt, and they need to raise a further 15 billion euros to fund their budget deficits this year. The autonomous communities have even worse credit than Spain itself. Spain is still developing plans that will allow them to access the credit markets. All told the above debt sales will total 220.5 billion euros, and that is before you figure in the likely tax shortfalls. It is before you add in what might be double the 180 billion euros the government suggests is the amount necessary to cover the bad bank debts.
The Spanish retail sales data reported this week a -9.8% drop year over year. The Spanish Manufacturing PMI was reported at 42.0 today (June 1, 2012). This is significant contraction. The Chinese HSBC Manufacturing PMI was reported yesterday at 50.40. This was down from 53.30 the previous month, and it was below the expectation of 52.20 for May 2012. This helped the negative feelings about Spain along. Spain's central bank also reported recently that 97 billion euros in capital had been pulled out of Spain in the first quarter. How is Spain going to grow its economy when it loses capital at a rate that is almost 10% of its GDP in one quarter (Q1 2012)? Foreign investors are scared. They are selling Spanish assets, so they don't get fooled as they did by Greece. As FDR used to say in his famous fireside speeches, "We have nothing to fear but fear itself." The Europeans do not have FDR, and they are not all part of one country. That very fact seems likely to be the undoing of the euro.
I could go on about Spain and other countries. However, the real point is that there are significant reasons to fear major economic problems in the EU in the very near term. Historically, this causes commodity prices to fall as people tighten up their purse strings. Exxon Mobil (NYSE:XOM) is already troubled by the high amount of natural gas fields it owns in the U.S. It is the No. 1 producer of natural gas in the U.S., and the bottom has fallen out of U.S. natural gas prices since last June's high of $4.97/MMbtu. The current U.S. futures price is $2.36/MMbtu, and that price seems now to be in another downtrend. There is a huge natural gas glut in the U.S.. On top of this, oil prices have fallen roughly 20% in the last month; at the moment, they are still falling rapidly. The analysts have not kept up with these changes. The FY2012 EPS estimate has been lowered from $8.29 to $8.27 in the last three months. I am sure XOM is not fully hedged, but even with substantial hedges, the effects of both the natural gas prices fall and the oil prices fall have to amount to more than $0.02 in earnings for the full year. Plus, don't forget that XOM will likely have to significantly write down its natural gas reserves due to the much lower recent prices for natural gas. Don't forget that margins at service stations will be squeezed. These are facts that you can use to your advantage.
I don't know how far oil prices will fall, but they have already fallen considerably. They will not pop right back up. The events in Europe, the slowing in the U.S., China, India, and most of the rest of the emerging market countries means there will be at least six months to a year of oil price weakness. At the moment the economic slowdown seems it is barely getting started. A year at least seems an appropriate estimate for now. Oil prices might start to rise before then, but they should be held down for at least half of that time. The above time estimate could turn out to be a huge underestimate.
A good trader wants to use this knowledge to his or her advantage. Eventually the analysts' efforts will catch up to the stock. When they lower their estimates, the stock price will likely fall. The estimate cuts should be significant. If you own XOM, you can sell it now to wait for a better time to buy. If you are an aggressive trader, you can consider shorting XOM. The five-year chart of XOM below gives some technical guidance to the trade.
Click to enlarge image.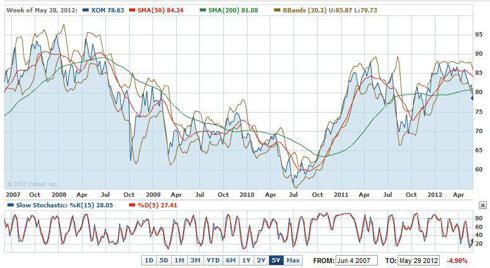 Click to enlarge
The chart shows that XOM is rolling over. It is entering a downtrend. You can still catch it near the top of that downtrend. The slow stochastic sub chart shows that XOM is oversold in the near term. This means you have to watch out for a near-term bounce upward. However, the trend seems likely to continue to be down for the reasons explained above. XOM has support at $75, $70, $65, and $60 approximately. The Macondo well disaster brought it below $60, but I wouldn't necessarily count on a repeat of that. The easy money at $75 or $70 seems more appropriate. The U.S. Non-Farm Payrolls number for May was just announced. Only 69,000 jobs were created vs. an estimate of approximately 150,000. This is a huge miss. The unemployment rate also ticked up from 8.1% to 8.2%. This should be further fuel for the down moving machine, including for oil and oil equities.
The ex-dividend date for XOM was May 10, 2012. This means you can short XOM without any dividend charge for another two months. Just at the moment this seems like a good idea. However, you will want to watch this trade closely. XOM is a strong company. It will not go gentle into that good night. Still, it may provide you with some extra money if you are attentive. Averaging in may be a good idea, as you can never be sure when there will be a rebound. Still, the world economic data recently has been nothing short of horrendous. This should make any rebound weak.
Disclosure: I have no positions in any stocks mentioned, but may initiate a short position in XOM over the next 72 hours.