If a picture says a thousand words, what does this VirnetX Holding Corporation (NYSEMKT:VHC) chart say? To us it says that watching Markman hearing dates could be key for investors and traders in IP firms to get in at the right time.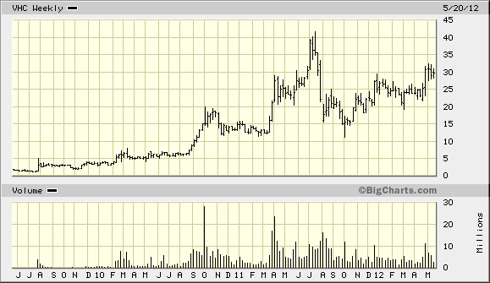 Click to enlarge
(Click to enlarge)
A Markman hearing is a pretrial hearing in a U.S. District Court during which a judge examines evidence from all parties on the appropriate meanings of relevant key words used in a patent claim, when patent infringement is alleged by a plaintiff. It is also known as a "Claim Construction Hearing"
Markman hearings are important, since the court determines patent infringement cases by the interpretation of claims. A Markman hearing may encourage settlement, since the judge's claim construction finding can indicate a likely outcome for the patent infringement case as a whole. Given all of that, we expect that Vringo (VRNG) shares could behave in a similar pattern.
Why?
Because VirtnetX's stock went from the $1 range to the $5 range upon its first Markman Order a couple of years ago. Since then, the stock went on to reach a high of over $40. All within the last two years; giving it a $2 billion dollar market cap at its high.
Vringo's Markman hearing date is scheduled for June 4 with a trial date is scheduled for October 16 . We believe that a favorable outcome would mean VRNG's stock might respond in a way similar to that of VHC's.
Moreover, VRNG arguably has a much stronger patent position for a technology that generates far greater revenues by the company that is infringing. If you haven't read it, I invite you to read James Altucher's "Why Google Might Be Going to $0" article.
VRNG's patented technology covers the ranking of search results and the placement of search advertising.
The IP is the key to Google's (NASDAQ:GOOG) search engine ad placement, which drives a significant part of Google's revenues. A settlement with Google could mean VRNG gets a cut of Google's ad revenues and/or huge payout.
VirnetX currently trades at approximately a 1.5 billion dollar market cap.
Traders love forward looking propositions like this and you can bet that both speculative and smart money are looking at the Vringo case closely.
This past winter, I told Seeking Alpha readers that VRNG shares were about to make a move and despite getting some greif from technical analysis doubters, they doubled in value not long after that.
Once again, the chart looks like it may be getting ready for another move.
The stock has shown some nice consolidation at these levels and there is support here that makes me feel there is much more upside to the trade than down, so forgive me if I sound too bullish here. The technicals don't lie (see chart below) and when you couple them with the upcoming fundamental catalyst, we can't help but like this trade.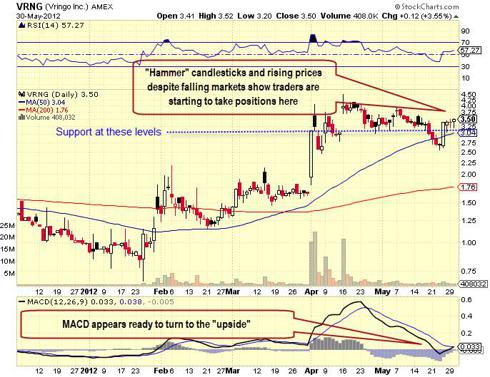 Click to enlarge
(Click to enlarge)
Disclosure: I have no positions in any stocks mentioned, and no plans to initiate any positions within the next 72 hours.