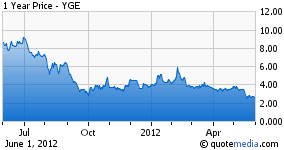 Yingli (NYSE:YGE) had delivered a surprisingly strong performance in Q1 by shipping 44.4% more modules in Q1 than the last quarter of 2011. SPVI has calculated that the company sold 534MW of modules in the period, making Yingli the number one solar company in this category. The revenue produced was at $499M, while gross margins were positive at 7.8%. The COGS included a provision for the AD/CVD costs in the amount of $13.7M, and another small provision of $3.4M for the inventory adjustment. The net earnings were negative $45M, or $.29 per share. The company has capitalized heavily on a rush of installations in Germany, prior to changes in FiT, accounting for 50% of all shipments. Joining the likes of Trina (NYSE:TSL) and Suntech (NYSE:STP), Yingli has shipped 30% of its total volume to the US, undeterred by the pending decisions around duties. Deliveries to China represented only 5% of all shipments, still high expectations regarding installations in the second part of the year estimate 30% of overall revenues to come from China.
Despite the loss this quarter, Yingli has shown that scale can maximize earnings potential. The company also provided another quarter of cost reductions, which led to $0.57 per watt for non-silicon processing cost, down from $0.64 in the prior quarter. While polysilicon costs continue to trap Yingli at the high end of the polysilicon cost spectrum, they dropped to $.26 from $0.33 in Q4. It is unsatisfactory to see that despite a massive provision of $143M against the cost of polysilicon inventory, and the full write down of its own polysilicon plant in Q4, Yingli's polysilicon costs are still quite high. Even more confusing is the previous statement about the ability to purchase as much as 40% of the required polysilicon from the spot market. Unless somehow Yingli continues to produce its own polysilicon at an incredibly high cost and offsets the price with other arrangements, it seems it is not receiving as much flexibility in contract negotiations as other companies do. Trina's poly costs were at $0.21, while Suntech appeared to pay less than $0.20 per watt in Q1. Yearend expectations for non-poly costs are below or at $0.50 per watt. Polysilicon costs are seen at around $0.10 to $0.12 per watt, the result of a combination of poly cost per kg stabilizing around $22 and a decrease in the amount of polysilicon needed to produce a watt of output.
High module shipments reassured the outlook for a full-year guidance of 2.4 to 2.5GW of shipments. For Q2, Yingli guided a 15% increase in shipments over Q1 with high single-digit gross margins. The company also expects an additional 15% reduction in the ASP during Q2. SPVI estimated an ASP of $0.93 per watt in Q1, thus blended module pricing would drop to $0.80 per watt in the coming quarter. During the conference call Mr. Robert Petina, Managing Director of Yingli Americas, spoke on further cost reductions able to match this ASP drop. If 15% was in fact achieved from fully loaded costs of $0.83, the breakdown would have $0.55 in processing cost, with polysilicon cost only at $0.15 to reach a total of $0.70 per watt. This sounded like polysilicon cost finally dropped below $30 per kg; however, moments later, CFO Zongwei (Bryan) Li described polysilicon inventory cost around $30 per kg. Further, Yingli disclosed no intention to build a provision for countervailing or anti-dumping duties in Q2. Both responses made it impossible to understand how a 15% cost reduction was calculated.
In this tough market, lack of earnings is testing financial capabilities and companies that are still in expansion mode, like Trina and Yingli, have tapped into cash reserves to pay for growth. Yingli has drawn 24% of its cash account, or $217M, leaving the company with a still-ample $674M. In addition, borrowing increased by $60M to $2.3B. For the first time, Yingli took over Suntech Solar in the outstanding-debt statistic. Including the new issue brokered in May, a combination of bonds with various maturities and interest rates worth 1.5B RMB, or $250M, the overall debt will be more in the $3B territory. Another liability, accounts payable, increased by $156M; this is a method that is becoming a popular way to reduce short-term borrowing, allowing holding of more cash and saving on interest. Despite high sales, Yingli increased inventory by $90M and sold more on credit, adding $148M into accounts receivable.
Yingli's operational dynamic, combined with Trina's results, confirms the ability for leading solar companies to keep the costs in line with deteriorating ASP and perhaps slightly to tip a scale as time progresses. Certainly if polysilicon supply could truly match spot pricing, the margin improvement would be even more tangible. Despite this hint of optimism, the financial picture of the best solar companies today includes greater debt and lower cash levels. What is the price of leadership? In the last year Yingli has added $770M in debt and spent $274M of its cash. Trina Solar did a lot better with $486M added to debt and actually increasing its cash by $54M. If the best companies are spending so much to remain competitive, how much resilience is left in the market for those who do not have those resources or cannot reproduce operational dynamic? While there have been few bankruptcies, there seems to be not enough failure to identify the winning few and the answer to above question remains elusive.