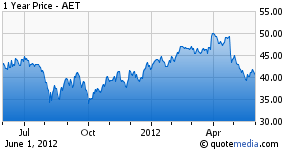 The healthcare industry is being buffeted by change, as health care costs continue to escalate and recent health reform efforts come under the review of the courts, with the Supreme Court to rule later this year on aspects of the Affordable Care Act. The overhang of the uncertainty related to health care reform may be why AET appears to be cheap. Even within this uncertain environment, however, Aetna Inc. (NYSE:AET) has persevered in its attempt to reduce health care costs and improve the quality of care for the approximately 36.4 million people it serves with resources and information.
AET is a diversified health care benefits company offering a range of health insurance products, including medical, dental, pharmacy, behavioral health, and group life and disability plans. It customers include employer groups, individuals, students and part-time workers. The company aims to make quality health care more affordable and accessible.
The company's EBIT yield on EV is 22%, which is approximately at the median of our universe of the top 10% of cheapest stocks. We can safely conclude that the stock is cheap; next we review several statistical quality measures (summarized below) to assess its quality, as additional indicators of its undervaluation.
Managers at AET believe one key to controlling health care costs is anticipating and making customers aware of costs. This can be achieved through information technology, which AET invests heavily in, and integrates with its insurance offerings. AET's technology predicts medical trends, gives consumers the data necessary to make the best health-care choices, and also enables AET to control its own costs and maintain margins. This ability to innovate in health care technology contributes to AET's economic moat.
AET has broadened and differentiated its product line, and reduced costs along the value chain, through the recent acquisition of several new businesses. For example, AET enhanced its Medicare capabilities through the acquisition of Genworth Financial's Medicare Supplement business. It bought Medicity's technology solutions for physicians, hospitals and other health care providers, as a means of moving deeper into the electronic health record market. It also purchased Prodigy, which extended AET's capabilities in the third-party administrator business, with a focus on affordability and quality for medium and small businesses and price-focused customers. These acquisitions extend and enhance AET's product line, and drive a greater degree of vertical integration, allowing greater control of the supply chain and the delivery of value to the customer.
Additional moat-like features for AET might include significant national market share and economies of scale, broad brand awareness, and high switching costs for its customers. In short, there are reasons to believe AET may have solid franchise power, and an economic moat. Indeed, the numbers would seem to support this, at least historically.
The company's normalized (8-year, geometric mean) return on assets of 4.3% is below average in our universe, within only the 42nd percentile, but normalized (8-year, geometric mean) return on capital is much stronger at 13.7%, which is in the 83rd percentile of our universe. Long term free cash flow (8-year cumulative FCF) / assets is 36%, which places the company in the 69th percentile, another respectable outcome. AET has highly stable margins over time, with eight-year average gross margin % / eight-year gross margin % standard deviation of 19.4%, which places the company in the 87th percentile of our universe.
Gross margins have ranged from 26.7% to 30.8% over the past eight years, which is a narrow range by almost any standard. When we take an average of these percentile scores, we find that AET's average is 70%, which is a good outcome within our universe of cheap stocks.
In general, it appears that while the company's normalized return on assets are below average for our universe, normalized return on capital is in the top quintile of our universe, indicating significant franchise value, and long term free cash flow is in the top third of our universe, with these years of free cash flow suggesting the presence of an economic moat. Finally, margins are highly stable - in the 87th percentile - which also indicates the company has some pricing power in its markets.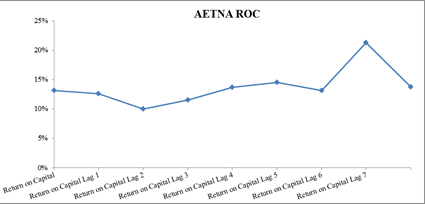 AET is currently profitable, generating a 5.0% return on assets, above its long run average (see Franchise Power above), and FCF / assets is also positive at 6.7%. AET's free cash flows exceed net income, indicating that, at least statistically, the company is not aggressively using accruals, which would be a red flag. Overall, we give the company three out of a possible three points with respect to our profitability metrics.
Turning to our stability measures, our next component of financial strength, AET's leverage, scaled by its assets, is increasing. Statistically, this increases the likelihood of financial distress, and so we withhold a point. Additionally, AET's current ratio increased by 6.4%, which signals a reduction in liquidity and ability to meet creditor demands, and we withhold a point here as well. The good news, however, is that AET is a net repurchaser of equity, when equity is scaled by assets. This shareholder friendly statistical feature of AET's financial profile garners a point. Overall, we award AET one out of a possible three points for stability.
Next we review the company's recent operating improvements as regards several key statistical metrics. Return on assets increased slightly versus the ratio a year ago, which is a positive sign and worth a point. Return of FCF on assets also increased 4.4% versus a year ago, which earns a point, as greater free cash flow per unit of assets is statistically desirable. Gross margins increased by 1.4% YoY, which also earns a financial strength point. AET's asset turnover, however, decreased by 1.0% versus the prior year, indicating a slightly less efficient use of the company's assets. Overall, the company scores three out of a possible four points in connection with its recent operating improvements.
On our various Financial Strength metrics, AET scores 7 out of a possible 10 points overall. Statistically, AET appears to be solidly profitable, and is showing multiple statistically important recent operating improvements. There are some questions around the company's stability, specifically as regards liquidity and leverage, and these would be areas for an analyst to review.
AET is cheap company, with a 22% EBIT yield on the enterprise and a single digit P/E. On this basis, the stock is statistically inexpensive, but it also exhibits a number of additional quantitative quality factors that also indicate undervaluation.
The company appears to have strong franchise power. AET is a large capitalization company whose significant market share makes it one of the largest health insurance companies in the U.S., and enables it to reap the benefits of economies of scale, and ensures its brand is widely recognized. AET has made significant investments in information technology, which allow the company to forecast health care cost trends. These insights into complex health care cost structures allow the company's customers to make better informed decisions, and also allows AET to maintain stable margins. The company has made numerous acquisitions which have served to broaden and differentiate its product lines. In enhancing its product lines through acquisition, AET is becoming more vertically integrated, allowing cost reductions, and more control over the value chain.
Consistent with these qualitative indications of an economic moat, the company scores well on our franchise power metrics. AET's margin stability is extremely high, good for the 89th percentile of our screening universe. Its normalized return on capital is 13.7%, which is in the 83rd percentile of our universe. Long term free cash flow is also strong, generating 36% of assets over 8 years, which is good for the 69th percentile. Our average for all franchise power metrics is 70%, which is a strong statistical indicator of the existence of an economic moat.
The company is also showing solid profitability, scoring a 3/3 on our profitability measures. Additionally, the company shows a variety of signs of recent operating improvements. The company's stability metrics, however, raise some questions; in particular, an analyst might want to review recent changes in leverage versus assets, and liquidity ratios, in order to assess the risk of financial distress.
The company has also passed our screens for manipulation and financial distress, scoring a 3/3 for safety. The numbers are suggesting that statistically the company does not appear to be showing obvious signs that its equity is overvalued.
AET scores in the 70th percentile for Franchise Power, and also scores 70% (7/10) for Financial Strength; thus its overall quality score (average of these two metrics) is 70%, which is a strong overall quality score that earns it a top 10 finish in our universe, which consists of our top decile of cheap stocks. In summary, AET appears to be a cheap, safe, high quality, large capitalization stock with significant franchise power, and can provide investors a reasonable way to get exposure to the health care benefits sector.
Disclosure: I have no positions in any stocks mentioned, and no plans to initiate any positions within the next 72 hours.