Syntel (NASDAQ:SYNT) provides information technology [IT] and Business Process Outsourcing [BPO] services to more than 130 customers from numerous sectors and industries including banking and financial services, insurance, health care, retail, automotive, manufacturing, and transportation. The company's services fall into four segments.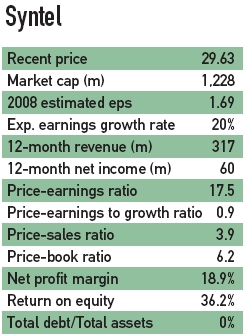 Applications Outsourcing, which was responsible for 68.2% of net revenues through the first nine months of 2007, offers application management services that, in effect, give SYNT responsibility for its customers applications support functions. This allows clients to focus on core operations while saving money and enhancing productivity at the same time. SYNT's IntelliTransfer process lets it become quickly and intimately familiar with a client's business processes as well as its culture, personnel, and technologies. SYNT can offer outsourcing services onor off-site. It can even utilize resources in India where labor is cheaper. Off-site locations link through dedicated data and voice networks, allowing for seamless service capabilities and tremendous flexibility.
The Business Process Outsourcing [BPO] segment, which generated 14.7% of revenues, utilizes similar methods to provide outsourcing solutions that handle critical middle- and back-office functions such as processing transactions, claims and payments; servicing loans; and administrating policies.
Through its e-Business Services segment, which produced 12.3% of revenues, SYNT provides services that enable the design, development, implementation, and maintenance of solutions that make customers more competitive over the Internet. These services include web architecture, web-enablement of legacy applications, and portal development. This segment offers customer relationship management services; data warehousing and business intelligence tools; and software solutions.
Finally, SYNT's TeamSourcing segment, which produced the remaining 4.8% of revenues, provides professional IT consulting services to IT departments. Growth has been fueled by the trend toward outsourcing IT functions and non-core business processes.
Net revenues through the first nine months of 2007 were up 23.6% year-over-year to $243.6 million. Pro forma net income grew 23% to $43.9 million or $1.07 per share. Q3 net revenues climbed 27% from the prior year to $87.9 million. The gross profit margin expanded 142 basis points to 39.82%, but higher compensation, marketing, and branding costs led to a 58 basis points reduction in the operating profit margin to 18.96%. Pro forma net income increased 21.4% to $15.2 million or 37 cents per share.
Despite these outstanding results, the recent general weakness in equities and the fear of recession have contributed to a sharp decline in SYNT's shares. Indeed, future operating results will suffer if customers curtail IT expenditures. In addition, SYNT is highly dependent on a small number of customers with its ten largest accounting for 70% of net revenues. Yet the nature of SYNT's business suggests its services could become even more attractive as the economy slows. A recent survey of IT professionals indicated that more than half would be willing to allocate greater resources toward initiatives that help them accomplish more with less in the current year. As a result, we expect demand for SYNT's outsourcing businesses to remain robust.