Shares of Groupon Inc (NASDAQ:GRPN) are down sharply today to a new all-time low. This sharp move lower comes after GRPN had rallied sharply in early May following better than expected earnings.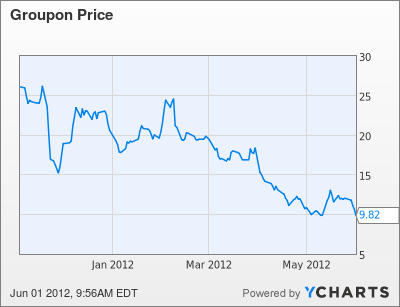 Facebook IPO
The Facebook (NASDAQ:FB) IPO has been a disappointment to almost everyone in the investing community. The pressure on Facebook shares has spilled over to almost all other social media plays including Zynga (NASDAQ:ZNGA), Renren (NYSE:RENN) and LinkedIn (NYSE:LNKD). Similarly, the Facebook disappointment has put pressure on GRPN as investors continue to re-value the company.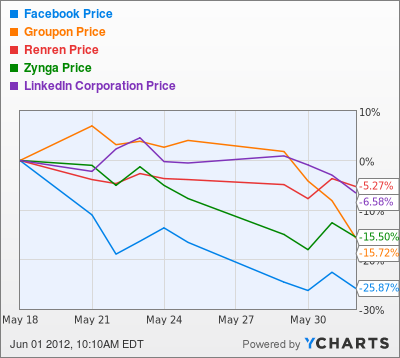 End Of Lock-Up Period
Friday is the end of the insider lock up period which means that 93% of the company's shares are now free for trading. However, it should be noted that a large percentage of these shares are held by venture backers and CEO Andrew Mason. Because of this, it is unlikely that a massive number of shares comes to market. That being said, the effect of the lock-up ending could weigh on GRPN for a while longer.
Short Interest
Short interest in GRPN currently stands at 20 million shares or 10% of the previous float. With the lock-up ending, the short interest as a percentage of the float will likely fall. This means that while the potential for a short squeeze still exist, it is less likely as the float will increase.
Competition
One major headwind for GRPN's business is the increasing competition. While competitors such as Living Social and Google Offers (NASDAQ:GOOG) have been around for a while, Amazon Deals is a relatively new competitor. I find it difficult to say GRPN has any real competitive advantage.
Cash
One strong point for GRPN is the balance sheet. The company has $1.16 billion or $1.80 per share in cash and no debt. This money could be used in a variety of ways to benefit shareholders. One interesting use of the cash would be a share buyback.
My Take
I find it difficult to get behind GRPN because I am not a huge believer in the business itself. While the stock may be oversold and due for a bounce, I do not think it is worth playing. I would rather buy almost any other social media play including ZNGA, FB, LNKD or RENN ahead of GRPN.
Disclosure: I have no positions in any stocks mentioned, and no plans to initiate any positions within the next 72 hours.