Scotiabank has announced that is expanding its operations in Guatemala and the Dominican Republic by buying banks from Chile's Grupo Altas Cumbres, as well as an option to buy another in Peru. Terms of the deal were not disclosed.
Desjardins Securities analyst Michael Goldberg expects that the acquisition is accretive, but noted that it is not material to earnings in itself.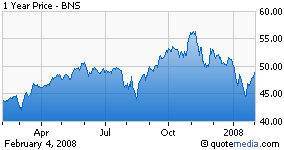 "What is notable is that these are all markets in which Scotia has established operations, so these in-market transactions are more valuable than planting the flag in a new market," he told clients in a note, adding that these reasons should lead to a positive reaction on the news.
Mr. Goldberg has a "top pick" rating and C$60 price target for Bank of Nova Scotia.