Microsoft's (NASDAQ:MSFT) $44.6-billion hostile takeover for Yahoo! Inc. (NASDAQ:YHOO) looks well worth the price tag as it bulks up for battle against rival Google Inc. (NASDAQ:GOOG), according to RBC Capital analyst Robert Breza.
In a research note Mr. Breza said:
We believe strategically this is the correct move for Microsoft as they continue to build and acquire assets to position the online service group as a viable competitor to Google and gain mindshare in their advertising platform.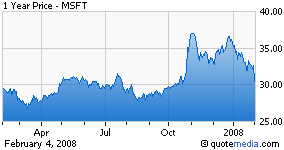 He told clients that Microsoft expects to realize $1-billion in synergies from the deal and will offer earnings per share break even or better by the second full fiscal year after the deal is expected close sometime in the second half of 2008.
The combined entity will have 32% of the 2007 ad revenue market versus 44% for Google and 32.7% of the search business market share versus Google's 58.4%, the analyst added.
Citigroup analyst Mark Mahaney, meanwhile, told clients that the combined entity – "Microhoo! or YaSoft" – would generate approximately $9-billion in revenue in 2008 versus Google's $16-billion. And in addition to the 30% search market share that a Microsoft Yahoo! combination would garner, the analyst said the deal should also boost Microsoft's international search share which is 3% compared with Yahoo!'s 15% and Google's 70%.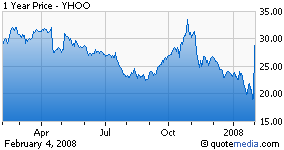 Mr. Mahaney said the deal seems like a great deal for Yahoo!, telling clients that Yahoo! isn't likely to generate a return for shareholders over the next three years that compares to the $31 Microsoft offer already on the table.
He did add however that Yahoo! might consider holding out for a higher offer in an attempt to squeeze out all the strategic value it offers to "anti-Google" Microsoft. Yahoo! could also decline the bid outright and outsource its search business to Google, a deal that would be at least 25% accretive to Yahoo's bottom line.
As for Google, Mr. Mahaney said a Microsoft Yahoo! combination would negatively impact Google if the deal changed user behaviour and shifted ad spending, but noted both these scenarios are unlikely. In fact, he said the can envision a scenario where Google would gain market share due industry uncertainty over the integration of the deal.