The energy sector has been downright nasty over the last 6-8 weeks. One part of that sector that is holding up better than the sector overall and has dirt cheap valuations is the refiners. One stock in that space, Tesoro (NYSE:TSO) looks very undervalued and has had some recent catalysts.
Recent positives for TGX:
The stock was upgraded to Buy from Neutral earlier today by UBS and given a $33 price target.
It was also initiated by Dahlman Rose as a "Buy" in late April.
Consensus earnings estimates for FY2012 and FY2013 have risen over the past ninety days even in the face of falling oil prices.
The first insider buy in nine months was recorded in May.
The stock is significantly outperforming the overall Oil index in the last five trading sessions (See Chart)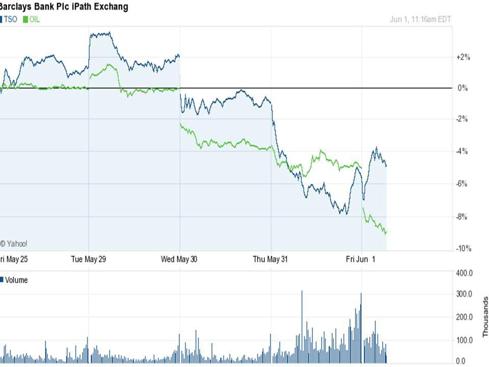 Click to enlarge
(Click to enlarge)
4 reasons Tesoro is undervalued at just over $22 a share:
The stock is selling near the bottom of its five year valuation range based on P/E, P/B, P/S and P/CF.
TSO is selling at just 5.6 times forward earnings, a huge discount to its five year average (18.2).
The stock is extremely cheap at just 83% of book value, 7 times operating cash flow and 10% of annual revenues.
The stock is considerably under analysts' price targets. The median price target on TSO is $30 a share by the 11 analysts that cover the stock.
Disclosure: I am long TSO.