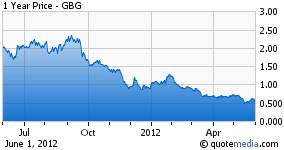 It's no secret that 2012 has been a terrible year for gold stocks. The sector has been pummeled as gold backed away from its 2011 high and pessimism has overwhelmed the market. Unsurprisingly, junior gold miners have performed dreadfully, with the Market Vectors Junior Gold Miners ETF (NYSEARCA:GDXJ) down 21% in the last three months. Great Basin Gold (NYSEMKT:GBG) has performed even worse, down 30% in the same time frame as the company has suffered from slow mine development which forced a significant capital raise this year as the company failed to generate cash. However, with the capital raise in the rear view mirror, the pessimism shrouding Great Basin has resulted in an absurdly low valuation and a chance for major stock price appreciation.
To assess the value of Great Basin's assets, we need to look no further than the valuation that Aurico Gold (NYSE:AUQ) placed on Northgate Minerals when it acquired Northgate for $1.4B on August 29, 2011. In fact, Great Basin and Northgate have almost identical production profiles with Great Basin about two years behind Northgate in terms of development of its key assets. Taking a look at Northgate's last long term production forecast before the acquisition gives the following production profile for Northgate:
2011 production est. 195-205 koz at cash costs of $810-$855
2012 production est. 285-300 koz at cash costs of $725-$750
2013 production est. 340-350 koz at cash costs of $615-$645
The key to Northgate's growth was the ramping up of production at the Young-Davidson mine that was recently commissioned by Aurico and is slated to produce 180 koz of gold per year over a 15 year mine life. Northgate also produced about 190 koz of gold from high cost assets in Australia.
This production profile compares quite well with the production profile at Great Basin. While Great Basin has suffered from several problems raising production at its flagship Burnstone mine in South Africa, the company reported on its Q1 conference call that the infrastructure issues plaguing Burnstone should be completely dealt with by the end of the second quarter. Additionally, mill issues at its Hollister mine in Nevada, which forced the company to ship ore to South Africa for processing, have been resolved and should allow the company to cut costs in Nevada by close to $100 per ounce. With Burnstone slated to produce 250 koz of gold per year at under $600 per oz over a 25 year life and Hollister scheduled for full production of 110 koz at under $600 for eight years, there is very significant near-term value in Great Basin's assets. Taking into account Great Basin's guidance for 2012 and extrapolating out to full production in 2014, Great Basin's production profile should be roughly as follows:
2012 production of 180 koz at cash costs of $1000
2013 production of 240-260 koz at cash costs of $750-$850
2014 production of 340-360 koz at cash costs of $550-$650
Great Basin's near term production is slightly lower and more costly than Northgate, but its assets are longer lived and have a similar long term cost profile. At $1,500 gold, Burnstone alone has a net present value of $1.3B (assuming a 6% discount rate over 25 years). With over 7M ounces of proven and probable reserves and another 11M ounces of resources, Great Basin's resource base dwarfs Northgate's, even when accounting for the further exploration to be done at Young Davidson.
Yet, whereas Northgate was bought by Aurico for over $1.4B last fall, Great Basin currently sports a market cap of just $330M. Granted, gold was hovering around $1,800 at the time of the merger, but even with the pullback Aurico's management continues to preach the positives of acquiring a "flagship" asset to anchor gold production for the next decade. Great Basin has a larger flagship asset and certainly a more attractive secondary asset than Northgate. With that sort of future, a valuation of $330M borders on insane.
However, that is not to imply that Great Basin does not present risk. As with any miner ramping up the production of a new mine, there is considerable execution risk. At Great Basin's Burnstone mine, for instance, mining progress came to a standstill in January and February due to heavy rains that caused significant flooding and a rework of mine infrastructure. These sort of risks are inherent to the mining business, but given Great Basin's lack of current lack of cash flow and debt heavy balance sheet, execution risk threatens follow-on financing risk.
While the company expects to produce almost 40 koz of gold in Q2 and this should lead to solid cash flow, a failure to execute and generate cash over the next two quarters could pose risk of further dilution. The company has a significant debt load, with long term debt of $263M and an interest expense of $7M during the first quarter of this year. While the company's recent capital raise has put just over $40M in cash in the bank and removed near term financing risk, the capex and debt servicing requirements mean that Great Basin would likely have to return to the markets for more cash by year's end if the company fails to generate positive cash flow.
Still, if Great Basin can put together a few solid quarters of operation and generate positive cash flow, the restoration of market confidence should drive the share price considerably higher. Looking past the company's recent missteps, what is clear is that Great Basin has assets that are worth dramatically more than $500M (the enterprise value of GBG). With a few quarters of solid execution, that the company can easily recover the $1B market cap that it lost in 2011. With gold holding up well even with a soaring dollar, conditions may be ripe for a revival of the gold miners. With Great Basin's recent capital raise complete and significant positive cash flows expected in the next two quarters, the stock is poised to deliver a triple and perhaps more. Great Basin may be a risk, but it certainly promises rewards.
Disclosure: I am long GBG.