My stock pick this week, Natco Group (NYSE:NTG) comes from the oil patch services and equipment sector.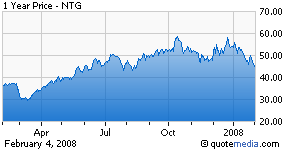 This is a good hedge against high energy prices, and a play on the global emerging markets. Although the price of oil has come down a bit in the short term, longer term I see oil going back up, and past $100 a barrel, its recent new high.
From Google Finance:
Through its subsidiaries, NATCO designs, manufactures and markets oil and gas production equipment and systems. The Company operates in three segments: Oil & Water Technologies, which includes its branch distribution network located primarily in North America, including its standard and traditional oil and gas separation and dehydration equipment sales and related services and its worldwide engineered systems group; Gas Technologies, which includes its carbon dioxide [CO2] membrane business, the assets and operating arrangements related to certain CO2 gas processing facilities in West Texas and hydrogen sulfide [H2S] removal technologies, including Shell Paques, and Automation & Controls, which focuses on sales and fabrication of control panels and systems that monitor and control oil and gas production, as well as field service activities, including repair, maintenance, testing and inspection services for existing systems worldwide.
NTG Financials

Current Quarter's EPS Estimate: 0.69.
Current Year's EPS Estimate: 2.39.
Last Quarter's Earnings: 0.63.
PE on CY Estimate: 19.05.
Year Ago Earnings: 2.03.
Next Fiscal Year Estimate: 2.92.
PE on Next FY Estimate: 15.59.
Market Cap 839M.
PE: 20.
In the last 6 months sales at NTG have risen from 8.2% year over year to 9.8% year over year, its share price has increased 12.3%. As oil prices remain high the demand for equipment to get more of the black gold out remains high. So companies like NATCO that give oil companies the tools they need to prosper are enjoying the fruits as well. Nor does demand appear to be decreasing, particularly in China.
Oil and gas are critical issues globally. Until solar energy and other energy sources can overcome price and availability of fossil fuels, this area of energy production will continue to soar in my opinion. China and other emerging markets are energy hungry, and the law of supply and demand is going to drive profits of efficient companies.
Disclosure: Long NTG