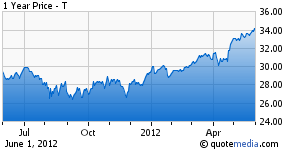 As I was perusing my portfolio and bemoaning all the red ink that May has brought to most of us, my eyes came across a bright spot in the otherwise crimson gloom: Good ol' AT&T (NYSE:T). You see, I grew in Basking Ridge, NJ, which you've probably never heard of, which is all fine and well for Basking Ridge. Aside from a minor incident involving the capture of an American general by British troops during the American Revolution, there's not much to distinguish Basking Ridge from the rest of the bedroom communities of northern New Jersey. That is, or was, until the early 1970s when American Telephone & Telegraph decided to build and base its General Departments headquarters there.
Most of the kids I grew up with had parents that worked for AT&T in some form or another, and Ma Bell was a household name. I even worked as a security guard at the sprawling facility during college breaks. When I graduated from college my first job was with Advanced Mobile Phone Service, or AMPS, which was the fledgling cellular telephone arm of AT&T, and when Judge Green broke Ma Bell up into her regional component parts, my fortunes ended up at what was then called PacTel Mobile Access in far-flung, sunny Costa Mesa, CA. Not a bad turn of events for a single lad in his early twenties, and I ended up working in the cellular industry for 10 years, starting before anyone had really heard of cellular telephony in the US of A.
So when I took control of managing my own IRA portfolio in October, 2011, and learned about the wonders of dividend growth investing and the power and possibility of investing and reinvesting dividends in companies that offered a stable and growing yield, one of the first stocks I knew I had to own was AT&T.
A lot had changed over the years, and T really wasn't her old self, being primarily a legendary name retained by SBC when they acquired Cingular Wireless, which had acquired AT&T Wireless, which had been birthed from Cellular One's McCaw Cellular Communications, at which I had worked for nearly five of my 10 years in the cellular industry. So it was with a sense of kismet that I allocated about 4% of my portfolio to T and sat back to start collecting and re-investing the dividends.
But then we come to the present time, where I noticed that, among all the near-term losses my other positions were racking up this spring, T had quietly grown almost 16% in value since I purchased my shares in early November, 2011, and that didn't count re-invested dividends. That was something I had not expected from T. It wasn't that long ago that as the result of the Department of Justice and the FCC ganging up on AT&T to bully it out of trying to acquire Deutsche Telekom's (OTCQX:DTEGY) T-Mobile outfit, AT&T had to pay Deutsche Telekom a hefty fee for not being able to complete the merger, and things did not look so well for Ma Bell's near-term future.
AT&T's only real competition is fellow Dow Jones Industrial Average member Verizon Communications (NYSE:VZ), an organization that evolved much like AT&T from the growth and consolidation of the original Ma Bell's offspring that were created by Judge Green's divestiture back in 1984, as well as other organizations that got absorbed along the way. The two companies are fairly evenly matched, although in terms of overall revenue and the number of wireless subscribers in recent quarters I think it's fair to say that Verizon has an edge over AT&T currently. From a dividend growth investing perspective, let's look at a graph of their recent stock prices and compare some key stats: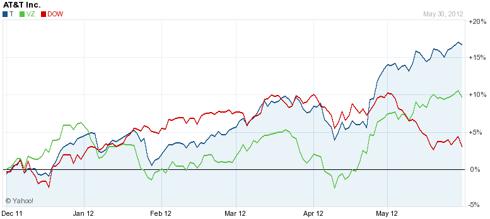 Source: Yahoo! Finance Charts
Metric

T

VZ

Recent Price

$34.26

$41.66

Trailing P/E

49.9

44.4

Forward P/E

14.3

16.7

Yield

5.2%

4.8%

Payout Ratio

254%

210%

5 Yr Div Growth Rate

4.7%

4.1%

My Mad Method:

Watchlist Rank
(out of 32)

24

32

Portfolio Rank
(out of 27)

19

26
Looking at the stock price chart, AT&T has clearly outperformed Verizon in the last six months, and both have done better than the Dow Jones Industrial Average in the last 30 days. They're very close on the metrics, although aside from Payout Ratio, I'm going to have to declare AT&T the winner, at least in terms of these metrics.
Just for grins I added both AT&T and Verizon to my watchlist rankings worksheet in my My Mad Method spreadsheet to see how they'd compare to the rest of the companies that I'm currently evaluating, and I also added VZ to a similar worksheet for those stocks that are currently in my portfolio, which includes T already. Both of these worksheets take 15 metrics and rank each company on their lists against each other on each metric, then takes the average of all 15 ranks for each company and ranks that to come up with a final Combined Rank, which is what is shown in the table above. Lower is better, so while neither company fared particularly well compared to the respective fields I put them in, AT&T definitely came out ahead of Verizon in terms of My Mad Method's ranking system. (For the complete picture of how My Mad Method works, go to this article, which is Part 1 and has a link to Part 2.)
Maybe I'm a bit biased because of my past positive history with AT&T, but it looks like it's the better position to have in my portfolio between the two, although it is an awfully close call, and I wouldn't mind taking up a position in VZ if it hadn't scored so poorly on My Mad Method. Both companies have rock-solid dividends; they may not qualify as Dividend Monsters yet, and those high Payout Ratios keep them from joining the Dividend Divas' elite club, but they're no slouches, either. What really surprised me has been the growth in equity that both stocks have seen in the last six months, something that I hadn't counted on in terms of how T would impact the performance of my portfolio overall, but I'll take it as an added plus to picking this dividend stalwart to be part of my stable of DGI stocks that will hopefully set me up for a comfortable retirement.
Disclosure: I am long T.
Additional disclosure: I am not a professional investment advisor or financial analyst; I'm just a guy who likes to crunch numbers and can make an Excel spreadsheet do pretty much whatever I want it to do, and I'm doing my best to manage my own portfolio. This article is in no way an endorsement of any of the stocks discussed in it, and as always, you need to do your own research and due diligence before you decide to trade any securities or other products.