The trading environment has been chaotic this past week, to say the least, with input variables changing daily. The dollar showed extreme strength against all currencies, until a slew of negative data suppressed its movement later in the week. Treasuries and German Debt moved higher with little resistance, as well as oil tanking through moving averages with no remorse. The question is, what asset will move next? The solution can be derived through a process of accepting fact and cautiously speculating for the future. This is a delicate equation that relies on inter-market and quantitative analysis.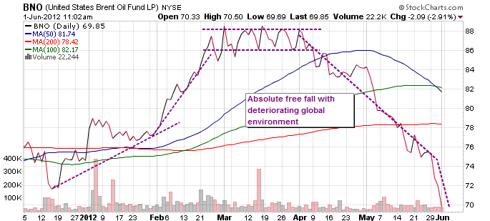 Click to enlarge
A fact is that OIL has been decimated by a strong dollar and an extremely weak global environment. All eyes were on European issues, but as China and the U.S. entered the ring with their own list of troubles, little could be done to save the commodity.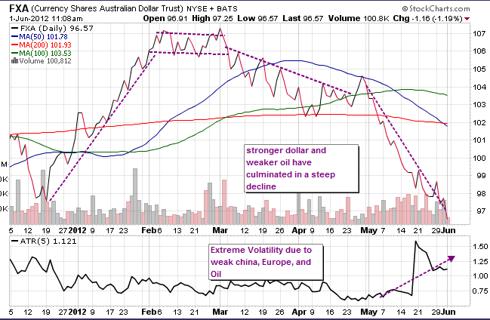 Click to enlarge
Similarly, on the currency front, the aussie fell in stride with oil. A strong dollar played a major role in the fall, as well as some weak economic data of its own. FXA's strong correlation with Asia didn't help its cause as weak data out of the region also magnified its dip into yearly lows. The chaos of the global picture is accurately represented in the volatility measure of the aussie, pictured above. There is strong negative correlation between (VIX) and looks to persist as long as uncertainty overhangs.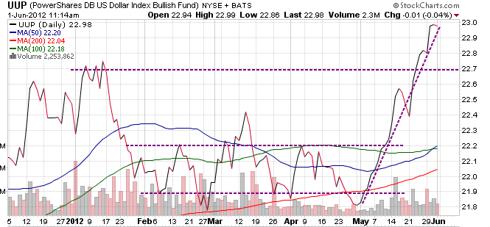 Click to enlarge
Speculation comes into play when the next phase of dollar movement is discussed. The dollar (NYSEARCA:UUP), gold (NYSEARCA:GLD), and U.S. treasuries have all had times of positive and negative correlation in the past. With a strong influx of negative data for the dollar and an annihilation of the euro (NYSEARCA:FXE) in recent sessions, the dollar could be due for a consolidation before its next move. A pullback or sideways trading would not be too surprising in the following days, especially with the impending Greek vote.
Click to enlarge
A move higher in is not off the table, especially since in the chaos today, both gold and silver (NYSEARCA:SLV) have made substantial gains. The path upward looks to be filled with resistance, but in the current gloom, gold has yet to be called upon as a storage of wealth. To break out of its current downward channel would be the first test, and do not be surprised if leading up to the June 17 election, gold catches a bid.

Click to enlarge
Above is correlation chart of the securities listed in the article. Gold has acted on its own recently, but correlations to IEF could increase in following sessions. Also look for volatility to have a negative influence on both BNO and FXA.
Disclosure: I have no positions in any stocks mentioned, but may initiate a short position in SPY over the next 72 hours.