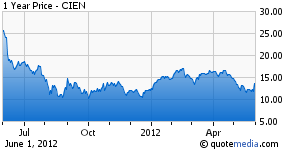 While money is fleeing other companies, it's pouring into Ciena (NASDAQ:CIEN).
Shares popped 14% yesterday and only fell back 5.4% in Friday's sell-off after the company beat estimates on both the top-and-bottom lines.
That meant it actually turned in a small operating profit, three cents per share, instead of a small loss. Overall the loss was 28 cents per share on acquisition costs.
What Ciena has been buying is entry into the fast-growing area of 10 GBPS optical networking. Its "virtual wide area networks" offer the bandwidth corporate cloud applications need. Carriers like Verizon (NYSE:VZ) and Cable & Wireless (CWW) have also been ordering its equipment.
The company's newest product is called the OneConnect Intelligent Control Plane. It's geared to Tier One ISPs (those in the core) who are now running fiber networks and who need switching equipment that can run just as fast as those lines.
The numbers were evidence that Ciena may be taking share from rivals like and Cisco (NASDAQ:CSCO), both of which reported weaker earnings. Like Cisco, Ciena is moving more of its research work to India.
CEO Gary Smith is very optimistic about the rest of his fiscal year and the latest quarter provides evidence he may well be right.
What investors in networking gear most want to see are trends in market share, a regular flow of advanced new product introductions, and some assurance of momentum. Ciena delivered all three and, while analysts are taking down their price estimates, these are still almost 50% above the current price.
Disclosure: I have no positions in any stocks mentioned, and no plans to initiate any positions within the next 72 hours.