Although most would not characterize the current domestic drilling market as being in a period of bust, it is certainly much looser than it was only 12–18 months ago. Yet during this softening period, Helmerich & Payne (NYSE:HP) has well outperformed its peers, both in terms of profit growth and stock price. Consistent with its recent momentum, H&P reported earnings recently that beat Wall Street's estimates by several cents. The results were highlighted by the continued high utilization of its domestic land rig fleet, as well as the announcement of plans to construct additional FlexRig drilling rigs for both at-home and international applications. Notably, these newbuilds are to be supported by longer-term contracts providing healthy returns on investment.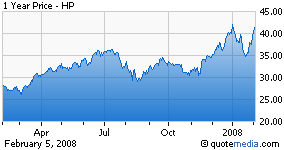 Among the factors we believe behind H&P's breakaway performance and market share gains is the ability to consistently satisfy a forever demanding group of customers. To be sure, the company's proprietary FlexRigs are a primary reason for such satisfaction, driving H&P's No. 1 rating in terms of the quality, reliability and condition of its equipment in EnergyPoint's most recent oilfield services survey. The rigs also led to the company's top rating in all three dimensions of technology covered in the survey, including responsiveness to requests for new technology, the ability to develop value-creating technology, and the ability to apply in-house and third-party technologies. Its safety and environmental satisfaction ratings were also tops among land drillers, in part reflecting safety features designed into their rigs.
But the real story is the uniquely virtuous cycle that H&P now enjoys. Because the company has consistently delivered for customers over a number of years now, it is able to continue to extract unusually long contracts from customers even as conditions soften. Such contracts in turn provide it with a visibility that allows management to operate more proactively, efficiently and with an eye toward the long term. Personnel churn that occurs as rig utilization rates vacillate is not nearly the issue for H&P as it is for some of its peers. And because the company manages its rig assembly process in-house, delays from third-party rig fabricators have been removed from its rig-delivery equation. The result: great rigs, on-time delivery, and skilled crews to operate them. And that's a powerful recipe for success.
Disclosure: None