ISM non-manufacturing numbers were TERRIBLE (41.9 vs. 53.9 in December) so it looks like we'll be testing some levels Tuesday morning.
On the whole, it's been a good couple of weeks and we've made huge progress on the Big Chart, which was a sea of red as the global markets bottomed out (we hope!) back on the 22nd. As I mentioned Monday, only the SOX are lagging in recovery in the US markets and the French CAC is holding back Europe while the BSE is holding UP Asia, pushing up another 572 points since last week: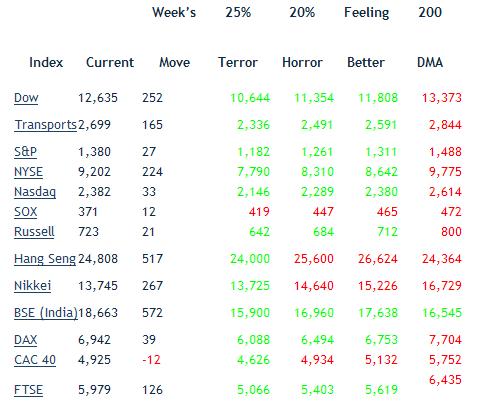 Hopefully, none of our US indices are in danger of falling below our very low "feeling better" levels that we set at the bottom to see us through the little correction we had last month and I set our Dow watching levels last night. If we make it through this week up about 2%, we'll be able to roll back to our old big chart but that will be a depressing sea of red with bottom levels like Dow 13,000, S&P 1,470 and Nasdaq 2,525 - we're still a LONG way from home on that group!
We're going to need some action from the the transports as the rebounding dollar is cutting down oil and other commodities, (NYSE:XOM)'s terrible performance since earnings is a pretty clear indicator that it's over for the energy sector unless they can get oil over $100, which we now know will tank the global economy which will mean it's over for oil anyway so, to summarize, IT'S OVER FOR OIL! While the Price of Oil may still get driven up by NYMEX manipulators, the fact of the matter is that there is more supply and less demand in 2008 than there was in 2007, combine that with a very modest bounce of the dollar back to 83 (10%) and we will quickly be looking at $70 oil ahead of the next OPEC meeting.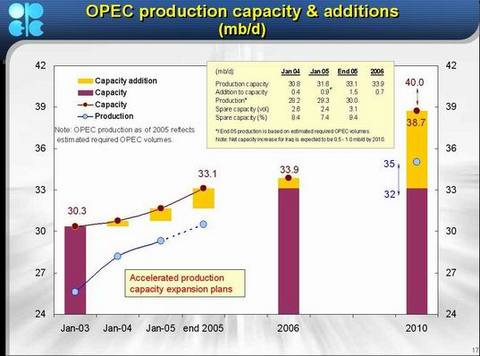 Should OPEC decide to take more capacity off-line, it will only serve to insure investors that spare capacity, which is currently at over 3Mbd and is projected (due to contributions by Non-OPEC producers, pg 63) to hit 6Mbd by 2010, is going to be enough to withstand any individual supply shock that may be thrown our way.
We are still at the very early stages of massive global demand destruction that began when oil first crossed $60 per barrel and will continue until oil is back at $40 as many of the projects that have been set in motion to conserve (CFC lights, Cafe Standards, general efficiency upgrades) and replace (solar, hydro, biofuel, nuclear) are so profitable at "projected" oil prices that they have now spurned industries that will soon grow to rival OPEC in economic influence even as their growth diminishes OPEC's power.
Tuesday we are getting a report that shows US consumers are cutting back on discretionary spending as oil tapped $100 a barrel right at Christmas - Gee, what a surprise! A 10% jump in fuel costs and a 10% rise in food prices causes consumers to cut back on other things. What planet do these economists live on that they can't see these things coming?
This is not enough to drive a rational market to retest it's lows but this is certainly not a rational market. The oil situation should be self-correcting and every $10 a barrel that oil comes down puts $1Bn a day back into the hands of global consumers. This is the reason we went neutral Monday, we are going to let the market tell us what to do but I'm inclined to sell my puts and buy out my callers on the drop as there is nothing surprising in this report, if 12,500 holds up I may get downright excited about buying more stocks!