On May 29, renewable oil maker and innovator Solazyme (SZYM) received approval for a new patent according to the United States Patent and Trademark Office. Patent 8,187,860 pertains to recombinant microalgae cells producing novel oils, and the description can be found here. The newly approved filing appears to build on a previously approved patent (Patent #7,935,515) under the same name. Altogether, the company's official number according to the USPTO comes to five secured patents.
While the current portfolio of patents may seem almost trivial, the intellectual property space being defined by Solazyme is actually quite far-reaching. Apart from these patents, the company has several dozen patent applications that have been under review for some time which will likely result in additional approvals in the coming months if not years. According to the USPTO, the oldest application under review was created back in 2003. With almost a decade gone by, the waiting time span emphasizes the necessary time it can often take to gain approval.
Yet such start-up difficulties in protecting oneself has become a true advantage for this company in the present. Every patent Solazyme files is one more area that can not be touched by the competition. Every application is one more reason for the competition to give up exploring that area. There are very high barriers to entry inside this technological market space. It's hard to expect any direct competitors to suddenly jump into this field of expertise and challenge Solayzme's unique technology without putting in the years of sweat and tears to carve out a particular niche inside this budding field of industrial biotech.
Solazyme even prides itself with the many challenges and failures its come across in order to excel to its current position. Such accomplishments serve as reminders of just how difficult it is to even consider entering into this area of expertise. Mentioned yesterday at the Cowen and Company 40th Annual Technology, Media & Telecom Conference, CFO Tyler Painter illustrates one example of a challenge the company faced early on:
...[Harrison Dillon & Jonathan Wolfson] also made an assumption that after the human genome sequencing project was done, other microbes and other things would start to be sequenced - that there was now a biotech tool kit to able to go in and work with algae in a way that hadn't been done in the past. [This assumption] was unfortunately wrong in that the biotech tool kit didn't exist so we had to create it in-house while people said, "You're crazy to try to do that - even companies like Genentech and others didn't create this ability to do homologous recombination with their own technology."

-Tyler Painter, CFO of Solazyme
Yet the resulting outcome of that "tool kit" endeavor produced one of the greatest advantages this company has to date. It allowed for the tailoring of oil profiles with ease to customize oil products that are fit to specific industries. It allows for enhanced research capabilities that have continued to be refined and provide an advantage over the likes of companies like Monsanto (NYSE:MON), Syngenta (NYSE:SYT), DuPont (NYSE:DD), and Dow Chemical (NYSE:DOW). The company now stands equipped with a tool kit that is able to produce innovative oil profiles in a matter of months that would otherwise take a Monsanto or Syngenta a matter of years and significantly more capital.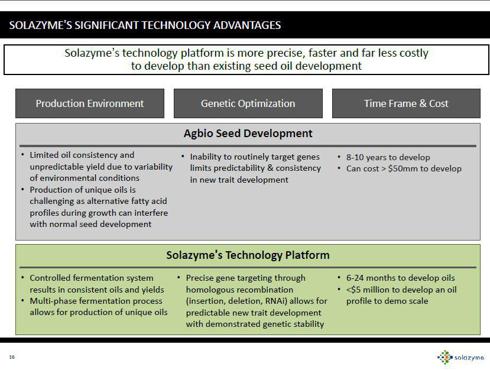 Click to enlarge
(Click to enlarge)
The proof of Solazyme's intellectual property success is already showing its face in two clear ways: the joint venture with Roquette and the offtake agreement with Dow.
Roquette. Originally seeking to enter into a similar space when it comes to food, Roquette backtracked from its original ambitions when it discovered the strength of Solazyme's intellectual property portfolio. The company ultimately entered into a 50-50 joint venture (JV) agreement with Solazyme for the development of all non-recombinant nutritionals derived from algae. In clear demonstration of the company's excitement for the partnership, Roquette settled for the terms in which it would pay for all of the capital costs and working capital requirements necessary to ramp up the joint venture to the more than 50,000 metric tons of capacity the JV anticipates to build. With estimates of the Bunge JV around $145 million for 100,000 metric tons of capacity, one can imagine the large amount of costs Roquette was willing to incur to successfully launch their own JV.
Dow. Just as encouraging, Dow's entrance into an offtake agreement with Solazyme demonstrates an acknowledged strength of Solazyme's intellectual property. Solazyme stands as an outsider in the chemicals space with practically no manufacturing capacity that is presently able to truly compete in that market space. On the other hand, Dow stands as the third largest chemical company in the world. Dow has also been increasingly competitive in the agrotech and biotech space, as it takes on rival Monsanto on several fronts. For all intents and purposes, as a theoretical competitor to Solazyme itself, Dow should not be relying on Solazyme to create a competitive oil profile for dielectric fluids. And yet it is. The company's intellectual property allows for and protects the creation of oils with unique characteristics that are unable to be obtained through conventional seed technology. Dow's offtake agreement essentially gives the green light to Solazyme to sell what oil it produces out of its Bunge JV. The agreement even comes with a caveat in which Solazyme's sugar-based feedstock costs will be linked to the final pricing of the oils.
We see therefore, that the strength of Solazyme's intellectual property is a vital deterrent for potential competitors, and allows for the company to claim increasing territory in this relatively untapped intellectual space. Solazyme's addition of another patent to its intellectual portfolio notches one more victory in this pursuit for novel oil profiles. With oilseed companies such as DuPont and Syngenta formulating novel ways to increase yields and content, Solazyme is quickly running behind the scenes with a technology capable of producing quality consistency and unrivaled characteristics. Having spent years down the path less traveled by and expending large amounts of capital in order to achieve their current technological position, Solazyme now stands with time on their side to commercialize what others are sure to eventually pursue.
Please refer to my standard disclaimer statement found here.
Disclosure: I am long SZYM.