Dominoes fall as Joseph McCarthy predicted.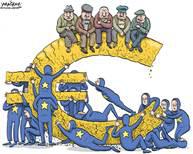 Like sands through an hourglass, the contagion spreads. Onward to Spain, which is worse than Greece, because if they cannot pay their bills they are not only too big to fail but too big to save! The dominoes are falling, just as Joseph McCarthy predicted in the early 1950s. Only this time it's not Communism but capitalism - and the worst kind, where a debt crisis is believed to be solved with more debt.
Again, for the fourth year in a row, the market has had an ugly correction in the 2nd quarter, the throes of which we are in. As with every correction investors must decide whether to look past the valley, ignore the short-term volatility and sit tight for the impending rebound or sell ahead of the approaching doom.
Of course there is no telling which it will be until it is long past, and everybody is a hero in hindsight. The past has shown that it has been better to wait it out. However, this time could easily be different. Therefore, if you are of the persuasion that the bull market is over, it is generally advisable to wait and sell into rallies, rather than have stops and get stopped out right before a rally ensues.
However, it's hard to believe that the Fed will not continue its stimulus and throw out a QE3, which would reverse this decline and make the sellers look stupid. My concern is that if they don't come through, which is a possibility because they know that each Quantitative Easing generates higher inflation which ends up hurting the people it is supposed to help.
Therefore we must be prepared for that possibility, and watch for a break of the 200-day moving average, which is about 12,200 on the Dow and 1,280 for the S&P 500. Of course, all stocks do not peak all at once on the day the market reaches its high, nor is there a bell that rings when we hit the top. Identifying a top is extremely difficult. On a technical basis, the market may be breaking down as nearly 40% of NYSE listed stocks are down over 20% and 30% down over 30%. This clearly illustrates that the real picture is worse than it appears on the surface or in the headlines as the indexes are down only about 10%.
Investor Strategy
The latest jobs report brings the Fed closer to QE3, which will generate a powerful rally. To play it, investors can buy growth opportunities, which will also do well, such as the SPDR S&P 500 (NYSEARCA:SPY), SPDR Select Sector Fund - Financial (NYSEARCA:XLF), iShares MSCI Emerging Index Fund (NYSEARCA:EEM), Emerging Markets Consumer ETF (NYSEARCA:ECON), Brazil (NYSEARCA:EWZ), PowerShares QQQ Trust, Series 1 (NASDAQ:QQQ), iShares Russell 2000 (NYSEARCA:IWM) and iShares FTSE China 25 Index Fund (NYSEARCA:FXI). For the very nimble investor trader types, stay with the movers of Apple (NASDAQ:AAPL), which will benefit from new products coming out in a few months as well other leading companies that will continue to rise the innovation wave like Google (NASDAQ:GOOG), Intel Corporation (NASDAQ:INTC), Qualcomm (NASDAQ:QCOM), Microsoft (NASDAQ:MSFT), Cisco Systems (NASDAQ:CSCO), Dell (NASDAQ:DELL), Caterpillar (NYSE:CAT), General Electric (NYSE:GE) and Yahoo (NASDAQ:YHOO), Red Hat Inc. (NYSE:RHT), Schlumberger (NYSE:SLB), VMware Inc. (NYSE:VMW).
Commodities and metals will boom too so look towards Goldcorp. (NYSE:GG), Barrick Gold Corp (NYSE:ABX), SPDR Gold Shares (NYSEARCA:GLD), Power Shares Double Gold (NYSEARCA:DGP), Market Vectors Gold Miners ETF (NYSEARCA:GDX), Newmont Mining Corp. (NYSE:NEM), , Freeport-McMoRan Copper & Gold Inc. (NYSE:FCX), PowerShares DB Gold Double Long ETN for the not so faint of heart, plus Silver Wheaton Corp. (NYSE:SLW) and ProShares Ultra Silver (NYSEARCA:AGQ) and Fortuna Silver Mines (NYSE:FSM).
Les risky investors should focus on dividend stocks like MLP's such Terra Nitrogen (NYSE:TNH), Legacy Reserves (NASDAQ:LGCY), Vanguard Natural Resources (NYSE:VNR) and BrietBurn Energy (BBEP) and healthcare REIT's related to the aging baby boomers such as Healthcare Properties (NYSE:HCP), Senior Housing (NYSE:SNH) and IShares Healthcare (NYSEARCA:IYH).
However, if we do not get additional stimulus, we are likely in a topping pattern. Naturally we can't just "hope," as hope is not an investment strategy, and you can't just "sit in cash" at 0.2%, so the key is to be "tactical" and avoid buy-and-hold (buy-and-hope) at all costs.
Disclosure: I have no positions in any stocks mentioned, and no plans to initiate any positions within the next 72 hours.