Earlier in May, PRGX Global (NASDAQ:PRGX) looked like it was off to the races. Of course, inexperienced buyers may have bought into that hype. It would have been easy to promote while it was on its bullish run. But like storm clouds that can suddenly appear on a southwestern horizon, the stock suddenly turned bearish and caught a great many off guard. Those who bought in on such high promise must be aghast.
Imagine being the one who recommended it? Ouch! A look at the chart explains this.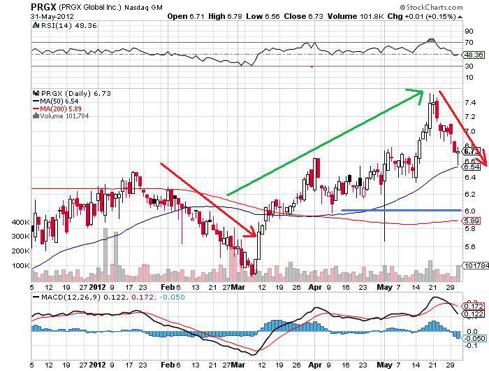 Lower Target Signals "Wait"
A half-retracement will put the stock somewhere in the range of $6/share. Retracing is natural and should not overly concern the investor. However, the key is to wait and not be drawn in by articles that promise the moon, unless of course the company comes out with key news.
Below the Mid-Range Target
Buyers who move on to other stocks and return here when it's below $6/share are most likely the ones who will be handsomely rewarded.
Looking at the charts, PRGX Global is in a steep bearish decline and the bottom is nowhere to be seen. The suggestion is that $6/share may be that first floor, but should it fall further, investors will want to step back and wait.
Waiting: The Highest Form of Stock Discipline
Anxious buyers who like a company will be tempted to buy too early. Is that you? Do you tend to buy a company on the way down, only to see it go much lower? If so, that probably means you've drunk too much cactus juice or allow emotion to control your buying. PRGX Global's chart is bearish and that is that. The next mid-range target is $6/share and a savvy buyer will wait irrespective of what the market does day-to-day.
Truth is, I feel sorry for buyers who went after PRGX Global at a price over $6/share. A simple study of the chart would have shown that the stock was destined to run out of gas like a car on a desert highway. The spike was supported by empty air rather than bullish news.
A Much Better Strategy
Stocks like PRGX Global require discipline and a hard-nose approach to the charts. Better to miss a small percentage and wait for the stock to turn bullish, but right now isn't the time.
I don't mean to be overly negative, but should the global market continue to be bearish, investors should wait until this stock is well-within $5/share.
Remember. Waiting doesn't make you a bad person. It's just means you're savvy. Willing to wait while others buy. Don't get drawn in. Wait the situation out. Your time will come. I wish you the very best!
Disclosure: I have no positions in any stocks mentioned, and no plans to initiate any positions within the next 72 hours.
Disclaimer: Investors buy and/or sell at their own risk.