Facebook (NASDAQ:FB) is an amazing company with nearly a billion active monthly users (called AMU in its S1 documents.) When FB had its IPO at $38, those who bought the stock were more impressed with the growth of users than the disclosed decline in quarterly revenue.
I didn't buy the stock as I worried how the company would extract earnings from its users without driving them to other sites or to do something else with their free time, such as exercise or visit with family on the phone. Valuing a company on AMUs rather than earnings is little different than opening a sit-down restaurant, giving the food away for free and then valuing the restaurant on tip jar growth. How do you know how many users will eventually pay for the food they like and how many AMUs are homeless?
While $38 was far above what I wanted to pay for a FB share, it is a great company that does have value. I've found success waiting for "good ideas" that have exponential growth in the share price only to eventually crash back to reality where I buy at what I think is a fair price. There is no rush as you don't lose money missing out on this or that investment fad. For example, in the 1990s I bought Applied Materials (NASDAQ:AMAT), Intel (NASDAQ:INTC), Lam Research (NASDAQ:LRCX) and Microsoft (NASDAQ:MSFT) far below their all-time highs at the time, and today they are many, many times above what I paid.
The key for me is for "new-age companies" to prove themselves and then sell at a price I think offers good long-term value. A more recent example: I bought Google (NASDAQ:GOOG) in 2008 for $310 after it crashed more than 50% below its all-time high. As I will show below, its valuation remains good, so I added to my Google holdings last year on another market pullback.
Click to enlarge image.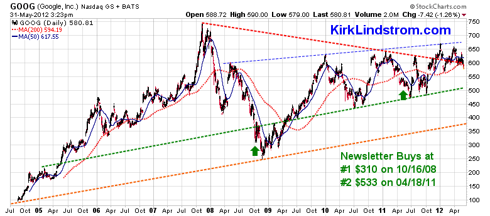 I believe FB could be as successful in the long-term as Amazon.com (NASDAQ:AMZN) and Google, so it should have P/E and PEG (price to earnings divided by growth rate) ratios somewhere between these two.
I also believe FB delayed its IPO several years due to additional regulation, plus insiders had the ability to sell shares at ever-higher prices on a private market. Its share price already had similar growth to Google's first two years, just not on a public market. Thus, it makes sense for me to start looking at what price I might be willing to pay for some shares.
I will start by looking at trailing 12-month (NYSE:TTM) valuation:
TTM Valuation
Ticker
TTM
EPS $
PRICE
$
PE
Next 5-YR Growth Rate %

PEG
with 20% max growth

AMZN
1.21
212.02
175.2
30.21
5.80
FB
0.39
27.25
69.9
35.90
1.95
GOOG
33.00
581.15
17.6
17.82
0.99
At first glance, FB looks to offer much better valuation than Amazon. Rather than give away free meals to attract future customers, Amazon sells its Kindle and Kindle Fire at low prices now so it can make money selling e-books later on. Amazon is also investing in its infrastructure to sell more later on. It makes sense, then, to look at forward earnings for valuation.
Using an average of 2013 analyst estimates for earnings puts FB and Amazon much closer together on a P/E and PEG basis. Even using 2013 earnings, Google offers twice the value of FB with only half the forward growth rate:
2013 Valuation
Ticker
2013
EPS $
PRICE
$
PE
Next 5-YR
Growth Rate %

PEG

AMZN
4.90
212.02
43.3
30.21
1.43
FB
0.65
27.25
41.9
35.90
1.17
GOOG
50.64
581.15
11.5
17.82
0.64
Currently at $27.25, FB is too expensive for my taste. It would need to fall another 50% from here to have a forward valuation similar to Google's, even if you believe it can grow earnings at nearly 36% a year. Even growing earnings at 20% could be a stretch since Facebook's earnings fell in the most recently reported quarter. The big growth with FB AMUs is from mobile, where it doesn't get significant advertising revenue.
FB might have to come down by a factor of four in price to about $7.50 to have a valuation close to Google's:
P/E (2013) = $7.50 / $0.65 = 11.54
I could be off on this estimate. From my experience at Suite101.com as the general manager of Affiliate Accounts, I have some ideas we were successful with that FB could use to generate significant revenue. If I start to see it implement some of what we did, with success, then I might come out with my own estimate for higher earnings and buy. Right now, FB is a great product that I'll probably use daily, but the stock is too expensive for my taste at today's price.
Note from my list below of longs that all but Google were bought in the early and mid-1990s, far above their IPO prices but well off highs at prices I thought were good valuation. They were successful for me because they doubled several times after I bought, I took some profits and I hold then now (and recently added to, such as buying more Intel at $20) as they pay good dividends. There is no shame in buying a good company at a fair price higher than its IPO after it proves itself.