The strategy is relatively simple, but before we get into it, you should only consider using this strategy if you are bullish on the stock. If your outlook is not bullish, then you would be best served by looking for alternative plays. Before we get into the strategy, look at some reasons to get into this play.
Some reasons to be bullish on Alcatel-Lucent (ALU):
It recently announced that it has developed the "7950 XRS," a core Internet router that is up to five times faster than Cisco's CRS-3 (its nearest competitor). One of these routers is capable of delivering speeds of up to 16 terabits of data per second. This product could help it take a chunk of Cisco's market share. In 2003 it jumped into the edge router business and went from a zero market share to controlling 24% of the market. If it pulls the same feat here, it could add $1 billion or more to the bottom line.
It is well positioned to benefit from the growing optics and IP markets. These two divisions currently represent 25% of the revenues generated from the total networks segment, and this figure is expected to move toward 30% by the end of 2012.
Surging growth in mobile broadband data traffic has increased the expenditures in wireless equipment spending in North America. This has pushed carriers to add capacity and upgrade 3G data networks, which in turn should lead to increased revenues from its wireless division.
Net income increased from $-703 million in 2007 to $1.48 billion in 2011.
A decent levered free cash flow of $632 million.
A high beta of 2.29 makes it a good candidate for covered writes and for selling naked puts.
For those looking for detailed coverage on Alcatel-Lucent we examined it in detail in the following two articles. Alcatel-Lucent: A Chance To Earn 7% Plus A Lower Entry Price and Alcatel-Lucent: Time To Buy Or Flee?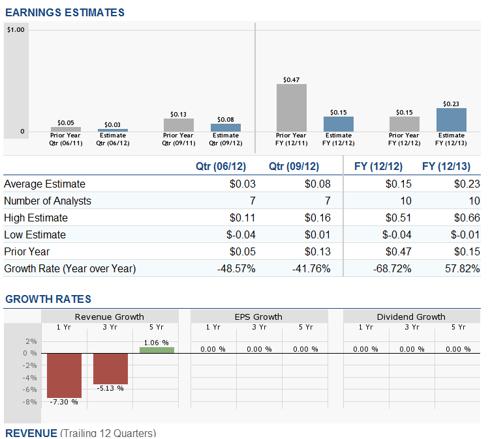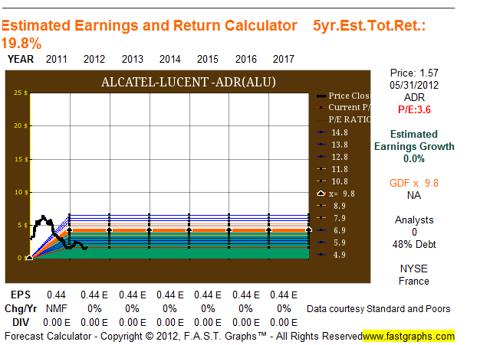 Suggested strategy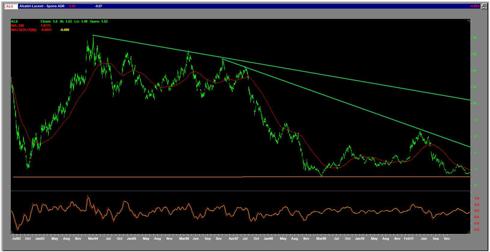 It is currently trading at 10 year lows and while it could/might test the 1.00 ranges, we would not hold our breadth waiting for this event. It is attempting to put in a base right now. With this in mind the following strategy could be employed for those who want to leverage their position without any out of pocket expense. There are two parts to this strategy.
The first part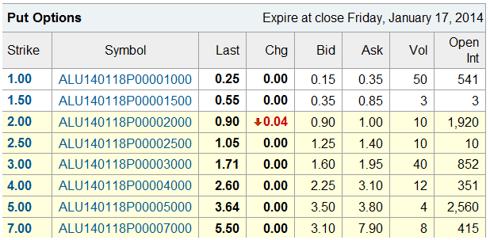 Sell Jan 14 1.00 puts for 30 cents or better. Some patience will be needed as we have seen puts recently trade as high as 55 cents. The spread is wide here so do not put in a market order and be patient. If filled you will get $30 for each contract sold. If you manage to sell them for 55 cents you will have even more money to deploy into the second part of this play.
The Second part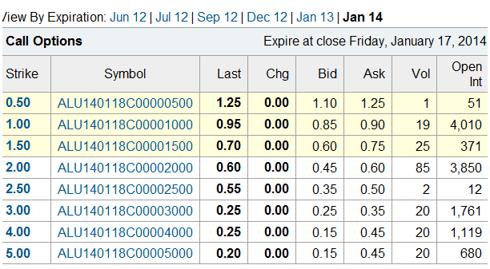 Then use the proceeds to purchase Jan 4 or 5 calls. Again patience will be needed as we have seen the Jan 5 calls trade as low as 15 cents and the last trade was at 20 cents. On the Jan 4 2014 calls we have seen them trade as low 20 cents. For this example we will go after the Jan 2014 5 calls. If you manage to them at 20 cents, you can buy one call for every put you sold and still pocket $10 per trade.
Conclusion
With this strategy, you get a chance to leverage your position and maybe pocket an extra $10 per transaction. The risk factor is that the stock trades below 1.00, and you get assigned the shares. If you are bullish on this, it's not going to be a big deal as you will be able to purchase shares at a much lower cost. Your final price will be 90 cents as you will still have $10 left over from the overall transaction (1.00 minus 0.10). If the stock takes off, then the calls will start to rise in value, and the gains could turn out to be pretty substantial. This is a great strategy for the downside is limited, and you don't have any out of pocket expense in terms of leveraging your position. Once again, this strategy should only be utilized if you are bullish on the stock. Investors looking for other ideas might find these articles to be of interest: Halliburton: A Potentially Great Entry Point, Or The chance to earn 8% and Showdown: General Electric Vs. Honeywell.
Disclaimer
This list of stocks is meant to serve as a starting point. Please do not treat this as a buying list. It is imperative that you do your due diligence and then determine if any of the above plays meet with your risk tolerance levels. The Latin maxim caveat emptor applies - let the buyer beware.
Disclosure: I have no positions in any stocks mentioned, and no plans to initiate any positions within the next 72 hours.
Additional disclosure: EPS and Price vs industry charts obtained from zacks.com. A major portion of the historical data used in this article was obtained from zacks.com. Earnings and growth estimate data provided by dailyfinance.com. Options table data sourced from yahoofinance.com.