A few days ago, I published an article called "Tales From Nokia: Patents Kidnapped By Wicked Trolls Or Saved By Kindly Godfathers."
In that article, I discussed two recent moves that Nokia had made:
Giving away 2,000 patents to Canadian outfit Mosaid, which acquired 2,000 advanced wireless patents. Instead of paying cash for the portfolio, Mosaid agreed to give its contract partners -- Nokia (NYSE:NOK) and Microsoft (NASDAQ:MSFT) -- two-thirds of all licensing revenues to come from those patents, which Mosaid expected will easily exceed the approximately $1 billion in total revenue Mosaid has generated over the past 36 years.
Transferring ownership of more than 450 patents and applications originally filed by Nokia to Sisvel International, an Italian company.
Both Mosaid and Sisvel are companies that might fit the description of patent trolls -- that is, "non-practicing entities" that are companies which own patents but do not make anything of their own. They then use the threat or procedure of litigation to force companies that they say infringe patents to pay licensing fees. However, it should be said that Mosaid, now a private subsidiary of Sterling Partners, does not only use patents; it is also a manufacturer of Nand flash memory.
It didn't take long, or more likely it was just a coincidence, for Google (NASDAQ:GOOG), a company facing several patent challenges to its Android operating system for smartphones and tablet computers, to join the battle with a pre-emptive tilt at Mosaid.
In a regulatory complaint filed Thursday evening with the European Commission, the U.S. Department of Justice and the U.S. Federal Trade Commission, Google says that Microsoft and Google "are colluding to raise the costs of mobile devices for consumers, creating patent trolls that sidestep promises both companies have made. They should be held accountable, and we hope our complaint spurs others to look into these practices." The exact wording of Google's complaint is not available, but it is believed that Google alleges that Microsoft and Nokia have entered into an agreement with a patent troll called Mosaid in order to scare device manufacturers away from choosing to build Android devices.
While Google declined to share the actual complaint it filed with the Commission, a spokesperson did release a list of facts the company claims are in its favor:
2005 docs where Nokia vouches support for open-source software and promises not to assert patents against the Linux Kernel (note that Android is based on the Linux Kernel; see: Nokia SEC filing, Nokia white paper, Nokia legally binding commitment re: Linux kernel)
July 2011 Nokia submission to FTC about their concern of the transfer of standards essential patents to trolls
September 2011 Nokia CEO comments about MSFT partnership and CFO comments about patent strategy
October 2011 Barnes and Noble letter to DoJ outlining anticompetitive concerns about the Microsoft/Nokia partnership
But, as Gigaom.com pointed out:
While the allegations certainly look damning on the surface, being guilty by association with a patent troll isn't the same as actually being guilty of antitrust violations. In the event of a lawsuit Google would actually have to prove that Microsoft and Nokia are trying to stifle competition unfairly, even if they haven't yet done so.

Google itself hasn't been sued by Mosaid, Microsoft or Nokia with regard to the patents at play here -- they likely relate to hardware and not Android -- so perhaps its device partners have felt the squeeze. Either way, a complaint to regulators puts the burden of finding wrongdoing on them and not on Google's legal team.
Meanwhile Microsoft also replied:
Google is complaining about patents when it won't respond to growing concerns by regulators, elected officials and judges about its abuse of standard-essential patents, and it is complaining about antitrust in the smartphone industry when it controls more than 95% of mobile search and advertising. This seems like a desperate tactic on their part.
Nokia has called Google's complaint to the EU "frivolous" and "wrong":
"Nokia has made regular patent divestments over the last five years. In each case, any commitments made for standards-essential patents transfer to the acquirer and existing licenses for the patents continue," said Nokia spokesman Mark Durrant in an email to Bloomberg.
"Had Google asked us, we would have been happy to confirm this, which could then have avoided them wasting the commission's time and resources on such a frivolous complaint," he added scathingly.
Well, it appear that all is not sweetness and light in the world of mobile telephony, but patent wars are nothing new as this who's suing whom Reuter's chart from 2011 shows:
Click to enlarge images.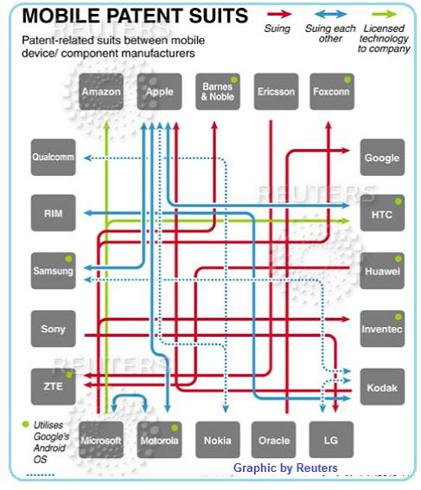 Click to enlarge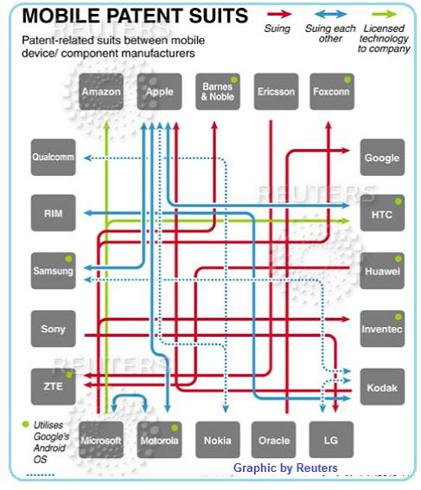 Click to enlarge
Of course, reading between the lines of carefully worded press releases and legal complaints, you can never really know what is going on, but it is worth while remembering that for all the multibillion-dollar value of these companies, many of these decisions are made by a handful of ordinary people and their attorneys, and may be based on personal animosities, old rivalries, and all kinds of motivations that are not apparent to the retail investor, and not necessarily even rational.
To the billionaires and multimillionaires who run the companies, it is all a game of high stakes snakes and ladders all about adrenalin, power, and winning, and the interests of small investors are not an important factor. So how might this affect the three stocks in question?

Click to enlarge
If Google is right that hardware manufacturers who make devices for Google's Android operating system are likely to face cost pressures due to enforcement of Microsoft and Nokia patents, and Microsoft and Nokia are also right that they have patents that they are not being paid for that are essential for Android devices, then this cannot be good news for Google stockholders.
Add to this that the launch of Windows 8 phones and tablet computers later this year, which is expected to offer more of a challenge to the Android operating system than to Apple's (NASDAQ:AAPL) popular proprietary system, and we can see that Google's main source of revenue, which is the advertising business which depends on eyeballs using Google Search could have some of its business taken away by Microsoft's ailing and heretofore unpopular Bing search engine, which will be installed as the default in the Windows 8 devices.
Of course, Windows users can use Google, and Android users can use Bing, if they want, but it is generally accepted that a significant number of users will stick with the default search engine that comes with their device.
Nokia stock, on the other hand, is currently a basket case as the chart above show, with negative earnings of 8 cents per share expected next quarter as the company restructures and transitions from its own proprietary Symbian operating system for smart phones to Windows operating system.
The annual dividend of 26 cents was paid in early May, but the company is burning through cash, and must pull out of its nosedive before the end of 2012 if the dividend is to be continued.
Under dynamic new CEO Stephen Elop, it is entirely plausible that the company intends to monetize its patent portfolio as one tool in its struggle for the survival of the fittest in the smart phone jungle, and one cannot expect the company to play nice. Notoriously Nokia has already extracted a huge settlement from Apple for use of its intellectual property.
If Nokia is to survive, then the stock has probably already bottomed.
And so to Microsoft. The company's stock has been dormant for years, but came to life again in late 2011 moving up from the mid-$20s to touch $33 in 2012 before pulling back with the general market in the overall decline of the general market in May.
The company has a mountain of cash, pays a steadily mounting dividend, and buys back a massive amount of stock. It is a cash cow, and it invests a lot of money in research.
Many investors have been critical of the company as it has fallen behind on the mobile computing revolution, and a great deal will depend on the success or failure of the Windows 8 operating system later in 2012.
In this Jurassic Park-style tussle of the behemoths, no holds are barred. My money is on Microsoft and Nokia to put Google on the defensive, and the patent portfolios that Microsoft and Nokia have accumulated through years of investment in research are key weapons in their arsenal. I can see Google retreating to lick its wounds.