Pharmacyclics (NASDAQ:PCYC) is well on its way to $40/share ... well maybe.
The chart has turned bearish, most likely, due to market conditions. Nevertheless, investors who got in before the start of the year are probably on their yachts off of Italy on the Adriatic Sea. Such is the life of making a great stock pick. But pigs also get slaughtered.
(Click to enlarge)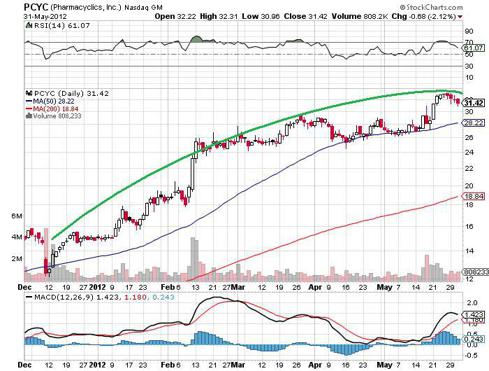 Click to enlarge
Bearish Trend Starting?
No stock runs forever. Just ask Google (NASDAQ:GOOG) investors. Eventually they all retrace.
In the case of Pharmacyclics, there has been very little retracing. You could say the stock churned in the $26/share range, but it certainly has not retraced. Is this the time?
Looking at the MACD I'm wondering if Pharmacyclics investors are in for a 10-15% retrace before the next bullish run resumes. Maybe not but if so, buyers may want to watch this stock for a significant opportunity to get in at a much lower price. If buyers miss the bounce, it's no big deal because there's hundreds of stocks to chose from and Pharmacyclics is only one of many. Still, it may be worth it to watch where this bearish pullback heads. If it goes lower, then it would create an ideal opportunity to jump in at a much lower price.
The issue with the present chart is the stock trend is "leaning over." It could correct itself if the general market suddenly turns bullish and some people see that happening in June. Others are much more pessimistic. Therefore, a 10-15% haircut is not outside the range of possibility.
When to Buy
I originally pointed out Pharmacyclics when it was around $18/share and it certainly has proven to be a winner. Nevertheless, even winners sometimes get ahead of the buyer. That's how I see the present situation. If you missed the run, don't kick yourself too hard, but sit back and relax and wait for the share price to come in your direction.
A blow-up picture may show where a strategic buyer may be patient to wait to get back in - it assumes missing the next uptrend but it may be well-worth being patient.
(Click to enlarge)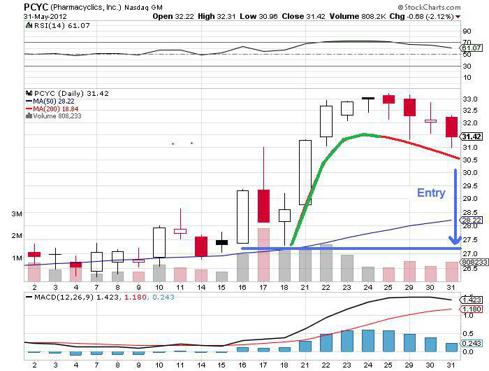 Click to enlarge
The soft-slope of Pharmacyclics demonstrates how bullish the market is about this stock. Whether it drops into the $27 range is probably more a matter of market conditions. The $28-29 range looks like a mid-range entry point - a good point to get in for a stock that you think has strong legs.
While I don't like the bearish pattern, it could be temporary. Bullish-longs no doubt see this as a gift. Day-traders may want to sit tight and see where the share price goes. If Pharmacyclics drops into the $27 range, I see it as a strong buy.
Disclosure: I have no positions in any stocks mentioned, and no plans to initiate any positions within the next 72 hours.
Additional disclosure: Investors buy and/or sell at their own risk.