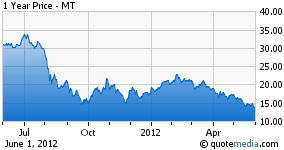 ArcelorMittal (NYSE:MT) is the largest steel producer in the world. Recently it has taken a hit with all the other steel stock as the demand for the commodity has slowed in emerging markets.
The issue with ArcelorMittal is that it does have very strong exposure to Europe. With all the turmoil and deceleration of growth in the EU, the company is poised to take a hit. However, recent reports have shown that the company is still doing fairly well in the region. Even though the selling price of steel fell 7% in the region, the shipments still increased to 7.5 million tons.
Margin has been getting compressed not only for Arcelor, but also for companies such as U.S. Steel (NYSE:X), AK Steel (NYSE:AKS) and Nucor (NYSE:NUE). These companies have had a tougher time that Arcelor. AK Steel reported a loss for its first quarter. The sad part is that the company saw selling prices increase for its specialty high margin steel products. Its debt also increased by 46%, which is risky for a company that's not profitable.
U.S. Steel was recently just downgraded by Fitch. The company has excessive leverage and has been inadequately dealing with high fixed costs. The company is only using 80% of its capacity, while the rest remains idle. This adds additional costs and depresses margins.
Nucor has been profiting, but has had a few issues. The company has to not only deal with the global recession, but it has to compete with foreign imports, which are much cheaper. Nucor is a U.S. company, so there tends to be higher costs for operations. While Nucor is big, Arcelor is bigger. Arcelor has the economies of scale model, which allows it to survive longer in an environment such as this.
ArcelorMittal currently has a forward P/E of 4.5. I do believe earnings will deteriorate somewhat, but not to the extent that the market believes. There is a bunch of pessimism about Europe. Europe accounts for 36% of MT's revenue, which is a fair amount. However, keep in mind only a small portion is from the PIIGS.
Arcelor has a strong management team which has done a good job of helping the company through a rough patch. The company barely made a one cent profit last quarter, but they believe that the U.S. steel market will have a strong recovery. Arcelor has also been lowering its risk exposure from Europe. The company sold its 24% in European Energy company Enovos International.
ArcelorMittal pays a solid 4.5% dividend, which is good for income investors as well. I recommend investors take a small position in MT as I believe it will be worthwhile over the coming years.
Disclosure: I am long MT.