In the short term, as crude falls, it's normal that natural gas will also feel downward pressure. However, over the medium term crude falling can also be a positive for natural gas prices.
Why is this so? This happens because as natural gas crashed due to oversupply, natural gas producers such as Encana (NYSE:ECA) and Chesapeake (NYSE:CHK) shifted their focus towards "wet plays", that is, zones where wells would produce more liquids like crude or other NGLs and less natural gas. So in the statistics while we saw a steep drop in rigs drilling for natural gas, we observed a large increase in rigs drilling for oil/liquids. The problem here, is that even the liquid plays also yield a lot of natural gas, so the drop in natural gas production is hindered by a lot of exploration for liquids.
However, as crude itself crashes, we might now see a process where the total number of rigs actually decreases. So this can lead to less expansion of drilling for liquids, and hence, less associated natural gas. The end result would be less supply of natural gas, and that's the reason why crude dropping can be a positive.
Chesapeake provides an illustration
This phenomenon can be seen in Chesapeake's recent investor presentation. In slide 6 we see a projection of Chesapeake's production. Given oil and natural gas' relative pricing, Chesapeake has been leaning strongly towards liquid plays, so here's what Chesapeake expects to happen for the remainder of 2012 and then 2013: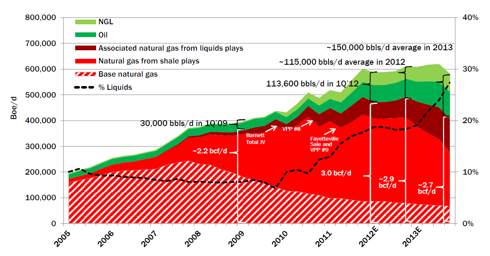 Click to enlarge
In this chart we can clearly see the expected production of conventional and dry shale gas falling strongly. Yet, overall the natural gas production is only expected to fall around 10% (which is still a large drop, but much smaller than those two components show). The difference is that natural gas associated with liquid plays is expected to grow strongly throughout this period.
Obviously, were drilling for oil/liquids to slow down, and this natural gas drop in production would be even steeper than the 10% or so that Chesapeake now expects.
Conclusion
There are two conclusions to be drawn from this insight:
One is that if oil continues to drop, it will lead to less drilling for oil and as such, less associated natural gas. This will make the natural gas production drops that are already expected, steeper still;
Another, is that even with oil at the present levels, just the much higher focus on liquid plays together with depletion in the existing conventional and shale natural gas wells is already expected to produce a significant drop in production.

Both of these conclusions are positive for natural gas, and both should lead to higher natural gas prices down the road, especially during 2013.
Disclosure: I have no positions in any stocks mentioned, and no plans to initiate any positions within the next 72 hours.
Additional disclosure: I am long natural gas futures.