We took a look at some of the past movements of a group of companies that are reporting in the second week after June options expiration. From this data, we were able to see what kind of movements some of the big names reporting that week make, as well as form trading ideas off of their movements. The companies we covered in the report are Family Dollar (NYSE:FDO), Finish Line (NASDAQ:FINL), General Mills (NYSE:GIS), KB Homes (NYSE:KBH), Nike (NYSE:NKE), Paychex (NASDAQ:PAYX), Research in Motion (RIMM), and Walgreens (WAG).
Here were are findings for average gains the three weeks prior to earnings as well as three weeks after earnings from report date: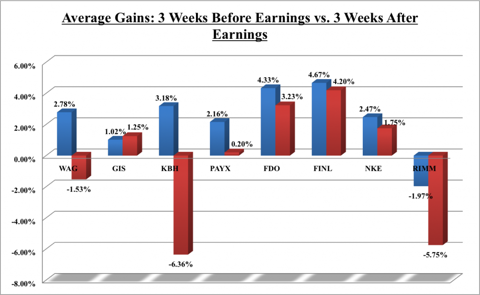 Here is what we found for max drawdowns vs. max ups (calculated by adding %s from 3 weeks prior to 3 weeks after: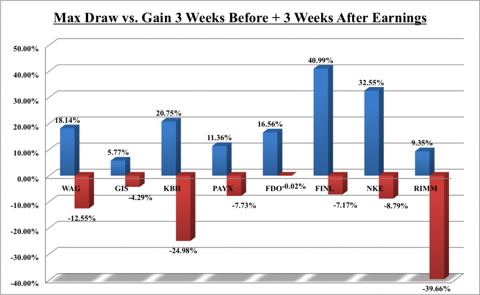 Here are our highlights for each company:

Family Dollar - Family Dollar has been showing very solid data over the past ten quarters, averaging some of the largest gains and barely showing a negative draw at all in the 3 week prior to earnings and 3 weeks after. The company is expecting another solid quarter with EPS growth from 0.91 to 1.06 as well as 10% growth in revenue. FDO is one of the only companies we would be willing to sell any puts against. We would recommend doing the 62.50/60 bull put spread even though the data says 65/62.50 would be solid as well.
Finish Line - The only company outdoing FDO is FINL. The company has had a solid 2.5 years, but this quarter they are actually expecting a drop in EPS from 0.30 to 0.23 along with 8% revenue growth. Given its discretionary market appeal, we are less optimistic about FINL. The stock has seen some nearly 10% shocks to it, so we would only look at selling the 17.50 puts.
KB Homes - The housing market has been on fire, but KBH has not participated. KB Homes is a very weak stock, and their upcoming quarter does not look super promising. The company will still be at pretty significant loss even if revenue is improving. This is a stock that jumps a lot all the time, and we only would recommend a reverse iron condor right before earnings.
Nike - The company is really a mixed bag on earnings, and we do not see any patterns to trade. The company has had some very solid quarters, some very weak quarters, and everything in between. We would be leaning more bearish given the general market, but it has had some massive gains, so be cautious there. We would be grabbing up the 115/120 bear call spread for July expiration if doing anything.
Paychex - No recommendation.
Research in Motion - One of the weakest stocks out there right now, and a lot of that weakness is priced in at this point. One comment we can make about RIMM though is that this stock still moves a lot. It has only had two moves of less than 4% in the past ten quarters from 3 weeks prior to earnings to 3 weeks after earnings. Right now, we like the reverse iron butterfly with 10/9 bear call spread and 10/11 bull call spread for July expiration.
Walgreen - Walgreen is a bit interesting in that it has actually averaged losses over past ten quarters from earnings date to three weeks out, and it may be the best candidate for a bear call spread for July expiration. The company had one big 18% gain, but other than that its been negative five times and had a high of 6% gains. Given the current market conditions and recent struggles for WAG, we like a bear call spread. The 33/34 bear call spread is interesting for a play as well.
Good Investing.
Disclosure: I have no positions in any stocks mentioned, but may initiate a long position in FDO, FINL over the next 72 hours.