"A man's conscience, like a warning line on the highway, tells him what he shouldn't do - but it does not keep him from doing it." - Frank Howard Clark
It's been some time since I specifically addressed the performance of Homebuilders relative to the broader stock market. Given the stunning collapse in bond yields on longer-dated Treasuries (NYSEARCA:TLT), coinciding with (once again) new all-time record lows on mortgage rates, I thought it appropriate to address what the message of Homebuilders may be at this juncture. Take a look below at the price ratio of the SPDR S&P Homebuilders Index ETF (NYSEARCA:XHB) relative to the S&P 500 (NYSEARCA:IVV). As a reminder, a rising price ratio means the numerator/XHB is outperforming (up more/down less) the denominator/IVV.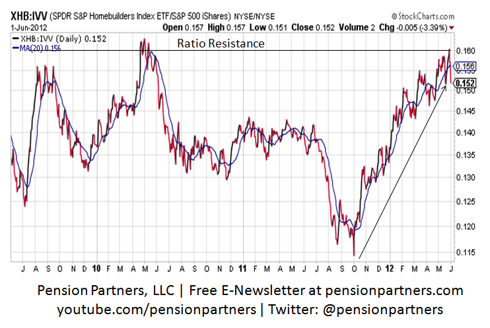 The ugly jobs report of Friday last week sent many Homebuilders stocks down hard, as sentiment continued to turn negative towards the industry following April pending home sales which were worse than expected. Notice that the price ratio has been in a strong uptrend since the Fall Melt-Up or last year, and has hit up against the "Ratio Resistance" line I've drawn in on the chart. The breakdown of last week looks to potentially have put an end to the strong uptrend of leadership.
What is the implication of this? Clearly low yields have helped the industry recover as Europe's pain becomes our mortgage rate gain, but Homebuilders now are at an important juncture. If Homebuilders are able to break through Resistance, it might signal that low rates are stimulative to the U.S. economy. If Homebuilders are unable to break through Resistance and begin to collapse down towards the October ratio lows? That might be warning that low interest rates are indicative of the economy, i.e. that the demand for money is so poor relative to the fear trade that the economy is much worse than we all think.
My point in all this is to say that the question of whether these low rates are justified or not might be answered in the coming weeks by the relative behavior of Homebuilders. Given the massive leadership move to begin with off of the ratio low of last year, it might make sense to avoid the industry until more clarity takes place.
Disclosure: I have no positions in any stocks mentioned, and no plans to initiate any positions within the next 72 hours.
Additional disclosure: Pension Partners, LLC, and/or its clients may hold positions in securities mentioned in this article at time of writing.