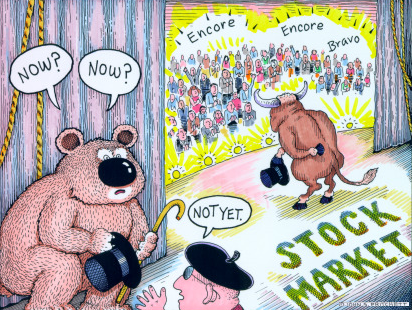 We could start by noting Chinese Manufacturing Growth fell to 50.4 vs 53.3 previously. Of course, that's not impressive. The star of the show was the U.S. The nonfarm payroll data (aka unemployment report) laid an egg. Pundits forecasted growth of 150K jobs but less than half that (69K) was reported and the unemployment rate rose to 8.2%. And, this with so many falling off the employment rolls. Net downward revisions for March and April were 49K. The labor participation rate is low and means there are over 5.34 million people not be accounted for in the official unemployment rate, in other words counted as employed or unemployed, many who probably need a job and can't find one.
That's in addition to the official 12.72 million unemployed.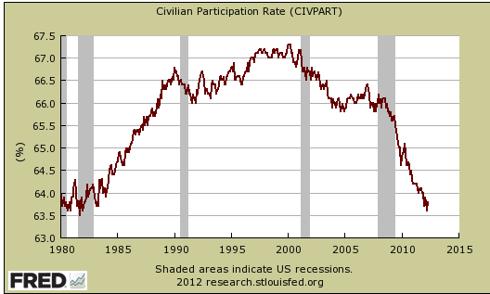 In other news, Personal Income fell to .2% from .3% expected and previously. ISM Manufacturing Survey also fell to 53.5 vs 54 expected and 54.8 previously. Construction Spending rose but was slightly below expectations; .3% vs. .4% expected and .1% previously.
In a nutshell this was a pretty awful day for bulls. But wait, what about QE? It's still out there and could be instituted immediately after a telephone conference among voting members of the FOMC. Why wait until June 20th? Or, don't they want to demonstrate any panic? If they are panicked the PPT could always enter the fray and start buying stock index futures, but I know that would never (cough) happen. The WSJ intoned: "Some Fed officials might want to wait to see more data before making what would surely be a controversial decision to do more to spur growth." Yeah, they'll wait to they see the red on their offshore accounts before they act.
Anyway, stocks gave in to selling driving indexes sharply lower. If we stay on the lows we could, barring intervention, gap open sharply lower Monday putting us in full capitulation mode. We'll hear from the usual suspects like Buffett, Cramer and most talking heads CNBC trots out talking their book.
Bonds (NYSEARCA:IEF) from highly regarded (thinking….thinking….) developed countries continued to rally driving yields down to record lows. Imagine buying the Japan 10 year bond for less than .75%! Swiss yields have gone grossly negative trying to keep panicky money from entering the country. Even Bucky (NYSEARCA:UUP) sold off some benefitting the euro (NYSEARCA:FXE) oddly but the yen (NYSEARCA:FXY) more. It's a combination of a repatriation scramble and QE anticipation which is dollar bearish generally.
Investors finally gave gold (NYSEARCA:GLD) a second look reasoning it as more of a safe haven than even Apple (NASDAQ:AAPL). Gold soared more than $60 per ounce. Other commodity (NYSEARCA:DBC) prices continued to fall as economic data suggest weak demand.
If you're feeling down you can always buy a new car. That seems the thing to do nowadays to find some pleasure in the pursuit of happiness. After all, not many can qualify to buy a home, but cars are easy to buy as auto companies are self-financing. Besides, dealers are stuffed with inventory.
U.S. major market indexes aren't in a bear market yet with most down around 10% from recent highs but some are now negative for 2012. Some sectors and global markets (BRICs and Eurozone) are in bear markets and this contagion can easily spread.
Volume Friday was heaviest in recent weeks and breadth per the WSJ was extremely negative. Wednesday was a 10/90 day with breadth and the same reading seems likely for Friday.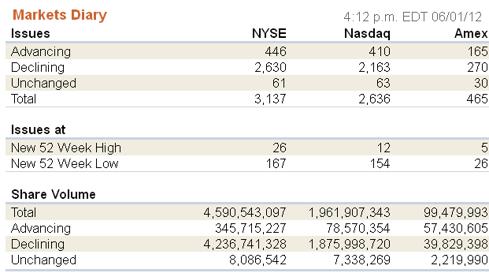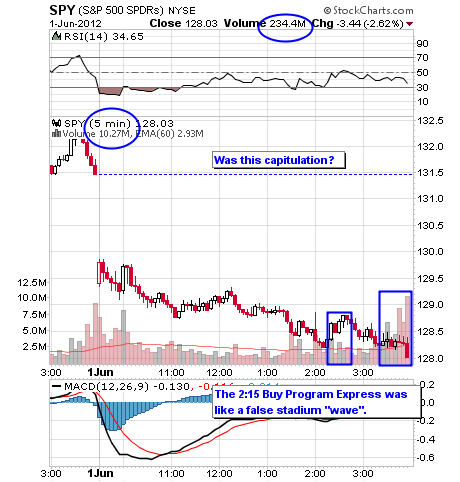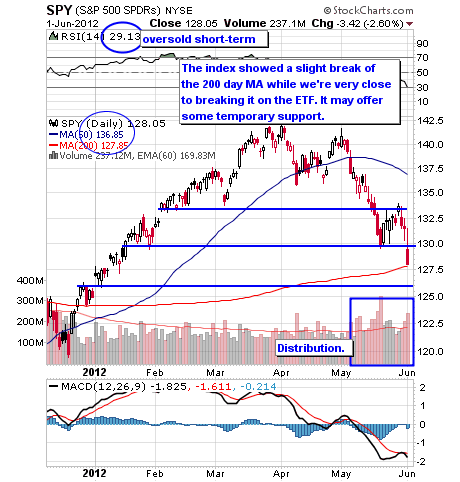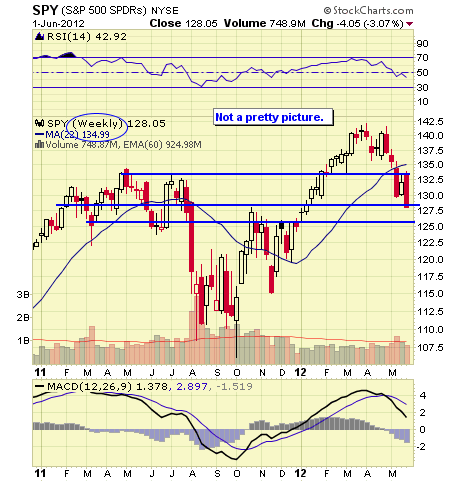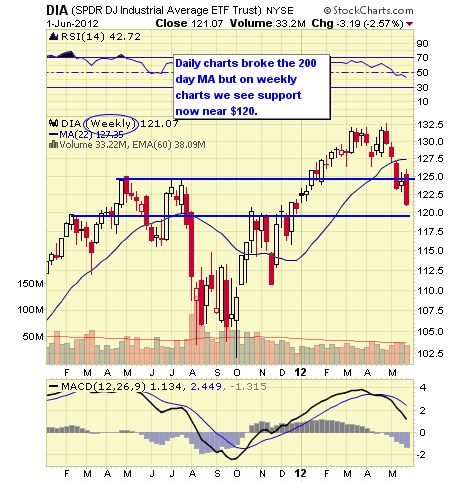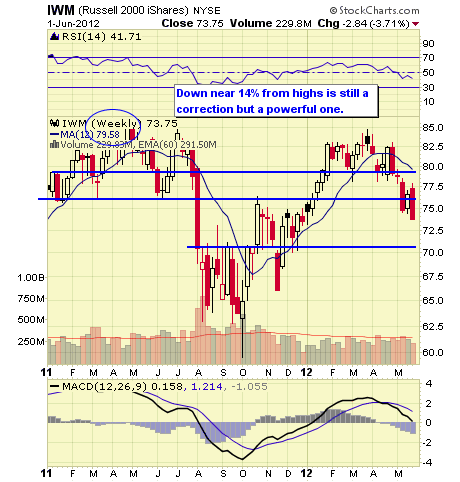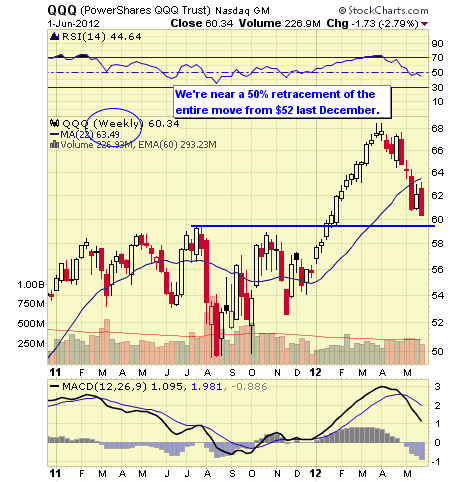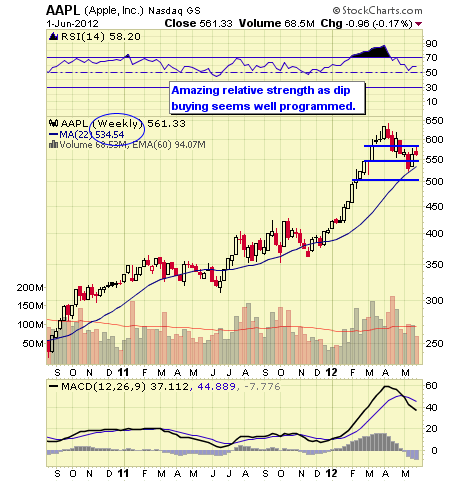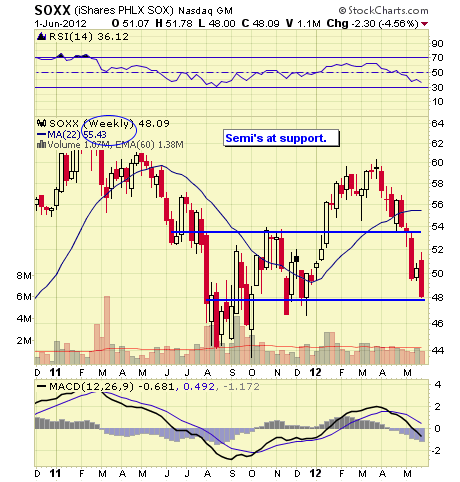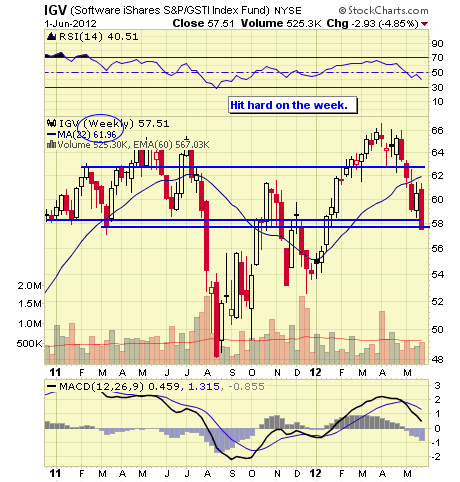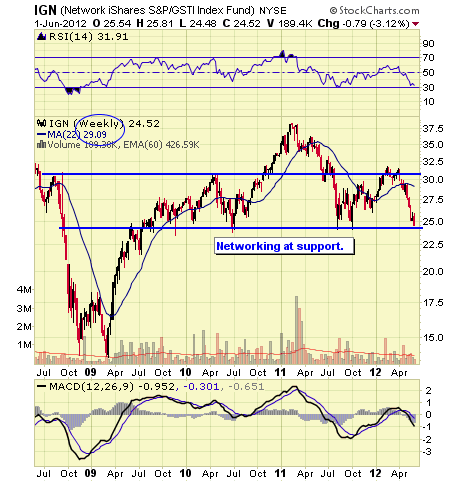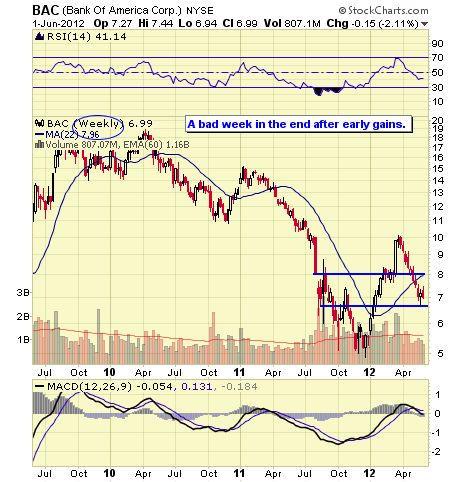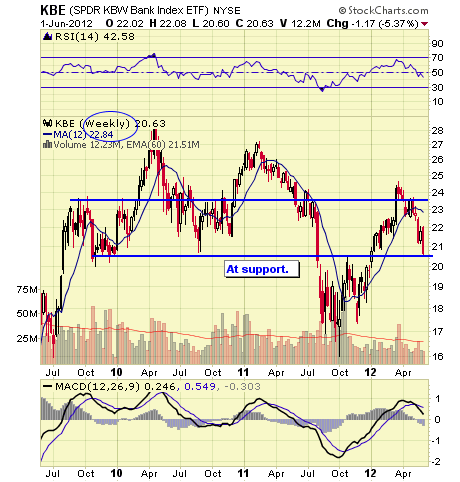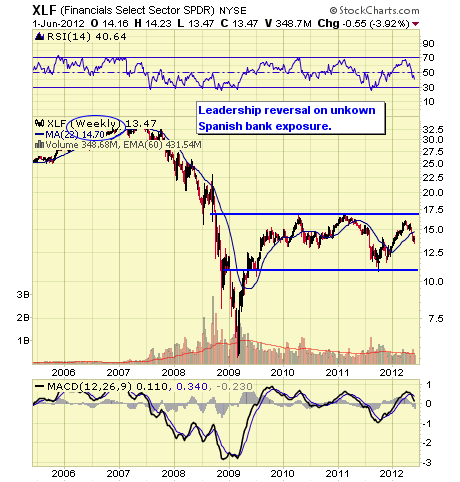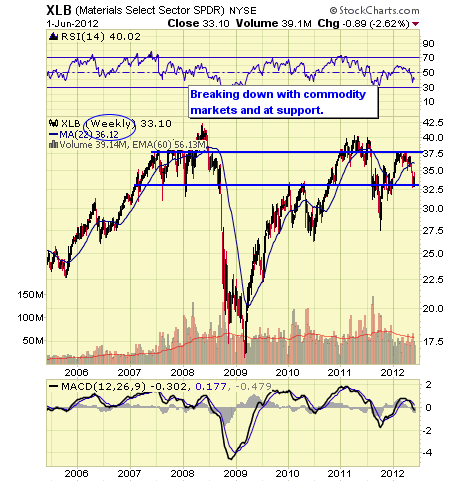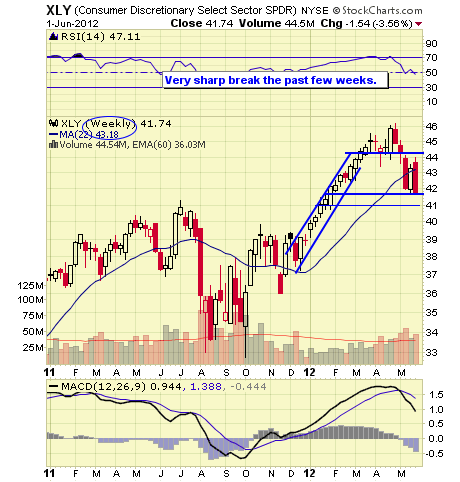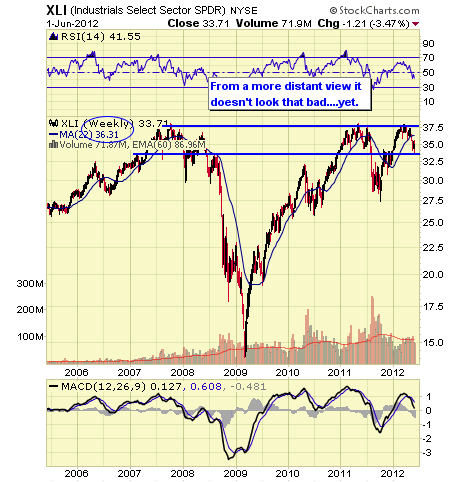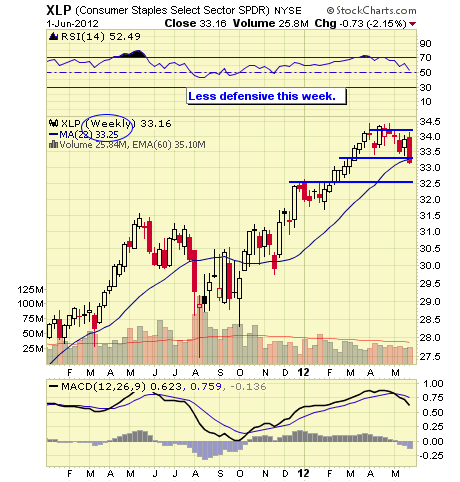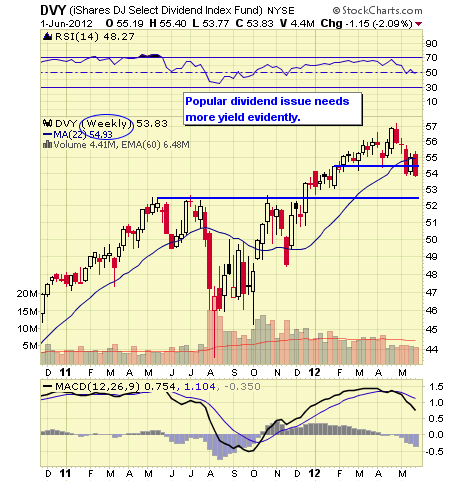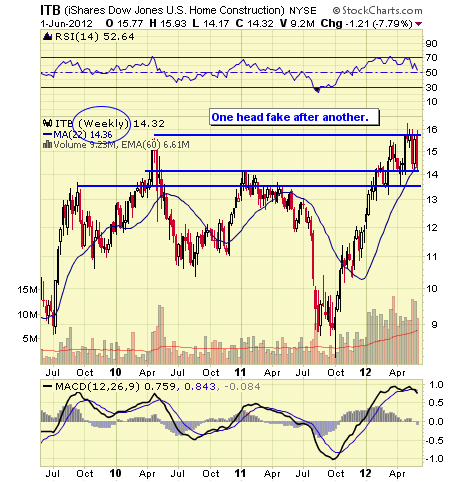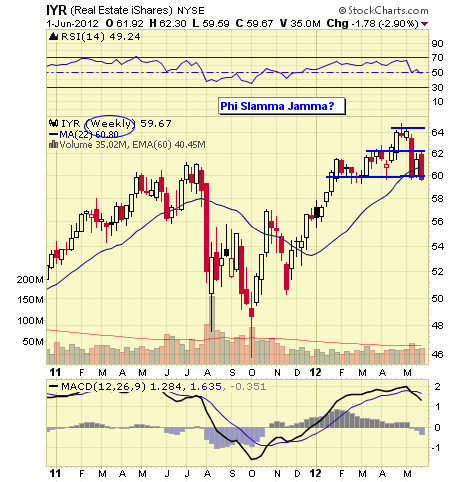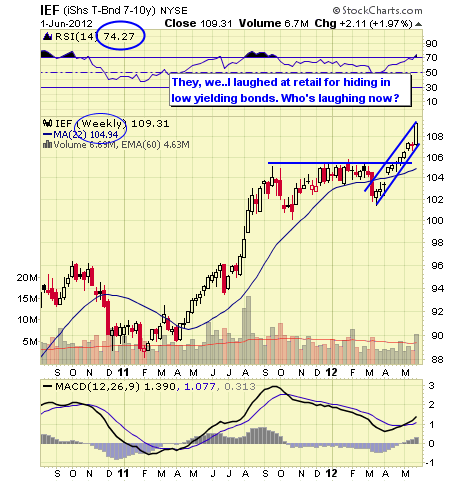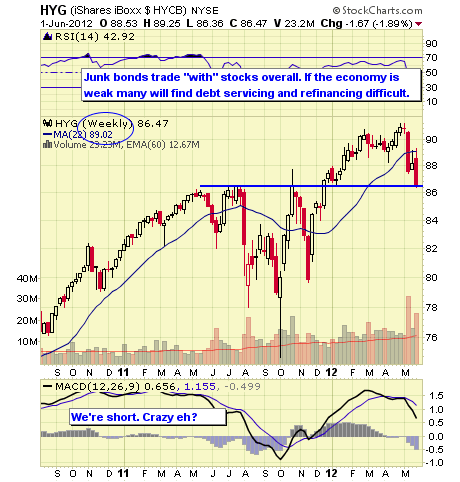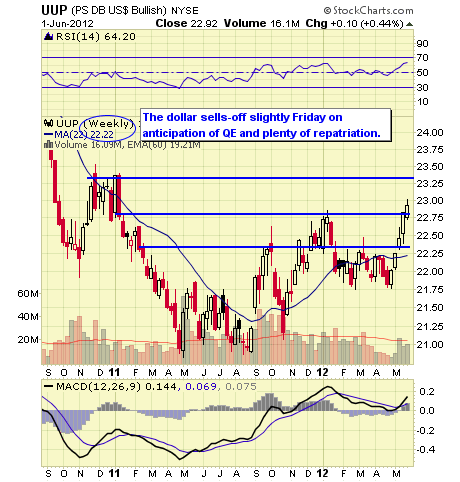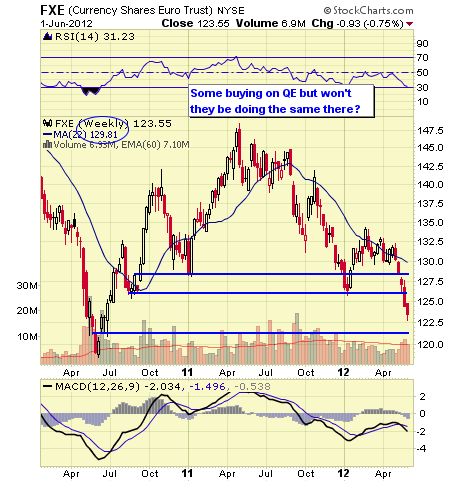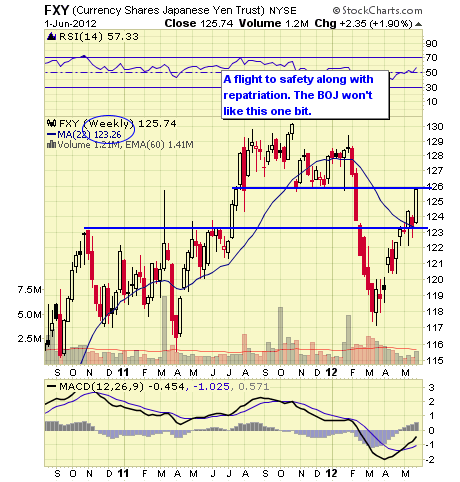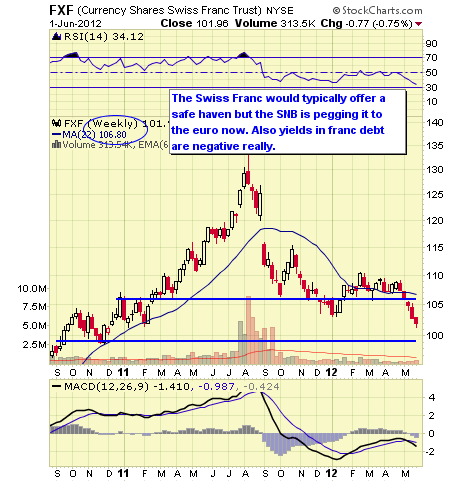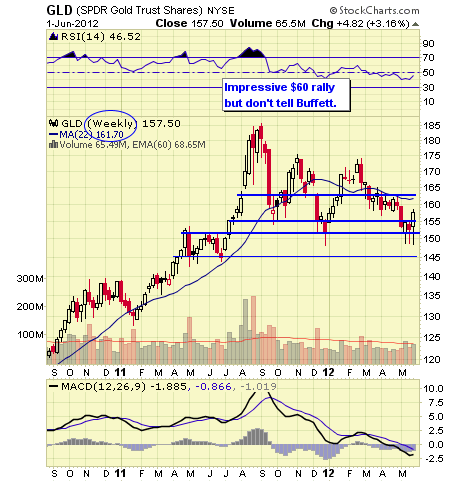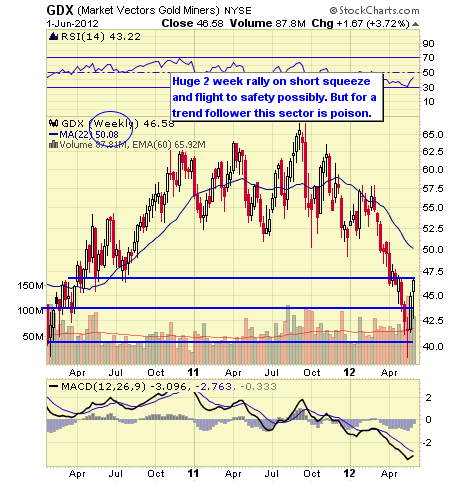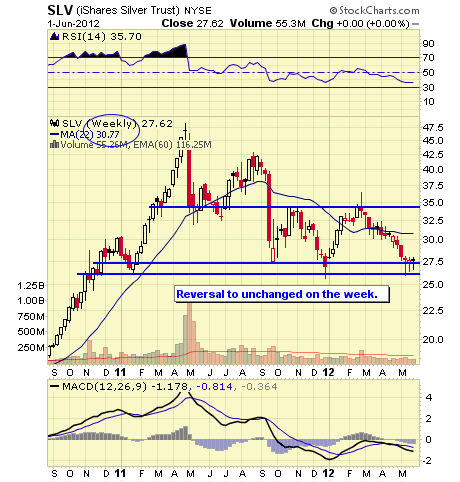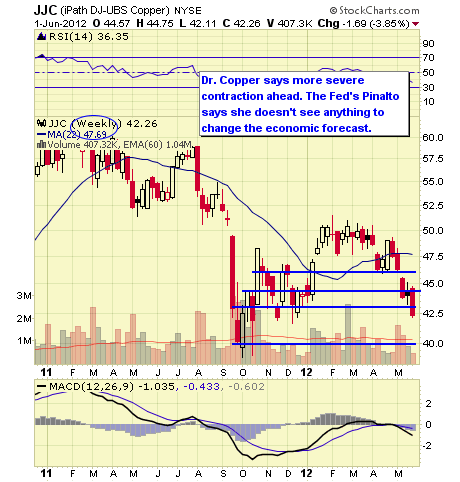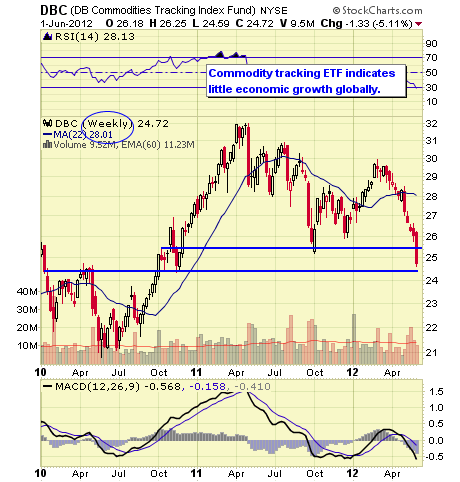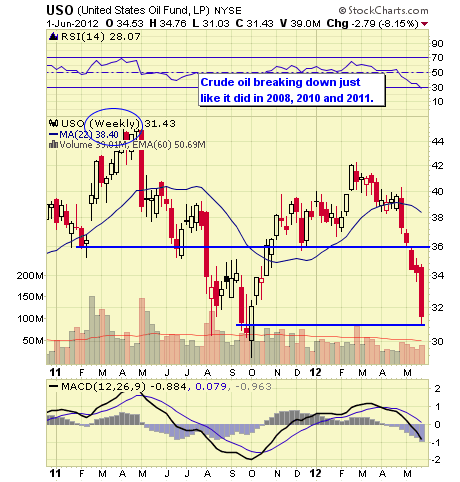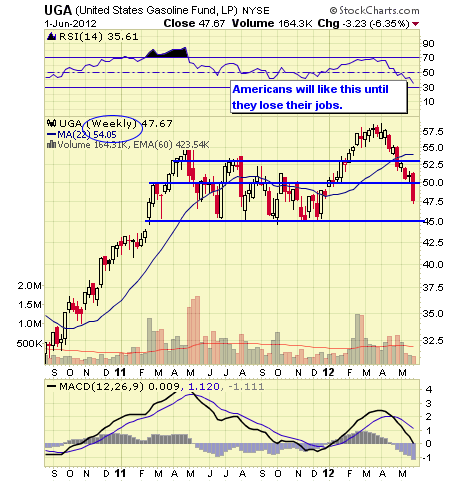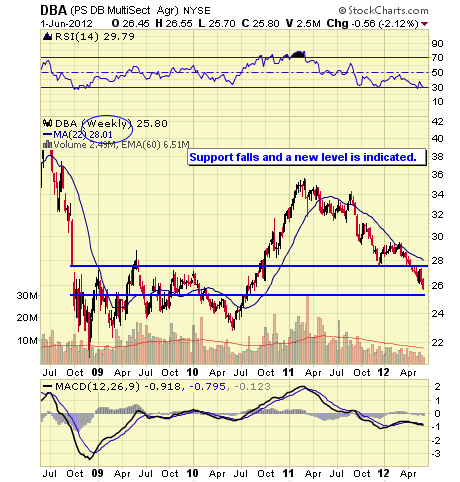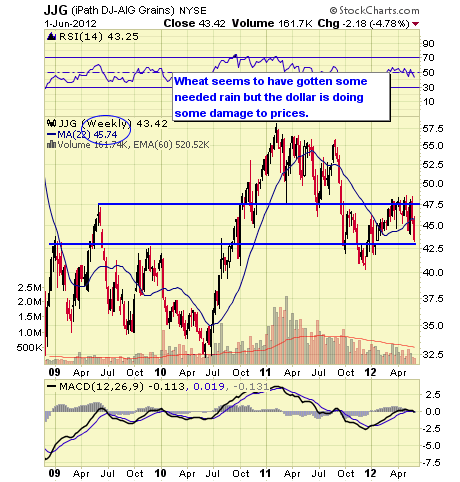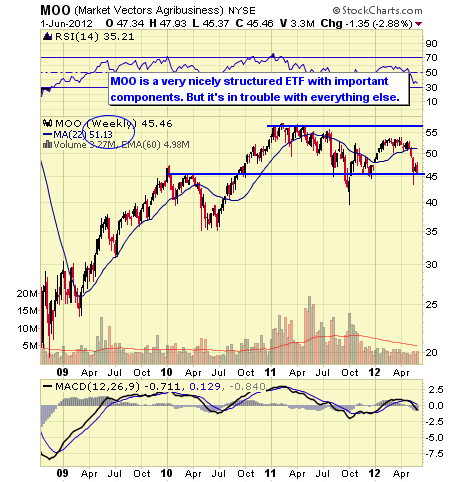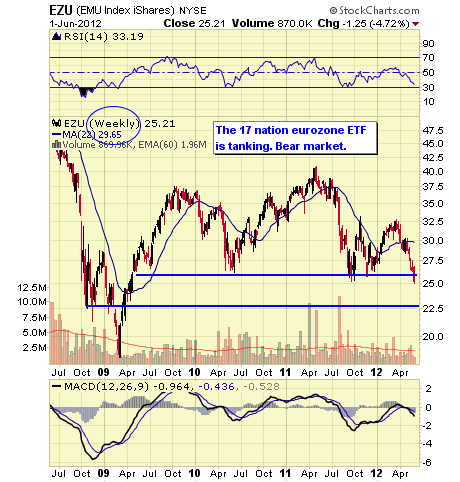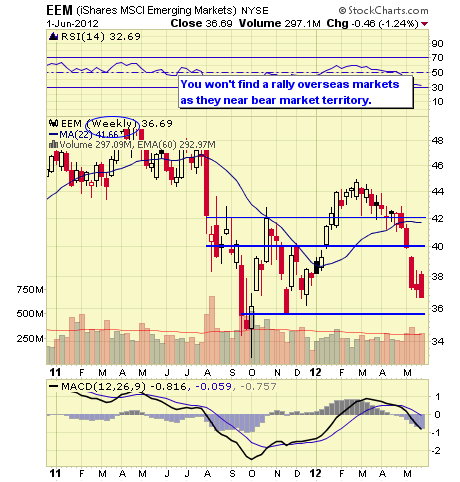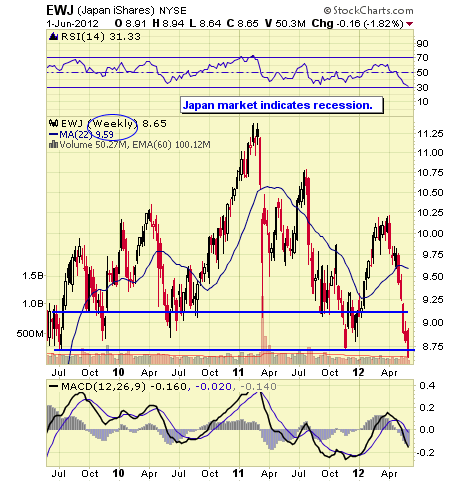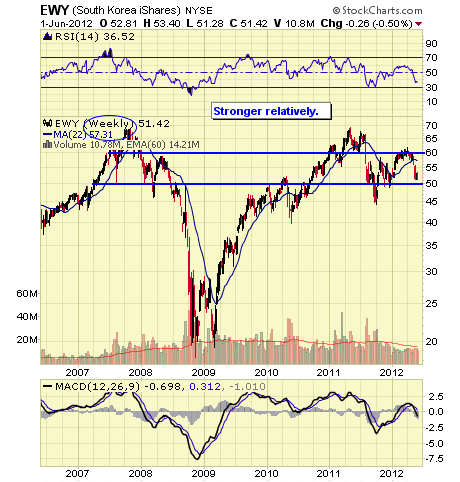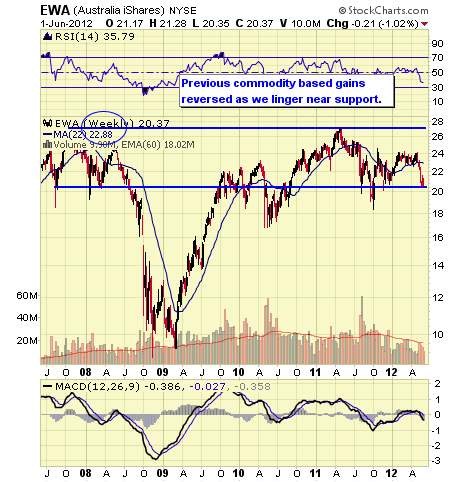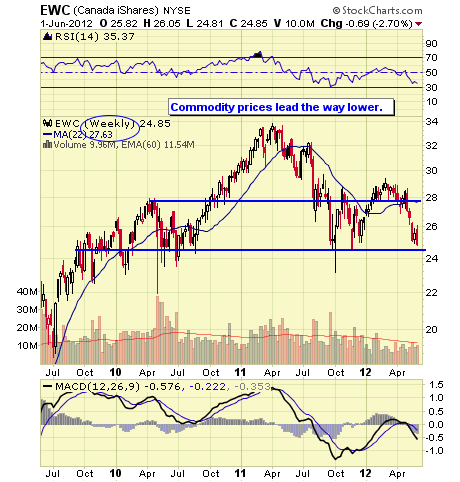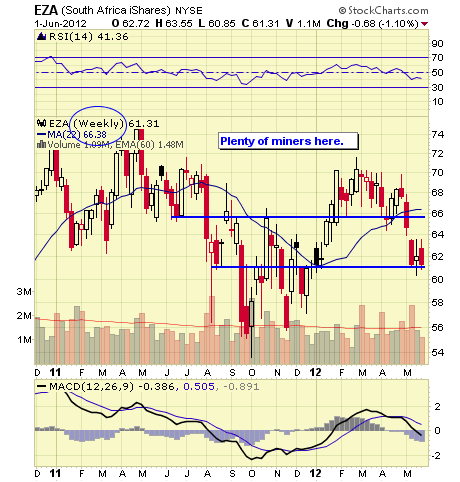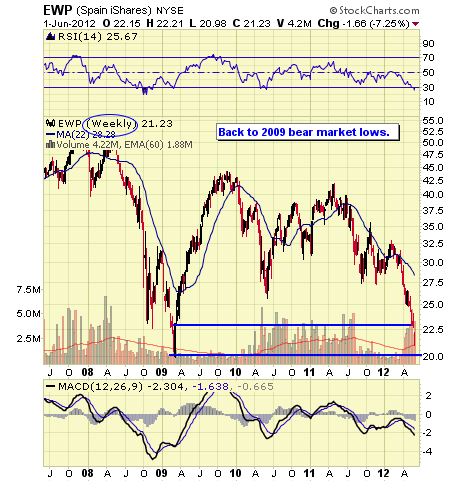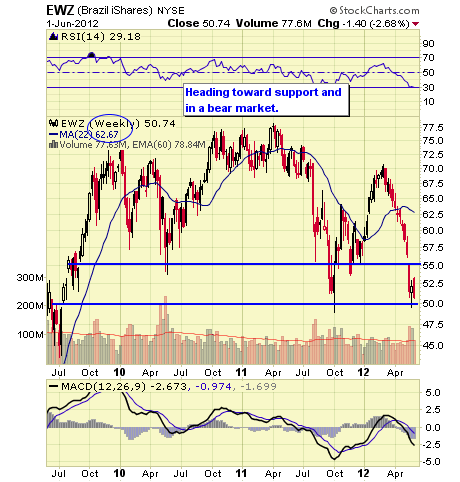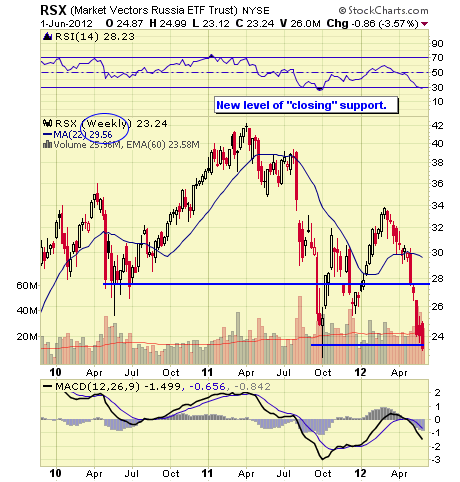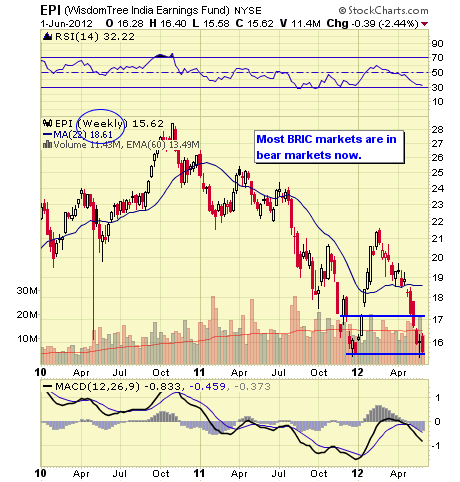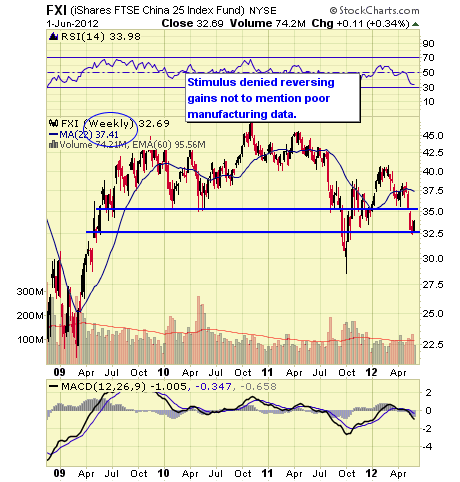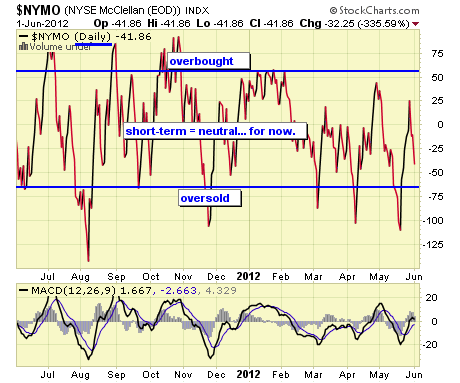 The NYMO is a market breadth indicator that is based on the difference between the number of advancing and declining issues on the NYSE. When readings are +60/-60 markets are extended short-term.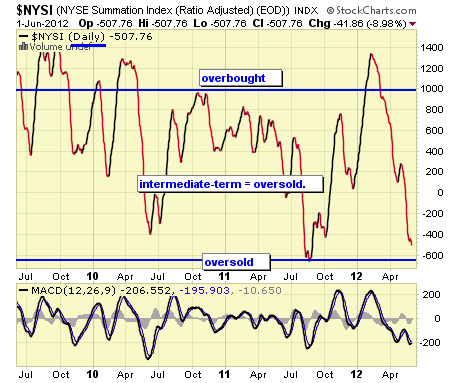 The McClellan Summation Index is a long-term version of the McClellan Oscillator. It is a market breadth indicator, and interpretation is similar to that of the McClellan Oscillator, except that it is more suited to major trends. I believe readings of +1000/-1000 reveal markets as much extended.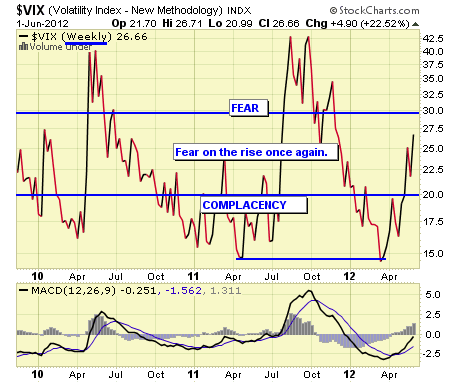 The VIX is a widely used measure of market risk and is often referred to as the "investor fear gauge". Our own interpretation is highlighted in the chart above. The VIX measures the level of put option activity over a 30-day period. Greater buying of put options (protection) causes the index to rise.
June is busting out all over, as the lyric used to go. But things aren't going in a positive direction that's for sure. There are late rumors tonight of Fed intervention as early as Sunday. Further, the Fed was rumored to be "checking rates" in the forex markets, which is their preliminary way of making threats. Another late rumor has PIMCO calling all employee vacations off in an "all hands on deck" Lehman-like risk event.
It's not a good situation globally that's for sure. Markets are short and even intermediate term oversold. BRIC and many eurozone markets are in full bear markets. U.S. markets are seeing a 10% correction more or less overall.
Let's see what happens.
Disclosure: I am long MGV, BND, BSV, VGT, VWO, VNO, IAU, DJCI, DJP, VMBS, VIG, ILF, EWA, IEV, EWC, EWJ, EWG, EWU.